Help Your Lawn Recover From Lawn Damage With Core Aeration & Overseeding
Here in Illinois, there are numerous things that can cause damage to your lawn such as insects and lawn diseases. If your lawn has suffered damage for any reason, don't worry, there are services that you can schedule to help your lawn recover such as core aeration and overseeing. Core aeration and overseeding services help improve the overall health of your grass. Core aeration loosens compacted soil to make it easier for nutrients, sunlight, and water to reach the roots of your grass. Overseeding your lawn will fill in any bare or patchy areas with new grass. These two services should always be scheduled together as each one benefits the other.
---
What is core aeration?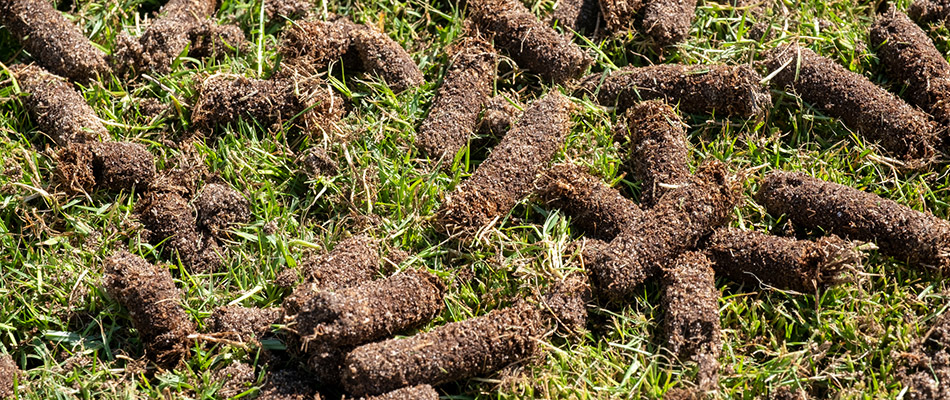 Core aeration is a way of loosening compacted soil in the ground. When you schedule a core aeration service, a lawn care professional will use a machine called an aerator to remove "cores" of soil from your lawn. This process will alleviate compacted soil and make it easier for nutrients, and other resources to reach the roots of your grass. With improved access to nutrients and resources, your grass will be able to develop deeper roots, so you'll end up with a strong lawn that will flourish!
You can leave the cores of soil on your lawn after the areation process because they will return nutrients to your soil as they decompose.
---
What is overseeding?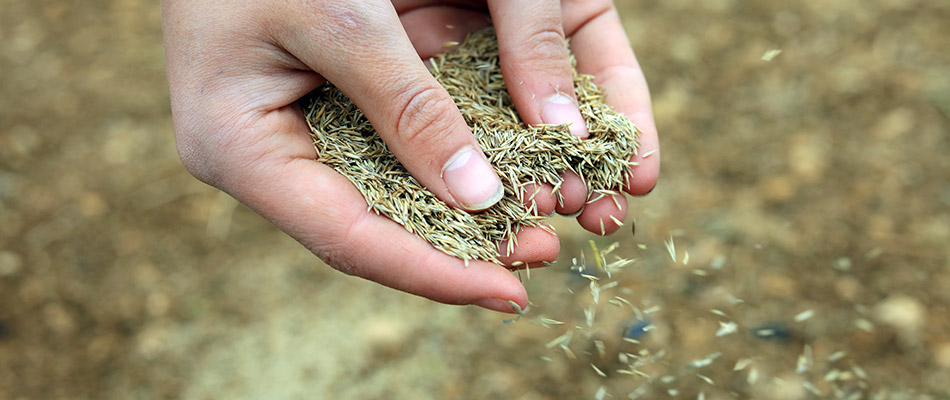 Overseeding is the process of spreading grass seeds across your lawn using a broadcast spreader. Overseeding is done for two main reasons: to fill in any bare or patchy areas of your lawn, and to increase the overall density of your turf. When you decide to overseed your lawn, you'll want to make sure that you use a grass type that will work with the grass you already have and will thrive in the Illinois environment.
---
How do core aeration and overseeding work together?
Core aeration and overseeding work best when used in tandem with one another. Core aeration loosens soil that is compacted by thatch and overuse and overseeding fills in bare or patchy areas on your lawn with new grass. When you overseed directly after your lawn has been aerated, the seeds can fall into the holes that were created through the aeration process, giving them excellent seed-to-soil contact and increasing the chances of them germinating successfully.
While both of these services offer great benefits on their own, when combined, they work together to give you a beautiful and healthy lawn. If you were to aerate your lawn, but not overseed it, you will be creating pathways for nutrients to reach the roots of your grass, but you won't be helping to fill in any bare or patchy areas of your lawn. If you were to overseed your lawn without aerating it, the grass seeds won't have the ideal spot to germinate and could be blown away by the wind or even eaten by animals! To reap the maximum benefits of both of these services, you should always schedule these two lawn care services at the same time!
---
Give us a call today to schedule our aeration and overseeding services.
At Creekside Landscapes, we offer both core aeration and overseeding services to residential, commercial, and HOA property owners in Edwardsville, Glen Carbon, Bethalto, and throughout the surrounding areas in Illinois. By scheduling these two services together, you can have a beautiful and dense lawn that will be able to access the nutrients and resources that it needs to thrive! Give us a call today at (618) 374-0010 to schedule our overseeding and core aeration services! We look forward to hearing from you!
---
Comments (0)
Name *

Email (not shown) *

Thanks for your comment!
Thanks for your feedback! Your comments have been successfully submitted! Please note, all comments require admin approval prior to display.
Error submitting comment!
There is a problem with your comment, please see below and try again.