Outdoor kitchen installs for properties in southwest Illinois located near Glen Carbon, Bethalto, Edwardsville, and surrounding areas.
Outdoor kitchens provide more versatility than indoor kitchens and help you host the greatest and most entertaining cookouts!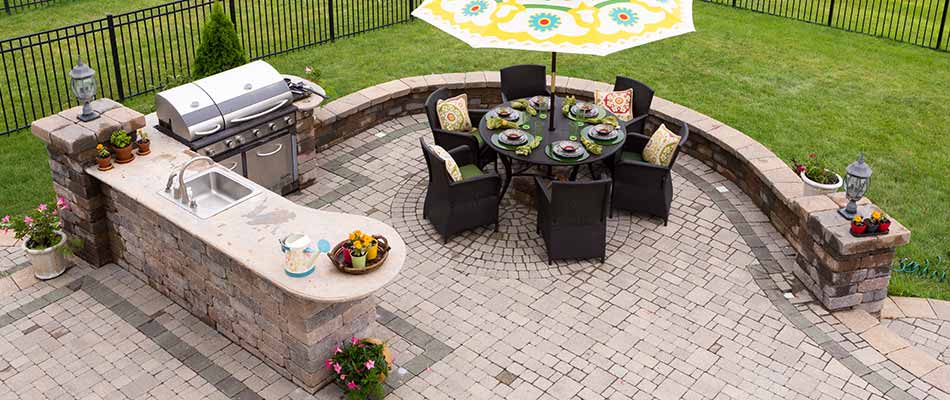 Getting outside of the house more and unplugging from technology is much easier when you have a stellar outdoor living area! The demand for outdoor kitchens has increased in popularity for their functionality and versatility.
Cooking outdoors has become a regular trend for homeowners and having a high-quality outdoor kitchen is key to producing dishes that are delicious and full of flavor! We provide full outdoor kitchen build and installation services for residential and commercial properties in Edwardsville, Glen Carbon, Bethalto, and surrounding areas in Illinois.
---
Outdoor Kitchen Materials & Features
Outdoor kitchens can have a ton of different features installed for the novice and advanced cookers! Your kitchen can include everything you need to create an endless smorgasbord of culinary delights!
Our outdoor kitchen installs are made using stone veneer. Stone veneer is manmade and designed to emulate natural stone. This building material is a third of the cost of natural stone and exhibits much of the same features in terms of shape, color, size, and texture.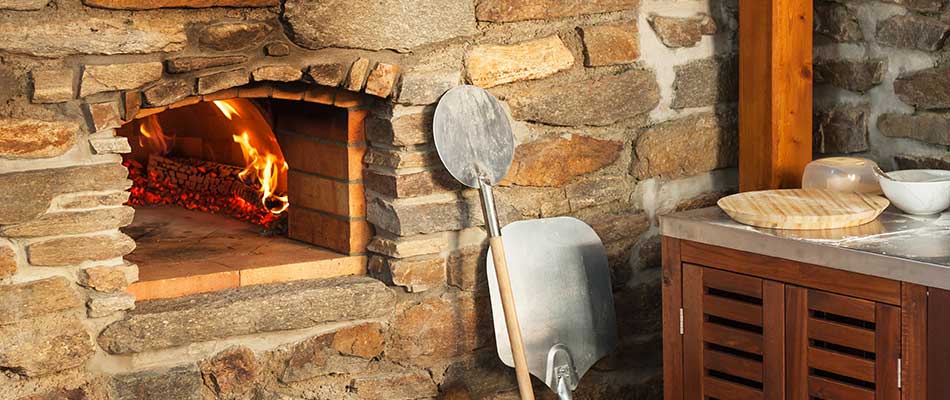 Some additional add-ons that we can install with your outdoor kitchen include:
Coolers and refrigerators
Wood-burning pizza ovens
Grills
---
Step-By-Step Installation Process for Outdoor Kitchens in Glen Carbon and Edwardsville
Outstanding customer service is of the utmost importance to our team at Creekside Landscapes. Our step-by-step outline of our outdoor kitchen installation process is to reassure our clients that they are receiving the most professional services and can trust the people they allow onto their property.
Step 1. Our crew digs out a base for the concrete flooring and effectively run the gas lines through.
Step 2. Next, we pour the concrete down and smooth it out to create a sturdy base.
Step 3. Now it's time to build your outdoor kitchen! This is when we'll install the stone veneer along with all your appliances, countertops, and other extra amenities.
Step 4. Finally, we'll seal everything together so you can start enjoying your new culinary setup right away!
We can install outdoor kitchens for homeowners who already have a patio, but if you'd like a gas line added in, then our team will need to modify your existing patio to install one.
---
Maintenance Tips for Outdoor Kitchens
A well-maintained outdoor kitchen can last you 10 years or more. Since outdoor kitchens are constantly exposed to the elements, there will be some natural wear and tear, but you should never neglect cleaning your appliances. Here are a few helpful maintenance tips to keep your outdoor kitchen in tip-top shape.
Clean stainless steel appliances - Outdoor kitchens have lower maintenance requirements compared to an indoor kitchen, but you'll still need to deeply clean your stainless steel appliances every once and a while. Some soapy water and a soft cloth should be enough, but there are also special polishes you can use to remove smudges, fingerprints, and stains if needed. They also help the appliances keep their shine from the stainless steel.
Perform routine maintenance on your grills - Your grills are probably going to see the most usage, so it's imperative that you take good care of them. If you clean them right after cooking, make sure the grill is cool before starting. Scrub the grates well with a wire brush, wipe away the remaining residue with soapy water and a cloth. Be sure to rinse well. Also, don't ignore the grills other components like the burners, valves, and hoses. Simply use a stiff brush to clean off any grease or buildup. You'll want to also make sure everything is properly connected.
Wipe off cooking surfaces and countertops - Granite and stone countertops are more susceptible to stains because the building material is very porous. Make sure you wipe them down after cooking and every meal. Wash the surfaces as well to remove any dust and debris that's collected on the top.
Cover outdoor kitchen with a tarp during the off-seasons - Since Illinois experiences intense winters and heavy snowfall, it's safe to assume you won't be doing much outdoor cooking this time of year. Protect your outdoor kitchen by placing a tarp over the entire setup so it's not severely impacted by the cold weather and doesn't accumulate snowfall on top of the appliances.
---
Outdoor Kitchens Come In Various Shapes and Sizes from Creekside Landscapes!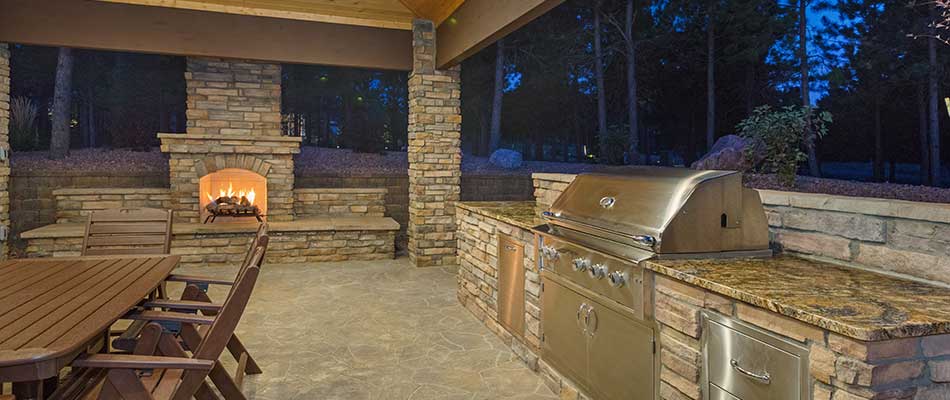 Make incredible meals for your friends and family or for that special someone using an outdoor kitchen installed by Creekside Landscapes. Our kitchen kits come in various sizes and shapes to fit any small or large backyard or patio space.
Give us a call at (618) 374-0010 to learn more about our outdoor kitchen services. We provide installs for residential and commercial properties near and around Edwardsville, Glen Carbon, Maryville, and Bethalto.