Aeration in Edwardsville, Glen Carbon, Bethalto, IL & Nearby Areas
Loosen up your soil with our core aeration service.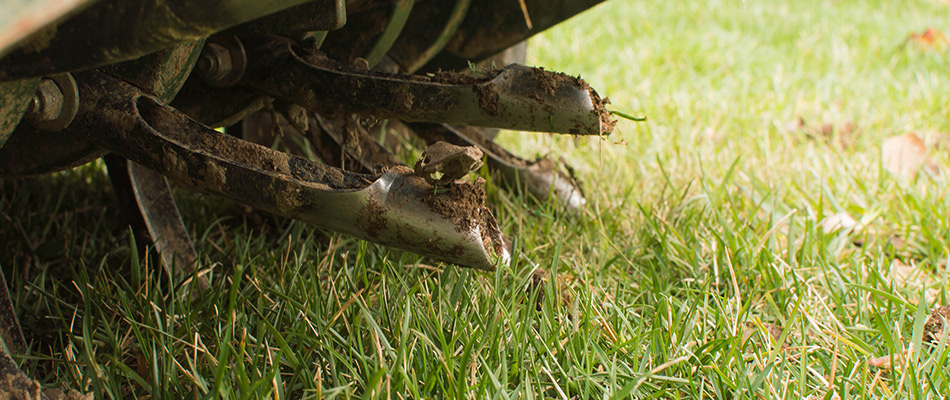 The soil in lawns throughout Illinois can be prone to compaction, which hinders your grass's ability to receive nutrients and water through its roots. Our core aeration service helps keep your lawn healthy by creating a path for those vital nutrients to reach the root system of your grass.
We offer our aeration service both in the spring and fall. Many of our customers in Edwardsville, Glen Carbon, Bethalto and surrounding areas prefer to utilize our core aeration service in the fall because, during this time of the year, they have the option to include our overseeding service. Coupling overseeding with core aeration will fill in any bare areas and keep your lawn lush and healthy all year long.
---
Our core aeration service helps your lawn get the nutrients it needs.
Over time, the soil in your lawn can become compacted. The pores between the soil get pressed together, preventing water and vital nutrients from reaching your lawn's root system. The resulting lack of necessary nutrients means your lawn will be stressed and unable to grow and thrive.
Our core aeration service provides a mechanical means of opening up pores within the soil's surface to allow those nutrients to travel down into your soil. We use a specially-designed machine that pulls tiny "cores" from the soil throughout your yard. The holes created by the removal of these tiny cores of soil provide a path for air and nutrients to reach the root system of your lawn.
Leave the cores of soil on your lawn to decompose and release nutrients back into your lawn!
---
We offer our core aeration service in both the spring and the fall seasons.
We recommend that you schedule aeration once a year, either in the spring or in the fall. Choosing between the two seasons depends on the quality of your soil and any other treatments you intend to do throughout the growing season.
If your soil is heavily compacted at the beginning of the growing season to the point of preventing grass from growing, core aerating in the spring can have lasting results. On the other hand, if you intend to overseed your lawn, we will aerate your lawn in the fall, followed by our overseeding service directly afterward.
---
Pair our core aeration service with overseeding for the best results.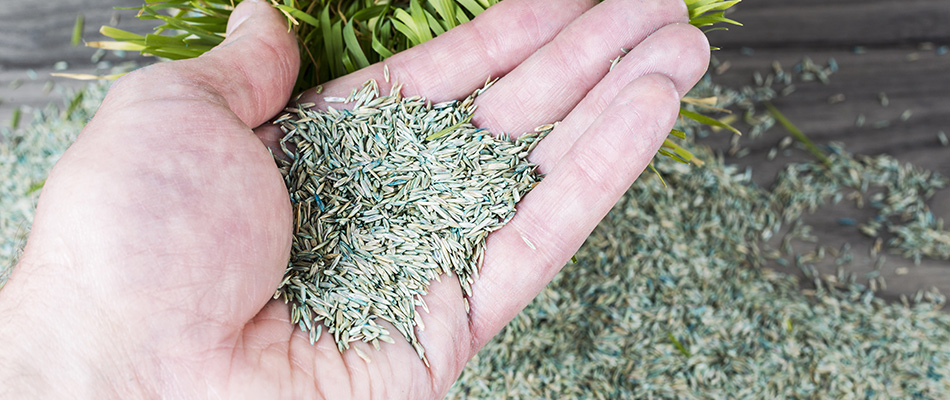 While core aeration will provide a passageway for nutrients to reach the roots of your already existing lawn, it can't fill in the bare patches of soil without first adding new seeds. That is where our overseeding service comes in! Overseeding in the fall is beneficial because this is when weed growth is slowing but your soil is still warm enough to encourage germination.
Overseeding at the same time as core aeration is a great way to supercharge your lawn's growth and health. Overseeding directly after core aeration will:
Give the seeds better access to fertile soil
Improve germination of the new grass seed
Improve nutrient uptake for both existing grass and new seeds
Prepare bare, compacted areas for new grass growth
---
Call us today to schedule our core aeration service!
Get on the road to growing a lush, green lawn that makes your neighbors jealous! Call us at (618) 374-0010 to schedule our core aeration service so your lawn can enjoy all the vital nutrients it needs to stay healthy and lush all season long. We service commercial, residential, and HOA properties in Edwardsville, Glen Carbon, Bethalto, Illinois and surrounding areas.