We offer landscaping services to properties in the Meadowbrook, IL area.
Our landscaping services include outdoor kitchen installations, drainage solutions, outdoor lighting, and more.
Meadowbrook, IL is an unincorporated community in Madison County. It is home to a little over 9,000 people and its quiet, suburban-area feel makes it a peaceful place to live. If you're looking to take advantage of some activities that a big city has to offer, it's only a short drive across state lines to St. Louis, MO. If you take the trip to St. Louis, you can spend your time visiting the Gateway Arch, riding rides at Six Flags, or watching a St. Louis Cardinals baseball game.
At Creekside Landscapes, we know how important it is for property owners in Meadowbrook, IL to keep their properties looking their best. That's why we offer first-class landscaping services. Some of the services we offer include hardscape installations such as outdoor kitchens and fire pits, as well as other landscaping services like outdoor lighting, drainage solutions, and much more.
---
Our hardscape installation options include fire pits, outdoor kitchens, patios, and more!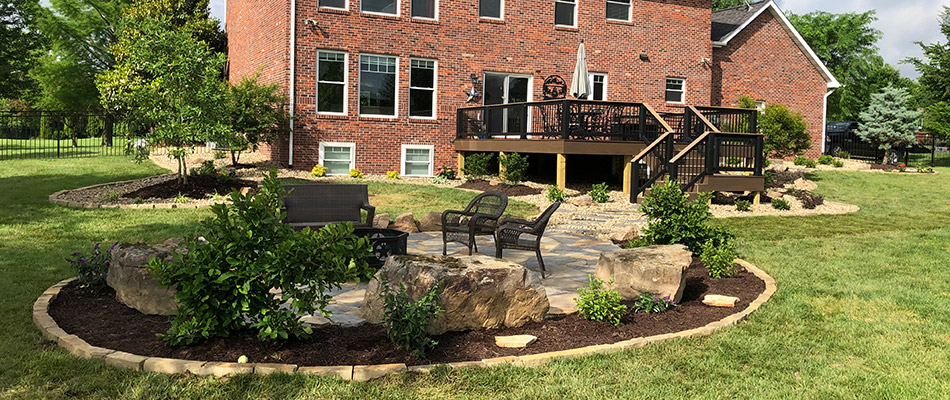 Hardscape installations are a great way to add to the beauty of your property while also increasing its overall value. We offer the following hardscape options:
---
Take advantage of our lawn and landscaping services including lawn mowing, bed renovations, leaf removal, and more!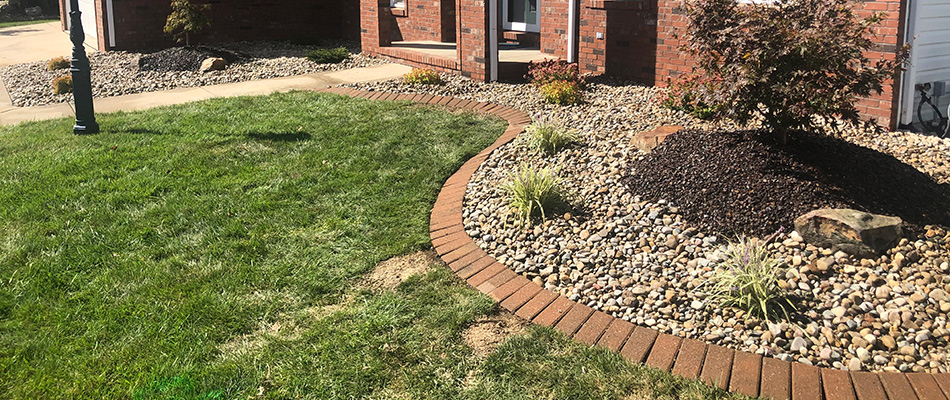 Our landscaping services are designed to increase the curb appeal of your property while also providing it with some additional benefits. Our services include:
Landscape Design - We can create 2D and 3D renderings to help you create your dream landscape.
Plantings & Bed Renovations - We can add trees, shrubs, flowers, and more to your landscape beds to create a cohesive and aesthetically pleasing look.
Outdoor Lighting - Bring your property to life after the sun has set with our outdoor lighting.
Rock & Mulch - Our rock and mulch installation service will add beauty to your landscape beds while also providing soil temperature regulation and weed prevention.
Annual Flowers - Add a burst of color to your landscape with our seasonal flower installations.
Grading & Drainage - This service will help to prevent any flooding issues on your property by directing water off of it.
Bush Hogging - We use heavy machinery to remove brush, vines, weeds, and more from your property.
Land Clearing - We can clear your land of any unwanted vegetation regardless of how big your property is.
Sod Installation - This service consists of us rolling pre-grown grass onto your lawn to give you a beautiful new lawn almost instantly.
Leaf Removal - Having a thick layer of leaves on your property is not only an eyesore but can also cause lawn diseases and harbor insects. We can remove leaves from your property and haul them away so you won't have to worry about them.
Lawn Mowing - We offer a weekly mowing service starting in April and ending in November.
We also offer commercial snow removal to keep your business free of snow so that you, your employees, and your customers can have safe access to and from your business.
---
Reach out to us today to schedule any of our landscaping services!
At Creekside Landscapes, we are proud to offer our extensive landscaping services to residential, commercial, and HOA properties in Meadowbrook, IL. If you're ready to schedule any of our services, give us a call today at (618) 374-0010. We look forward to working with you to help you accomplish all of your landscaping goals.