Expert Leaf Removal Services Available to Properties in Southwest Illinois
Leaf removal could save your lawn from mold and diseases.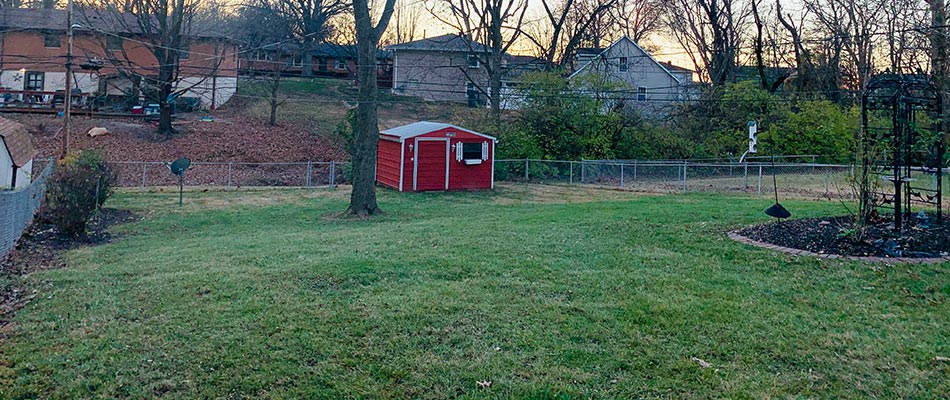 Raking the leaves in your yard is likely not how you'd like to spend your Saturday afternoon. That's why we are here to give you back your Saturday and leave your lawn looking fresh, clean, and ready for the cold temperatures.
The breakdown of leaves is sometimes healthy for your lawn when you're only talking about a few at a time; their decomposition can return essential nutrients to your grass and soil. However, when a large number of leaves drop from your trees and create thick piles, this is when you could start to have health issues such as mold and diseases.
To avoid this, you need to clean up the leaves from your yard. Once they have all dropped, our experts will come to your property to blow the leaves away from your lawn as well as dispose of them properly so you don't have to think twice about it. You can also tack on our fall cleanup services to leave your lawn pristine and ready for the winter season. We offer leaf removal and fall cleanup services to Southwest Illinois, including Edwardsville and Glen Carbon.
---
Our Leaf Removal Service Includes Leaf Disposal
Although our team can do removal services at any time, most of our customers wait until all of their leaves have fallen off the trees. This way, it's all done in one job and you don't have to worry about another drop of leaves filling up your yard.
We use a leaf blower to blow the leaves out of your landscaping beds, off of your lawn, and into large piles. We then dispose of these piles for you using one of these two methods:
We will mulch your leaves with a lawnmower. The benefit of this choice is that they will be decomposed by earthworms and microorganisms, making it a great environmental choice.
We will put them in our trailer and haul them off for you. The benefit of this choice is that it will leave your lawn free of clutter and increase your curb appeal.
---
Take Your Lawn to the Next Level With Our Fall Cleanup Service
If you want to make sure your lawn is as healthy as it can be before the cold months arrive, our fall cleanup services can help. Taking care of your lawn as best as you can before it goes dormant in the cold months will only make your life easier when it's time for spring cleaning. In addition to the leaf removal, these services include:
Debris cleanup and removal
Trimming your shrubs and hedges
Edging your landscape beds and hardscapes
---
Why You Don't Want to Neglect Your Leaf Piles
We get it, leaf removal is just one more thing on your to-do list; it's tempting to let them stay where they are on your lawn until spring rolls around. Doing this will not only make more work for you in the springtime, but it will also negatively impact the health of your lawn. You don't want to neglect your leaf piles because:
It may cause diseases, fungi, and mold. Damp, rotting leaves will trap in moisture and create a breeding ground for potential diseases, fungi, and mold. This is not only bad for your lawn's health but your family's health as well.
They will invite pests such as spiders and snakes. Pests will take cover under your leaf piles and stay there for shelter and warmth.
They look unsightly. Lots of leaves will make your yard look messy and decrease its curb appeal.
---
Give Us a Call to Book Our Leaf Removal and Fall Cleanup Services
We want to help you check leaf removal off of your to-do list. If your lawn is located in or around Edwardsville, Glen Carbon, Maryville, or Bethalto and you want to get it ready for winter, give our office a call at (618) 374-0010 to book your leaf removal and fall cleanup service.