We Offer Landscaping Services to Properties in the Maryville, IL Area
From hardscape installations to land clearing to drainage solutions - we're your team!
Maryville, Illinois is a suburb east of the Missouri state line, just 18 miles from the big city of St. Louis. It is home to almost 8,000 residents and offers a tucked away, suburban feel. If you feel things starting to get too quiet, you can take a short drive to St. Louis and enjoy the culture, diversity, and busyness of a large city.
Our company has been dedicated to the commercial and residential properties of Maryville, offering a wide variety of services including hardscape and softscape installation, land clearing, and even drainage solutions. If your home or business is located in Maryville, IL, we would love to serve you. Give our office a call at (618) 374-0010 to sign up for any of the services below.
---
We design and install hardscapes such as fire pits, patios, retaining walls, and more.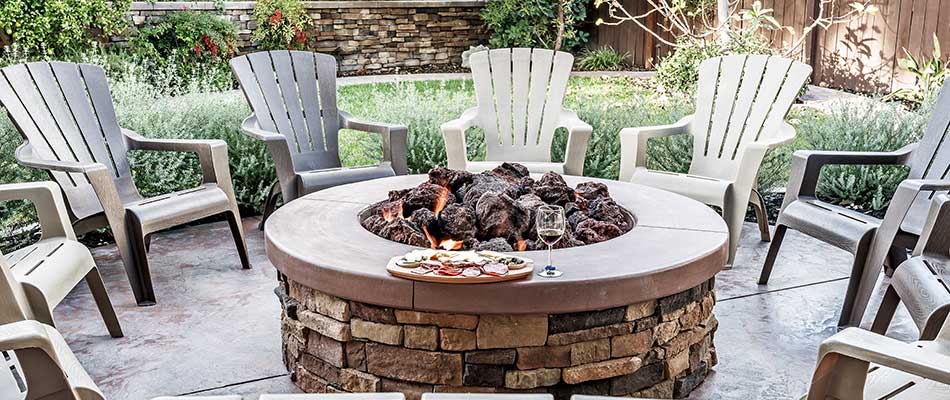 Outdoor Kitchens: Upgrade your property by installing an outdoor kitchen with amazing amenities such as a grill, wine coolers, refrigerators, and wood-burning pizza ovens.
Fire Pits & Fireplaces: Keep enjoying the fresh air even when the weather starts to turn a little colder! Fire pits and outdoor fireplaces are a great way to cozy up outside with your friends and family.
Patios: Add a designated entertainment space to your property by adding a patio. Top it with your grill, a table, and some chairs and you're all set to host a great backyard BBQ!
Pergolas & Pavilions: Create a beautiful focal point for your outdoor living area with our custom pergolas and pavilions.
Retaining & Seating Walls: Both retaining and seating walls serve as functional and decorative additions. Retaining walls will drastically improve your soil erosion issue while adding a perfect spot for a raised planter bed. Seating walls will add a statement piece to your landscape while also serving as extra space for your guests to sit down.
Walkways, Driveways, & Steps: Something as mundane as a walkway, driveway, or outdoor steps can actually be great focal points to your property if designed well. Collaborate with our design experts to leave boring in the past with these outdoor hardscapes.
Outdoor Lighting: We use energy-efficient LED bulbs to illuminate your property. Outdoor lighting can highlight your favorite focal points on your landscape while also offering safety features by lighting up your walkways and steps.
Landscape Design: We use 2D and 3D renderings to show you what the end result of your landscape project will look like. Our designers are trained to always incorporate proportions, focal points, depth, and balance. We design your entire landscape project, including hardscape and softscape additions.
---
Redesign your flower beds and add pops of color for a low-maintenance landscaping project.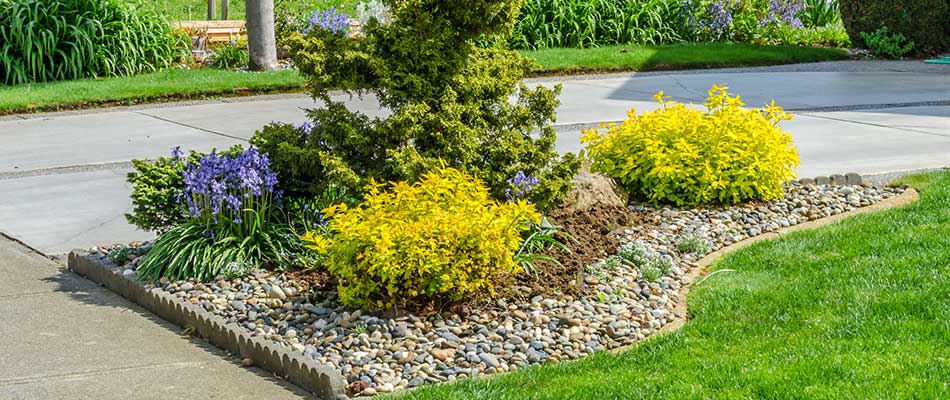 Planting & Bed Renovations: Redesigning your landscape beds and adding more or different plants is the best way to give your property a makeover without completely redoing your whole landscape. Add beautiful shrubs, trees, flowers, and plants that work best in the Maryville climate, making your project low maintenance and a no-brainer!
Annual Flowers: Our customers love annual flowers because their bright colors bloom for one season and then they die as the season passes. This means that there is no year-round upkeep and all you have to do is pull them out of the ground! In the Maryville area, we commonly plant impatiens, begonias, and coleuses.
---
Make your neighbors jealous with our cleanup services including leaf removal, snow removal, and bush hogging.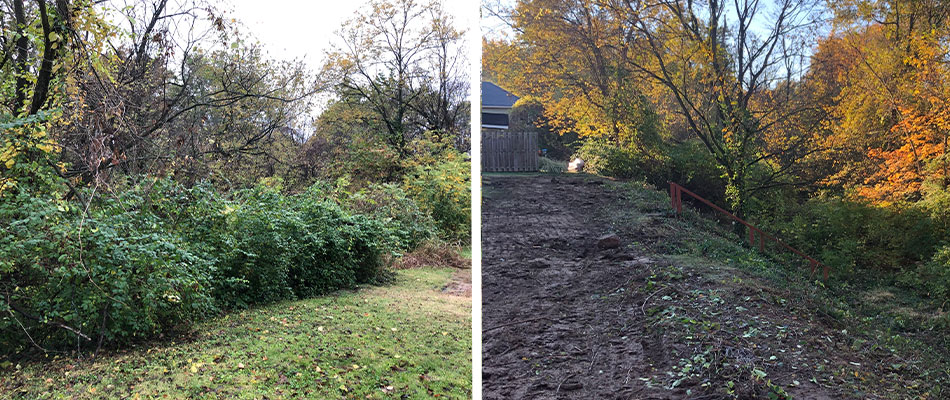 Leaf Removal: Prevent moldy surprises in the spring by removing your leaves before they get smothered under snow. This service also includes leaf disposal.
Commercial Snow Removal & Deicing: Do you want your employees and clients to be able to reach your front door safely and easily all winter long? Then you need our commercial snow removal and deicing services.
Bush Hogging: Get rid of overgrown grass and brush with our bush-hogging services. We can clear small brush, fields, large properties, the perimeter of lakes/ponds, county properties, and more.
Land Clearing: No project is too small or large for our land clearing crew. We offer multiple options for debris removal, leaving your landscape totally clear and ready for the next project.
---
We offer drainage solutions including property grading, dry creek beds, and french drains.
Grading & Drainage: If you notice that there is standing water on your property after any heavy rain, you have a drainage issue that needs to be addressed. It is better to take care of this sooner rather than later, so call our office immediately. Our company offers drainage solutions such as dry creek beds, french drains, and property grading.
---
We are the #1 landscaping company in Maryville, IL. Call us today!
Our comprehensive landscaping services make us a great choice for all your landscape needs, whether you need 100 acres of vegetation cleared or you would just like your grass to grow stronger. We proudly service the Maryville, IL area, including nearby places like Edwardsville, Glen Carbon, and Bethalto. Call our office today at (618) 374-0010 to get set up today with one of our services.