We install rock and mulch for properties in the Edwardsville, Glen Carbon, and Bethalto, IL areas.
Choose from a variety of material options like river rock, purple trap rock, and cedar mulch.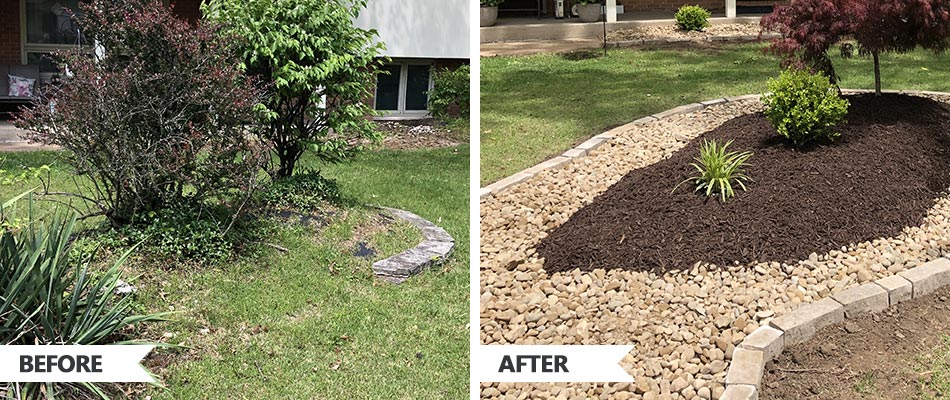 Your landscape beds deserve the best protection, which is why we offer rock and mulch installation for your property in the Edwardsville, Glen Carbon, or Bethalto, IL area. Adding a covering on top of your soil will not only make it look pristine and cleaned up, but it will also provide soil erosion protection, weed prevention, temperature regulation, and more. These benefits will help your plants thrive! Choose from our variety of rock and mulch types including purple trap rock, river rock, and cedar mulch.
---
Landscape beds covered in rocks are anything but boring!
When you think of a rock covering for your landscape bed, you might automatically assume that there are not a lot of color options or creativity opportunities. Well, think again! Below are a few examples of rock types that are extremely popular among our clients:
Purple Trap Rock - As you can probably guess from the name, purple trap rocks are... purple! Add a little pop of color to your home and catch the eyes of your neighbors with your beautifully unique landscape beds.
River Rock - A river rock ground covering has a mix of more natural colors such as browns, beiges, greys, and some hues of blue.
Maramec - These rocks are a mix between brown, red, and beige colors. These will stick out a little more than river rocks, but a little less than purple trap rocks.
White Marble - Can you take a wild guess at what color these rocks might be?! White marble rocks make for a great elegant look on your landscape beds. They help colorful plants and beautiful edging features stand out.
Western Sunrise Rock - These rocks are full of beautiful colors, just like a western sunset! Add a mix of orange, red, pink, and a little bit of black to your landscape beds.
Lava Rock - Similar to the western sunrise rocks, lava rocks are a blend of some darker colors than your typical landscape bed covering. Lava rocks are usually a mix of red and black.
Cobbles - Jump back to the basics with some cobble rocks. These are neutral colors, mostly grey and beige.
---
Rock coverings offer more benefits than just appearance.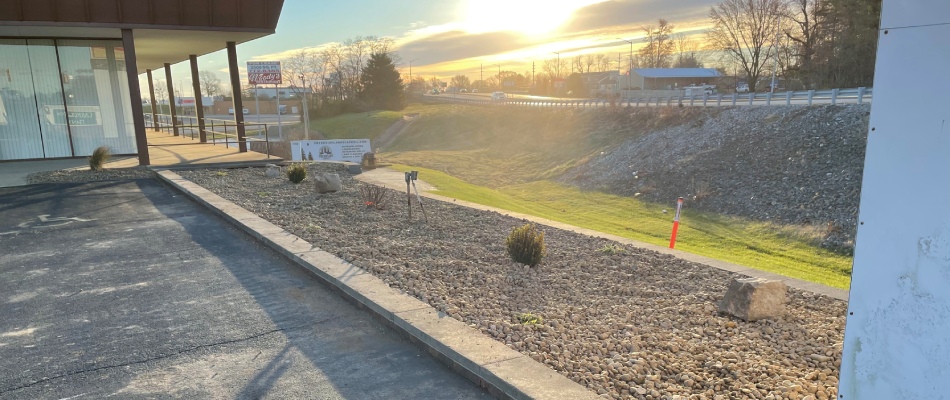 When you choose to add rocks to cover the soil in your landscape beds, you will add more than just a nice appearance.
Benefits of rock coverings:
They are extremely low maintenance
They reduce soil erosion
They are long-lasting
They won't attract bugs as some organic mulches will
---
We Can Also Install Mulch to Your Landscape Beds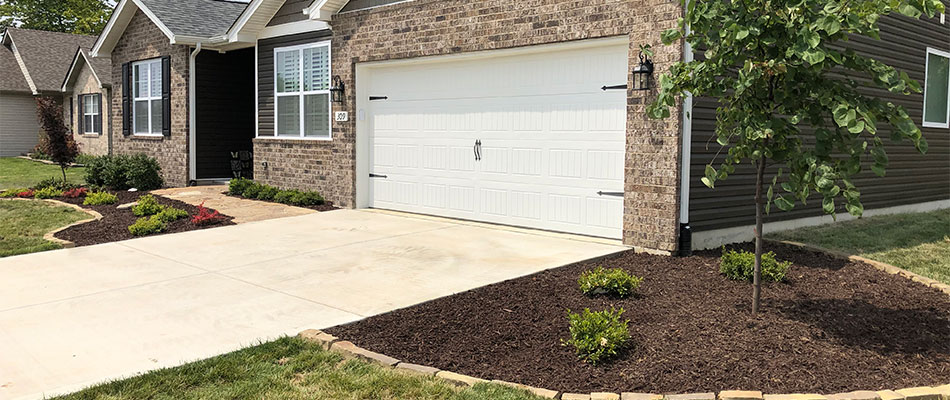 Are you looking to stick with traditional mulch coverings for your landscape beds? We get it! Mulch offers the same great benefits of rock coverage, and the cypress and cedar choices have a natural oil that repels some bugs. Our company offers mulch options including:
Cypress
Cedar
Red mulch
Black mulch
---
Contact us for your rock or mulch landscape bed coverings!
Our team at Creekside Landscapes is always prepared to go the extra mile for our clients. We always aim to leave each project with satisfied customers. Having trouble deciding which type of ground covering is best for your lawn? Contact our team today at (618) 374-0010 and we will be more than happy to answer any questions you may have. We install rock and mulch ground coverings for landscapes located in the Edwardsville, IL area, including Glen Carbon, Bethalto, and Maryville.