Professional landscaping services for properties in Bethalto, IL.
We provide Bethalto with services such as expert landscaping, hardscape installation, and land clearing.
Bethalto, IL is part of the Greater St. Louis, MO Metropolitan area. Just a few miles from the Missouri state line, there are lots of opportunities for local residents to travel around and explore new areas and cultures. This great village is home to the Bethalto Arboretum which offers 2.5 acres of walking trails, blooming flowers, and much more.
Our office is located in Bethalto, so we know firsthand how great this area really is. We want to keep our community beautiful and full of life. That is why we are dedicated to offering a wide range of landscaping services to the residents and businesses of Bethalto, including landscape design, hardscape installation, and land clearing.
---
Redesign your property using our landscape design and build services.
We have been upgrading properties around town with our design and build services for years. We offer both 2D and 3D design renderings to show our clients what their property will look like when the project is finished, allowing them to make any tweaks and sign off on everything before our crew even picks up one tool.
We offer both hardscape and softscape options with our design and build services, ranging from retaining walls to patios to new landscape beds and flowers. You can trust our team to handle everything you need for your new landscape project.
---
Keep your property free of snow, leaves, and debris with our landscaping services.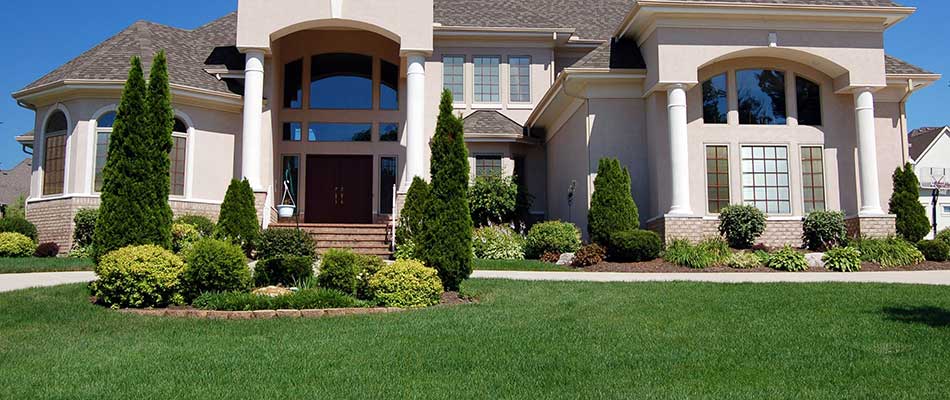 Ignoring the leaves on your lawn is harmful to your grass. Leaves are heavy and will smother your lawn, meaning essential nutrients and sunlight are being blocked from reaching your grass. Our leaf removal program also includes leaf disposal, meaning you won't be left with large piles of leaves sitting on your curb.
Once your leaves are all raked up and removed, the snow is going to start to fall soon. Sign up for our commercial snow removal and deicing services to keep your parking lots, walkways, and steps clear of any slippery snow or ice. We will help keep your business accessible all season long.
Our company has the large machinery and the correct tools to clear any sized property of debris and unwanted vegetation. No land clearing project is too small or too large for us to handle. We also offer a bush hogging service that focuses on cleaning up your overgrown grass and brush around many different types of property such as fields, large properties, the land around a lake or a pond, county properties, and more.
---
That's not all! We also offer grading and drainage solutions.
As if our services weren't comprehensive enough, our team is also trained to help you with your property drainage issues. If you notice standing water after a heavy rain, call us sooner than later. We offer solutions such as grading, dry creek beds, and french drains to help you direct the water away from your property.
---
Our company is local and reliable - contact us today for your lawn and landscaping needs.
As residents of Bethalto ourselves, our team takes great pride in doing our part to keep the community bright, colorful, and clean. If your home or business is in or around Bethalto, IL, contact us today at (618) 374-0010. One of our team members would be happy to speak with you about how we can help tackle your next lawn and landscaping project.