We provide landscaping services to homes and businesses in Staunton, IL.
From custom hardscapes to land clearing services, we are your go-to experts.
Staunton, IL is the largest city in Macoupin County and is home to over 5,000 residents. This city is just a short drive away from Springfield, the capital of Illinois, where you can visit the famous Abraham Lincoln Presidential Library and Museum. This museum features a closer look at the late president's life through artifacts, books, and captivating exhibits.
At Creekside Landscapes, we are thrilled to provide our landscaping services to property owners in Staunton. Our services include hardscape installations, sod installations, grading and drainage, and much more! Give us a call today at (618) 374-0010 to sign up for any of our services.
---
We design and install hardscapes and softscapes.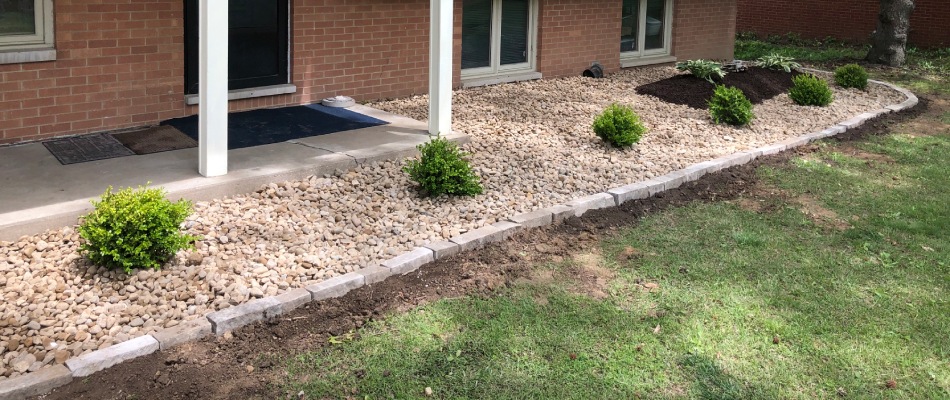 Our services range from installing and renovating landscape beds to designing and building hardscapes. When you hire our team to beautify your outdoor space, we start by creating a landscape design to help you envision what your property will look like when your project is completed. During the design process, we consider design principles like focal points, proportions, depth, and balance.
A new patio will make an excellent addition to your outdoor space since it provides a distinct area where you can host your gatherings. You can add an outdoor kitchen if you want to create tasty meals while enjoying the fresh air. A fire pit or fireplace is also a good investment since it adds warmth to your property, perfect for enjoying starry nights with loved ones.
We also offer retaining and seating wall installations. Retaining walls add usable space in your yard, while seating walls provide more seating areas for your guests. We can enhance the aesthetics of your property and provide convenient ways to navigate your property and park your car by installing walkways, steps, and driveways. Our crew can also install pergolas and pavilions to add some shade to your outdoor living space.
Our team also offers softscape services. You can sign up for our plantings and bed renovations service to keep your property looking fresh. With a newly installed or renovated landscape bed, we can add annual flowers that will make your landscape beds pop!
---
Keep your property looking its best by signing up for our landscape maintenance services.
At Creekside Landscapes, our landscape maintenance services will ensure your property looks great year-round. During the fall, the accumulated leaves in your yard need to be removed to prevent them from suffocating your lawn and plants and to maintain your yard's manicured aesthetics. Our leaf removal service will take care of that tedious task, so you don't have to!
We also offer rock and mulch installation to protect your plants from harsh temperatures and enhance the appearance of your landscape beds. We can also help you showcase the beauty of your property at night with our outdoor lighting service.
We can give you a beautiful new lawn almost instantly with our sod installation service.
---
Our Cleanup Services Include Bush Hogging, Land Clearing, & Commercial Snow Removal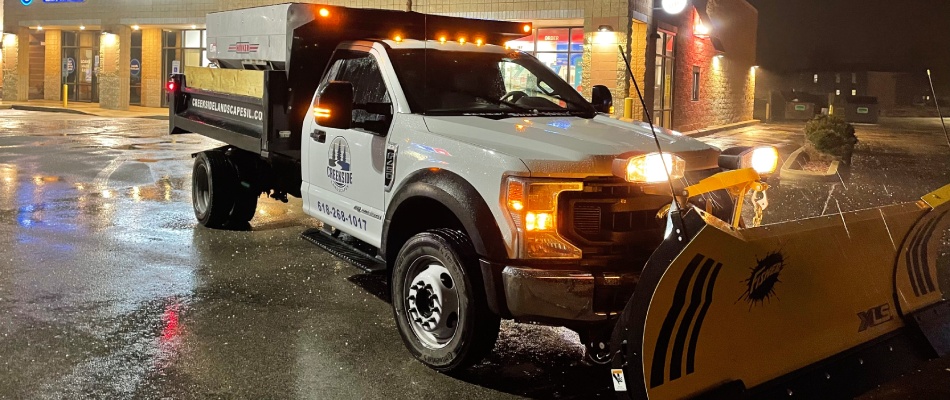 Planning a new landscaping project can be tricky if your property is full of overgrown grass and heavy brush. We provide a bush hogging service to help tidy up your property. If you own a larger property that requires a more extensive cleanup service, our land clearing service will fit your needs better.
If you own a business in Staunton, then you know removing snow is time-consuming. Let our team help with our commercial snow removal services, so you get more time to spend on your business instead of shoveling snow outside.
---
Call our pros today to schedule any of our landscaping services.
At Creekside Landscapes, we offer exceptional landscaping services to property owners in Staunton, IL and throughout the surrounding areas. If you're looking to enhance your outdoor living space, we can make it happen! Give us a call today at (618) 374-0010 to schedule any of our landscaping services.