Our Company Provides Sod Installation in the Edwardsville, Glen Carbon, & Bethalto, IL Areas
We use Kentucky Bluegrass to grow your new lawn with sod installation.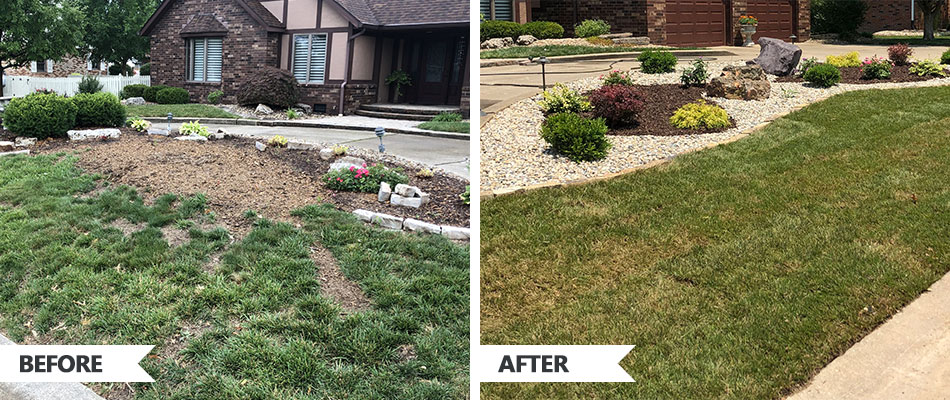 Whether you just bought a home with a less-than-stellar lawn or you just finished up a big renovation project, you might be thrilled to know that there is such a thing as an "instant lawn." Sod is often referred to as an instant lawn because of how quickly you can see green grass when compared to the seeding process. Largely due to this perk, sod is a popular choice among property owners in the Edwardsville area.
Our company uses pre-grown Kentucky Bluegrass that comes in rolls, ready to be rolled out like a carpet onto your soil. After installation, we will always teach our clients the best way to care for newly placed sod to ensure that it starts to develop strong roots. If your home or business is located in the Edwardsville or Glen Carbon, Illinois areas, give us a call today at (618) 374-0010 to receive a quote!
---
We Use Sod Made From Kentucky Bluegrass
In the Edwardsville area, we see mostly cool-season grass. All of our sod consists of pre-grown Kentucky Bluegrass, one of the most common cool-season grass types that we see in the area. Using strictly Kentucky Bluegrass ensures that your new lawn won't have any issues surviving in its environment.
Kentucky Bluegrass is:
Versatile
Quick to spread and forms a lawn full of thick grass
Quick to recover after it endures hot weather or winter dormancy
---
What does the sod installation process look like?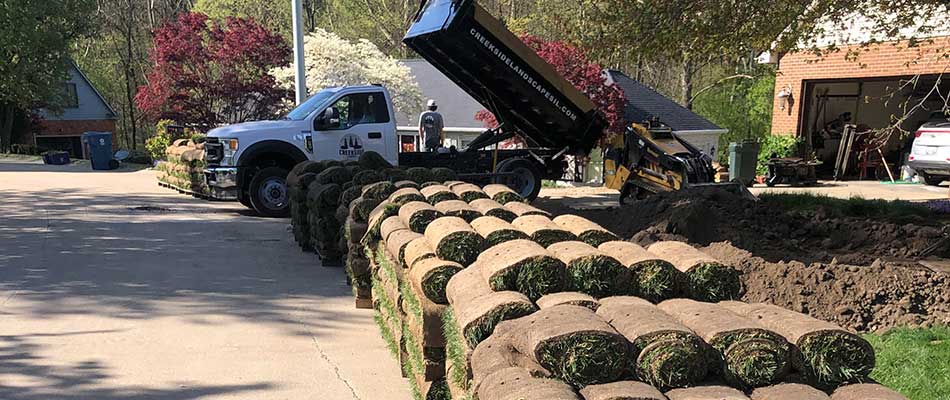 If you need sod installation, it is likely that your lawn is already mostly down to the soil. However, before we begin installing any sod, your lawn will still need to be prepped. Our very first step is to determine if adding topsoil is necessary to give your lawn an extra boost of nutrients to provide the new grass what it needs to develop. It is very possible that your soil won't need the extra boost, but we always make sure to check!
Next, we break out the power raker. This will work the dirt and prepare it to easily receive new grass. Power raking will also smooth out the soil and grade the landscape so that everything is level. After power raking, preparation will be complete! Our crew will then start to roll out the sod and cover your lawn with new, green grass.
---
How to Care for Your Newly Installed Sod
Your sod should be watered within 30 minutes of installation.
Don't walk on new sod!
Water your lawn with 1 inch of water daily for about 2 weeks. If the weather is unusually warm and dry, you can water it more than just 1 inch. The main goal is to keep your new sod moist until it is able to develop roots.
After about 10-12 days, you can mow your sod. Before you do so, though, check a corner piece and slowly pull to make sure that the roots have been developing. Your sod should also be dry before you mow it.
At the 2 week mark, your sod should be well established.
At the 4-6 week mark, your lawn will be strong enough to handle typical lawn care treatments, including fertilization.
---
Grow an "instant lawn" with our sod installation service.
A bare lawn is not very pleasant looking - cover it up with sod! We offer our sod installation service to the Edwardsville, IL area, including Glen Carbon, Bethalto, and Maryville. If your home or business is located nearby, give us a call today at (618) 374-0010 to receive a quote and get on the road to getting your "instant lawn!"