Commercial & Residential Land Clearing Services in Edwardsville, Glen Carbon, Bethalto, & Neighboring Cities in Illinois.
Hire our team of professionals to haul off your trees, stumps, and other vegetation that are cluttering your property.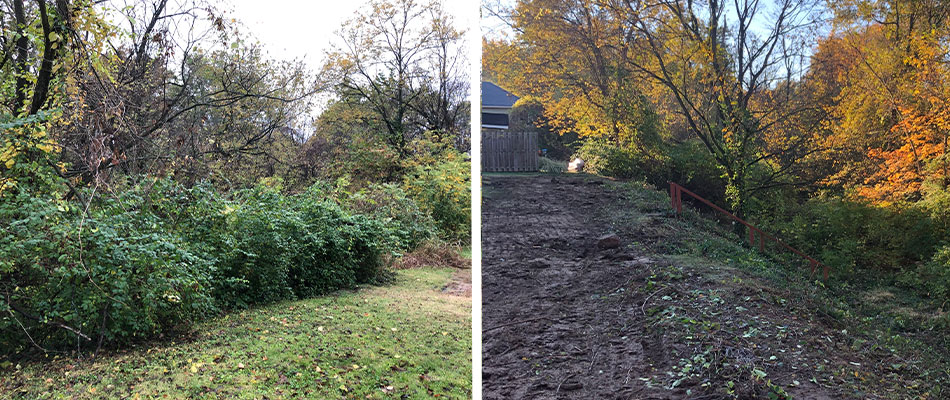 Whether your project is residential, commercial, 1 acre, or 100+ acres, we are here to help you. It can be daunting when something as big as a tree is standing in the way of your next project. That is why our team is ready to help you clear your land and get it ready for what comes next, whether it be building a new home or adding a horse riding trail to your property.
At Creekside Landscapes, we offer our land clearing services to Edwardsville, Maryville, Bethalto, and the surrounding cities. We will come to you and walk you through the process of clearing your land of unwanted vegetation.
---
Our Process Includes Heavy Equipment and Options for Disposal of Debris
Our team of licensed and insured professionals is here to make this process as smooth as possible for you. We will visit you on your property, do a walk-through, and have a conversation with you to determine the best course of action.
After going through the process with you, we get to work. Our team uses heavy equipment such as excavators and skid steers to remove the vegetation from your property.
Once everything is removed, we have a couple of options for disposal:
We can haul off your trees and debris and dispose of it offsite
We can do a control burn of the stacked trees and vegetation
We can dig a hole, fill it with the trees and debris, burn it, and then bury it
After everything is removed and disposed of, your property will be officially cleared of your unwanted vegetation and ready for your next project.
---
Land Clearing for New Home Construction, ATV Trails, and More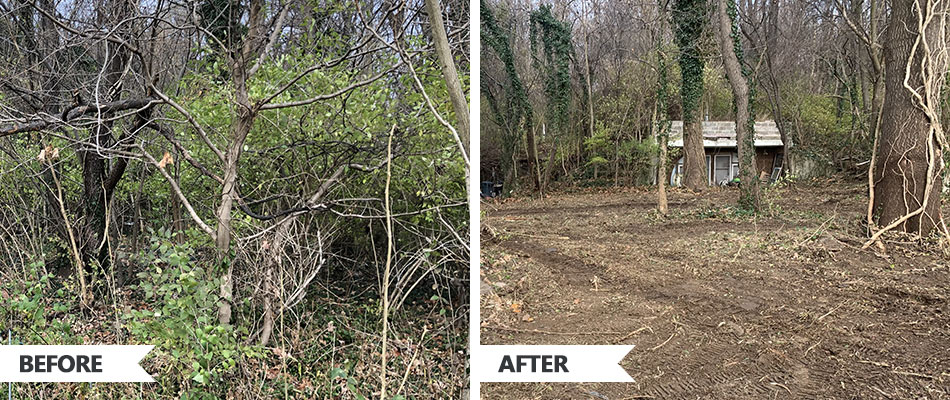 Our customers have come to us in need of land clearing for many different reasons. Some of these include but are not limited to:
New home construction
Adding a new fence
ATV trails
Horse riding trails
New retail and commercial buildings
General clearing to create open land, a pasture, or hunting property
---
Land Clearing is Exactly What Neglected Properties Need.
You might immediately think of land clearing as harmful to the environment. It can, however, help promote a balanced ecosystem.
When an area of vegetation becomes neglected and overgrown, the plants begin competing for resources such as sunlight, water, and other needed nutrients. This makes it difficult for any of these plants to flourish. By clearing out the dead and overgrown vegetation, the plants can stop competing and they will gain easier access to the resources that help them grow and flourish.
Another benefit to land clearing is pest control. Less vegetation means the reduction of pest populations. During rainy seasons, water can pool under shady areas and be left to stand still for quite some time. This opens up an opportunity for pests such as mosquitoes and gnats to thrive on your property.
Not only does land clearing benefit the environment and curb pest issues, but it also results in more aesthetically pleasing properties. Vegetation-filled land can quickly get out of control and leave you with an unappealing sight for you and your neighbors.
---
Call Our Team to Find Out How Our Land Clearing Services Can Help You
Land clearing is not a simple task. Hiring a licensed, insured, and experienced professional is important for your safety. If your property is in or around Edwardsville, Glen Carbon, or Collinsville, give us a call at (618) 374-0010 to learn more about our process and to schedule a consultation for your land clearing project.