We provide our hardscaping services to homes and businesses in Jerseyville, IL.
Our hardscape options can add beauty and functionality to your property!
Jerseyville, IL has a population of over 8,000 people and is the largest city in Jersey County. If you're looking to learn about this city's rich history, you can visit the Fulkerson Mansion, which houses Civil War items owned by Colonel William Fulkerson. Other places you can visit in Jerseyville include the Historic Courthouse Square and the Jersey County Historical Museum.
At Creekside Landscapes, we offer a variety of hardscaping services to help property owners in Jerseyville create the outdoor living spaces of their dreams. We can install a variety of hardscapes including outdoor kitchens, fire features, patios, pavilions, and more. Give us a call today at (618) 374-0010 to schedule any of our services.
---
Enhance your outdoor space with a new patio, pergola, or pavilion.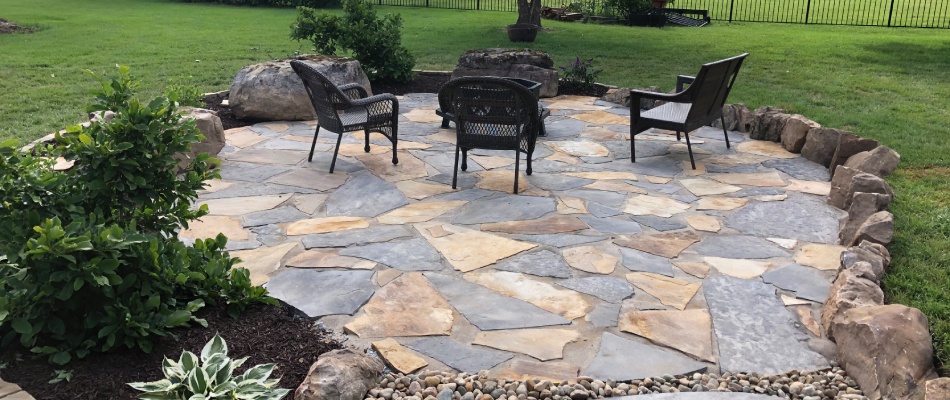 At Creekside Landscapes, we want you to be able to create meaningful memories with your loved ones in your outdoor living space. Our patio installation service will provide you with a designated entertainment space where you can enjoy time with friends and loved ones. We can also install pergolas and pavilions, which will not only increase the aesthetics of your property but will also provide you with shaded areas so you can enjoy your outdoor living space without being subjected to direct sunlight.
---
Our Outdoor Kitchens & Fire Features Combine Beauty With Functionality
While we are fans of beautifying properties in Jerseyville, we also want to add function to your home or business. Our outdoor kitchens are the perfect embodiment of beauty and functionality. They will instantly increase the aesthetics of your property and will provide you with a space where you can cook while enjoying the outdoors. Our outdoor kitchens can be equipped with a variety of features including refrigerators, wood-burning pizza ovens, grills, bars, and more!
We can also install a fire pit or fireplace on your property that will make it more enjoyable than ever to enjoy your outdoor area when the weather starts to get cool. We can use either brick, stone, or boulder to build your fire feature. Our fire pits and outdoor fireplaces are available in both gas-burning and wood-burning options, so you can choose an option that's just right for you!
---
We build retaining walls, seating walls, walkways, driveways, and steps.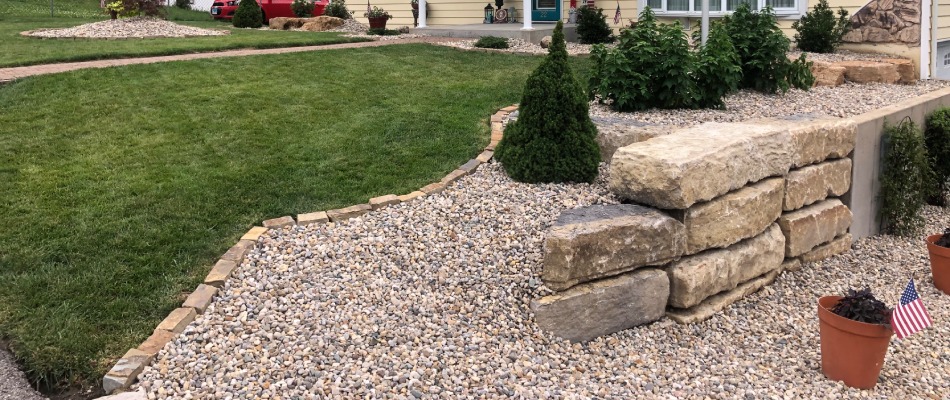 We offer retaining and seating wall installations to property owners in Jerseyville, IL. Our retaining walls are perfect for properties that are built on a slope as they prevent soil erosion and can add usable, flat space to areas that were once sloped. We also can install seating walls to provide you and your guests with more comfortable seating areas during get-togethers.
We also offer the installation of walkways, driveways, and steps to make navigating your property a breeze. We can use the same materials to build these hardscapes to create a cohesive look on your property.
We can also install outdoor LED lights to showcase the beauty of your property after the sun goes down!
---
Call our team today to schedule our hardscaping services!
We are your local experts for all your hardscaping needs. Whether you need a customizable patio, a fireplace, or any of our other hardscape options, just give us a call. We offer our services to homeowners and businesses owners in Jerseyville, IL and throughout the surrounding areas. Give us a call today at (618) 374-0010 to schedule any of our services. We look forward to working with you!