Our design and build services enhance the landscape of properties in Edwardsville, Glen Carbon, and nearby southern Illinois areas.
Boost the appeal of your outdoor living space with hardscaping elements like fire pits, raised planter beds, and outdoor lighting.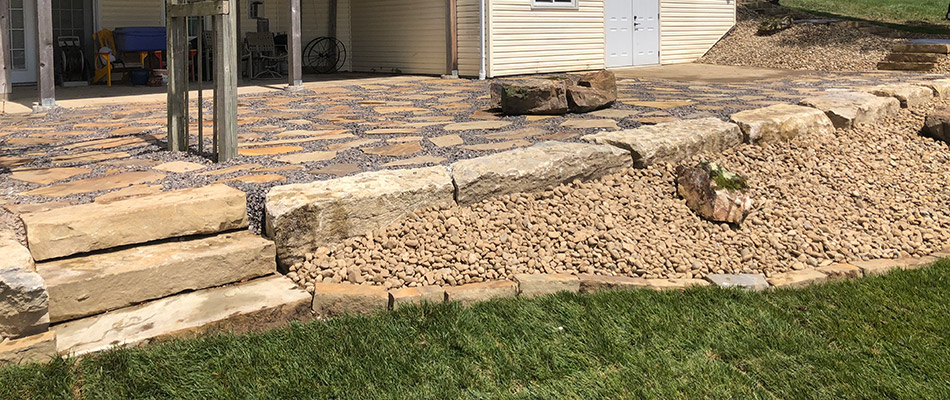 From summer barbeques to enjoying a chilly autumn evening around a fire, outdoor living spaces offer recreational benefits that can't be beaten.
Exterior hardscape upgrades like outdoor kitchens, fire pits, and patios refresh the look of your property and boost its overall value, especially for homeowners looking to put their house on the market.
For properties in Edwardsville, Glen Carbon, and surrounding areas in southern Illinois, enhancing your landscape with different hardscaping elements is always worth the investment. Learn more about how Creekside Landscapes's design and build services can improve your outdoor living area!
---
Outdoor Kitchens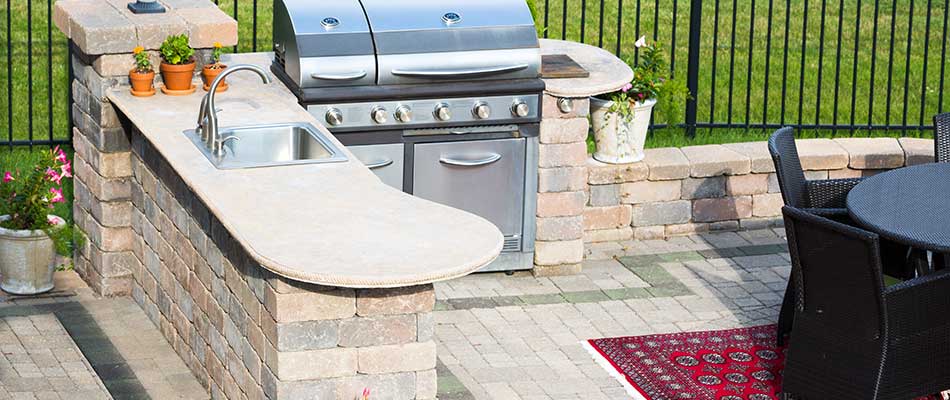 Outdoor kitchens add a whole new layer of fun for gatherings with family and friends.
We choose the best outdoor kitchen kits that fit the style and feel of your outdoor area. Grills, wine coolers, and refrigerators are just the start of your new cooking experience!
Ask our team about installing a wood pizza oven with the rest of your outdoor kitchen!
---
Patios & Walkways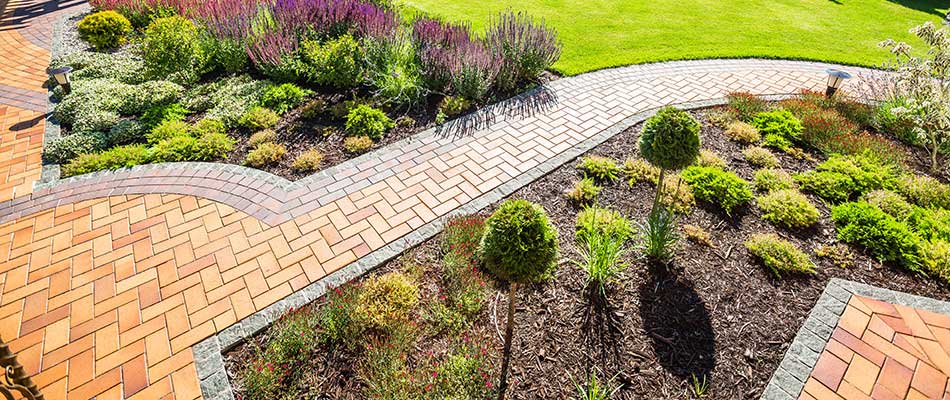 Installing a patio and walkway are simple ways to update and enhance your existing landscape. Outdoor patios are visually appealing, add value to your property, and can be decorated in a thousand different ways! New walkways also add a personal touch as you guide guests to your outdoor living area!
We construct our patios and walkways using concrete pavers and flagstone!
---
Pergolas & Pavilions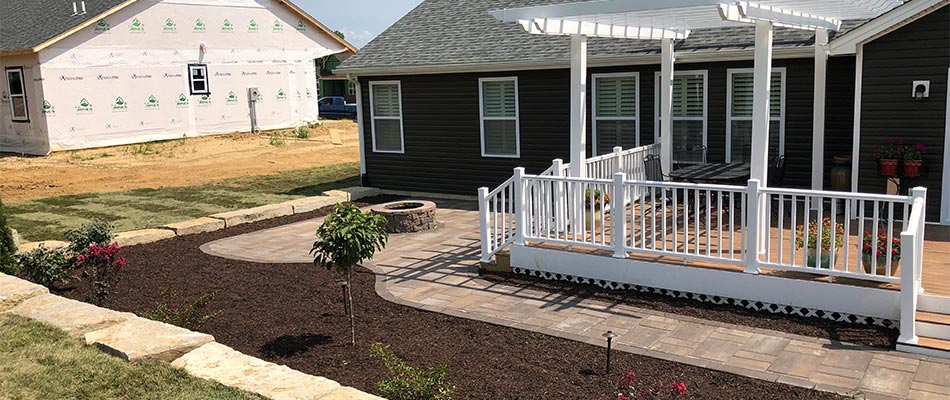 We install custom pergolas and pavilions to create a beautiful focal point of your outdoor living area. Our pergolas are available in a wide variety of colors and styles so that you can choose what you like the most that matches your property's design and look. We use durable, long-lasting materials for all of our pavilion and pergola installations.
---
Fire Pits and Fireplaces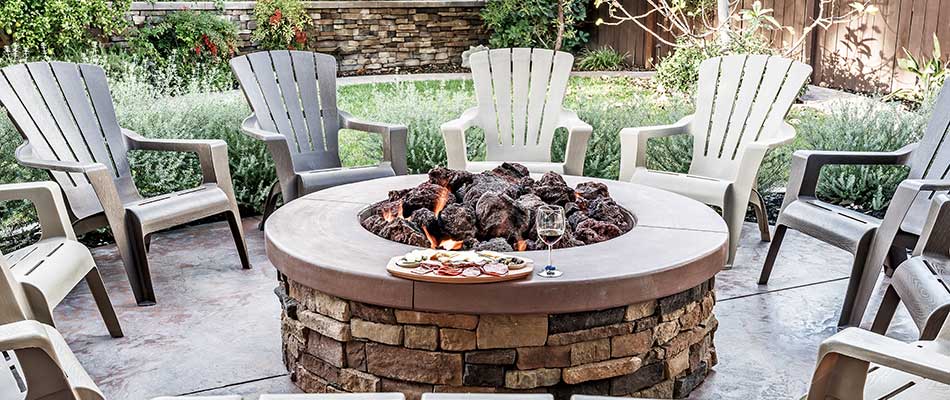 Enjoying the fall or winter outdoor weather is much easier when you can curl up around a cozy fire!
Our outdoor fire pits and fireplace kits come in all shapes and sizes with your choice between gas or wood-burning. Brick, stone, and boulder options offer you a natural-looking design, making it the perfect hardscape for any outdoor setting!
---
Retaining and Seating Walls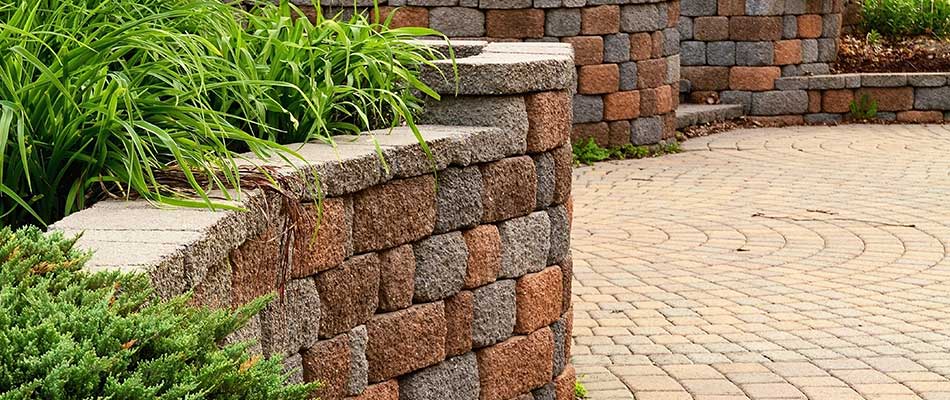 Retaining and seating walls are a practical hardscape choice that serves a functional purpose while also adding usable space to your landscaping!
Retaining walls are great for controlling soil erosion and adding elevation to your property. Seating walls provide extra seating space for your outdoor patio area or fire feature and can even double as raised landscaping beds!
View Retaining & Seating Walls
Both hardscapes can be built from the same material using versalok blocks, roman stone, or ledge rock.
---
Steps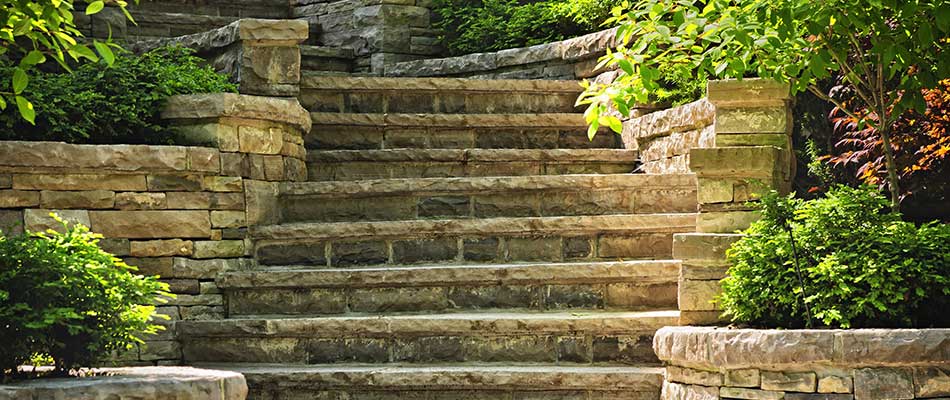 Uneven and bumpy walkways can be resurfaced with the addition of natural outdoor steps. They create an easier access way to the front and back of your property and help with elevation changes.
Our material selection allows us to create hardscape steps with your particular style preferences in mind. Choose from our range of large stones, such as Siloam stone, concrete pavers, and more. We also construct paver steps for elevated patios!
---
Driveways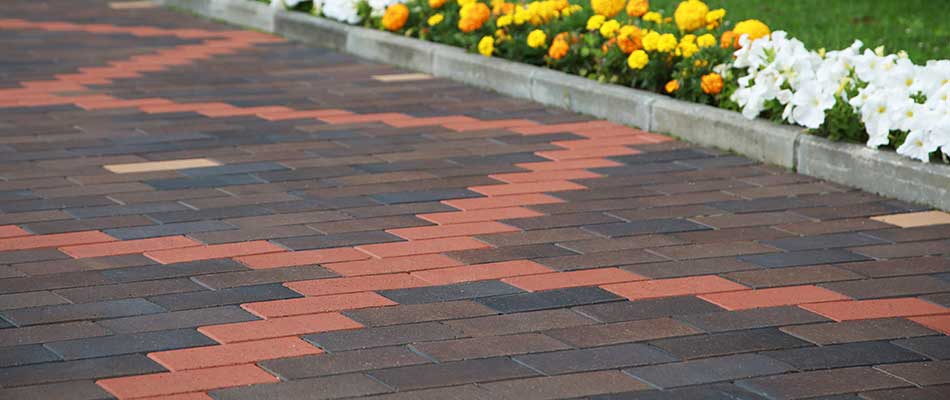 Having a functional driveway on your property is an important aspect of overall curb appeal and accessibility. You may not give them much thought, but driveways are an affordable way to add a hardscaping element that's durable and decorative, yet versatile.
We design driveways using the same building materials as our patios and walkways so you can have matching hardscape surfaces!
---
Need help creating an outdoor living space that's beautiful and functional? Receive a quote from our team today!
If your property needs an updated outdoor living space that's both functional and visually pleasing, look no further than Creekside Landscapes! We serve properties located in and around Edwardsville, Glen Carbon, and Bethalto, IL.
Our talented team can construct an outdoor area that highlights your landscape and offers a safe and entertaining space for everyone to enjoy all year long! Call us today at (618) 374-0010 to receive a quote about our hardscape design and build services!