Landscape grading and drainage solutions for residential and commercial properties in Edwardsville, Glen Carbon, & Bethalto, IL
Our team can solve water-retaining problems on your property by offering a cost-effective drainage and grading solution.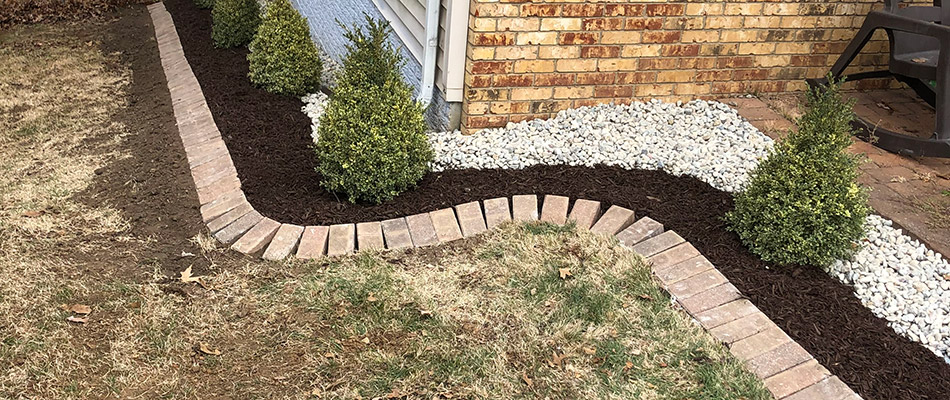 If you're struggling with pooling water in areas of your property, this is a problem you'll want to fix right away. Poor water drainage does more than harm the health of your lawn and landscape plantings; it could also create serious issues for the foundation and inside of your home or business as well.
Tired of dealing with standing water and landscape flooding? The team at Creekside Landscapes is more than happy to assist you and your property!
Our drainage and grading solutions can solve your water retention problems and help level-out areas of your landscape to provide more usable space and minimize soil erosion. Residential and commercial properties in Edwardsville, Glen Carbon, Bethalto, and nearby cities in Southwest Illinois are eligible for our drainage and grading services.
---
Water retention and flooding issues can severely damage your landscape and property.
Ensuring properties have a proper drainage system isn't something that comes to mind for many home and business owners, but it definitely should. Overlooking drainage and grading issues will result in more damage to your property and landscape that becomes a costly repair expense for you.
Water pooling and flooding issues present a number of problems:
Lawn and plant diseases are more likely to form and overtake your property.
Water that seeps into the foundation, walls, or basement increases the risk of mold growth. The kind of structural damage caused by mold and water is often very expensive and can take weeks to fully repair.
There's a greater chance of topsoil being displaced by erosion.
Standing water attracts and becomes a breeding ground for mosquitoes.
---
Creekside Landscapes can install multiple styles of drainage systems so none interfere with the overall design of your existing landscape.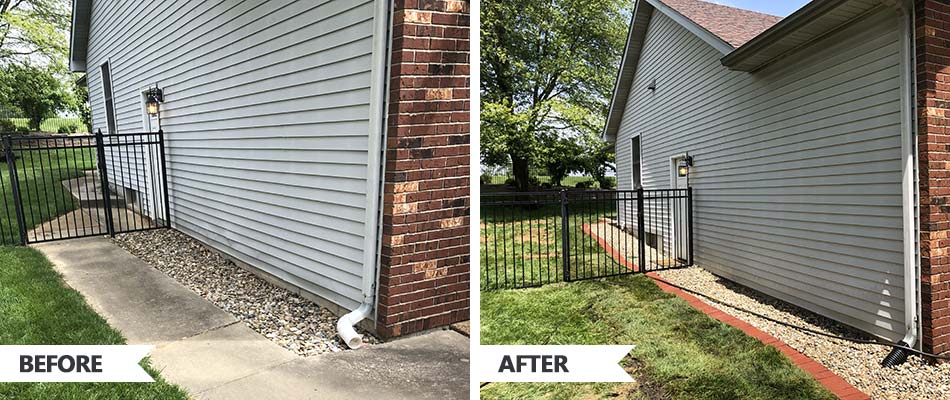 Correcting water retention issues on your property is easy with our variety of available landscape drainage systems. We've included several beneficial styles that effectively redirect the water without interfering too heavily with the rest of your landscape layout:
Dry creek beds - Creek beds are made by digging out a sloped trench and installing river rocks of differing sizes and shapes. This creates a natural way to redirect water flow that can be incorporated into your landscape's aesthetics.
French drains - Installing a french drain system is similar to a dry creek bed. The only difference is that a pipe is added in to help redirect water away from the foundation of your property and deposit it all somewhere else. French drains work well for properties struggling with water coming through a building's foundation or basement.
Swales - Swale drains are less obvious than other drainage systems. They normally are covered or lined with rocks, turfgrasses, and other vegetation to make them look as if the drains are part of a landscape. Swales are shallower and broader than ditches, which is one of the main differences between the other system installation processes.
---
Grading certain areas of your landscape is another method of handling pooling water.
Another way to redirect standing water from your property is by leveling the impacted areas of your landscape. Landscape grading is often performed for most landscaping projects because it is such an effective solution to water drainage issues, can help smooth out hilly spots, and provides more usable land. Grading parking pads and gravel are added to avoid soil erosion and ensure the ground remains properly leveled.
---
Stop standing water and flooding issues from damaging your lawn and landscape with a drainage and grading solution!
Drainage and grading are not just for aesthetic reasons. Protecting the foundation of your home and existing landscape from standing water and flooding can be done with proper drainage and grading. You can utilize these services independently of a landscape project or in conjunction with a new one!
Our landscapers ascertain what areas of your lawn and landscape have drainage issues and recommend the proper course of action for improving water flow. If you're a residential or commercial property located in Edwardsville, Glen Carbon, Maryville, or surrounding areas of Illinois, call us at (618) 374-0010 to inquire more about our drainage and grading services at Creekside Landscapes!