Outdoor Lighting in Edwardsville, Glen Carbon, Bethalto, IL & Nearby Areas
Outdoor lighting highlights your landscape beds, trees, and walkways for a charming curb appeal even at night.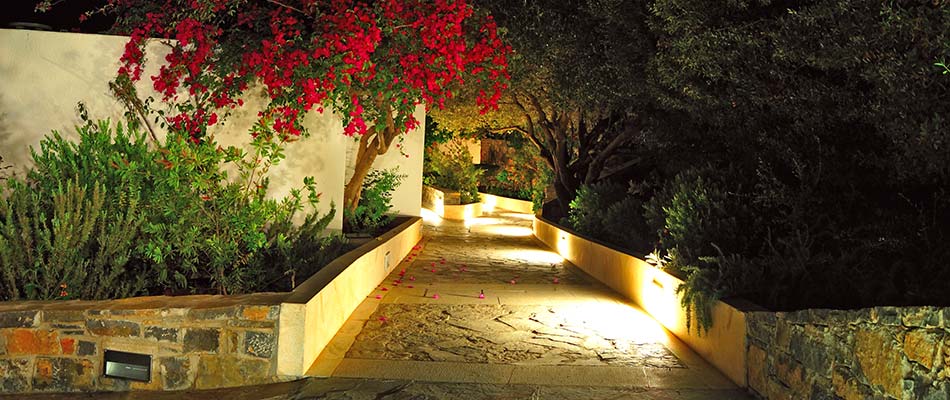 During the day, your stunning landscape design is easily highlighted by sunlight. But at night, your property can get lost in the darkness. Incorporating some lights outside your home or business will showcase the best assets of your landscape while illuminating walkways and steps for safety. Different lighting techniques like wall washing and highlighting will drastically increase your curb appeal!
Our company uses LED lights for our outdoor lighting installation to ensure long-lasting, bright lights that don't sky-rocket your electricity bill. We provide outdoor lighting installation for properties in Edwardsville, Glen Carbon, Bethalto, IL and nearby communities.
---
Our team uses LED bulbs for longer-lasting and brighter lights.
The exterior of your property can be very exposed to weather elements like the sun, rain, wind, and snow. Because of this, we make sure to use high-quality LED lights on your property. They can withstand extreme weather conditions longer than other types of lighting, leaving you worry-free knowing that you won't have to replace the bulbs any time soon.
Additional LED lighting benefits include:
Brighter lights
Less energy use
More color variety
Longer lasting
No heat generation, making them safer to use
According to the Department of Energy, LED lights use 75% less energy than incandescent lights, which means you save more on electricity bills.
---
We Use Different Lighting Techniques to Showcase Your Property
When incorporating outdoor lighting into your property, there are so many design options to choose from. Our crew can help you choose the best spots for your new lights as well as the type of lighting you want to use. We offer many different lighting techniques to showcase your favorite landscape features. Some of these techniques include:
Highlighting - For a lush tree or a newly blooming shrub, highlighting them by placing lights on their base will make these softscapes stand out on your property at night.
Wall Washing - This technique is meant to showcase any gorgeous walls that you have on your property. The lighting fixtures are installed a few feet away to face the wall at an angle for a soft and soothing look.
Silhouetting - If you have a statue or a plant with striking features, the silhouetting technique will light up the area behind it, causing the object to look dark and silhouette-like against the bright background.
Up-Lighting & Down-Lighting - These techniques involve placing the lighting fixtures near the structure to illuminate it. Up-lighting involves pointing the light upwards towards the structure to create a dramatic effect. Down-lighting involves pointing the light downward to mimic the look of natural moonlight.
Path Lighting - One of the primary benefits of outdoor lighting is increased safety. Path lighting is all about safety, as it involves lighting up the walkways around your property so that you and your guests can move around safely.
---
Light up your home or business with outdoor lighting! Talk to our pros today.
Aside from stunning softscapes and sturdy hardscapes that will undoubtedly enhance your curb appeal, adding some outdoor lighting to your property can take your property's aesthetics to the next level. It increases your home's value and improves safety and security for people, especially at night. Our team at Creekside Landscapes offers outdoor lighting installation services using LED bulbs that create long-lasting, brighter lights.
If you own a home or business in Edwardsville, Glen Carbon, Bethalto, or a nearby area in Illinois and you want to illuminate your property with outdoor lighting, call us today at (618) 374-0010 for a consultation.