Landscaping & Hardscape Services Available in Godfrey, IL
Our services include hardscape installations, landscaping services, and more.
Godfrey, IL is a beautiful village in Madison County and it is located within the Greater St. Louis metropolitan area. Godfrey is home to over 17,000 people and is surrounded by nature. Residents and visitors here love to take advantage of the great outdoors and enjoy hiking the numerous trails at The Nature Institute.
At Creekside Landscapes, we understand that property owners in Godfrey take a lot of pride in their landscapes, which is why we only offer high-quality services. We offer hardscape installations, landscaping services, and even commercial snow removal.
---
We can design and install a variety of hardscape options including fire pits, outdoor kitchens, patios, and more.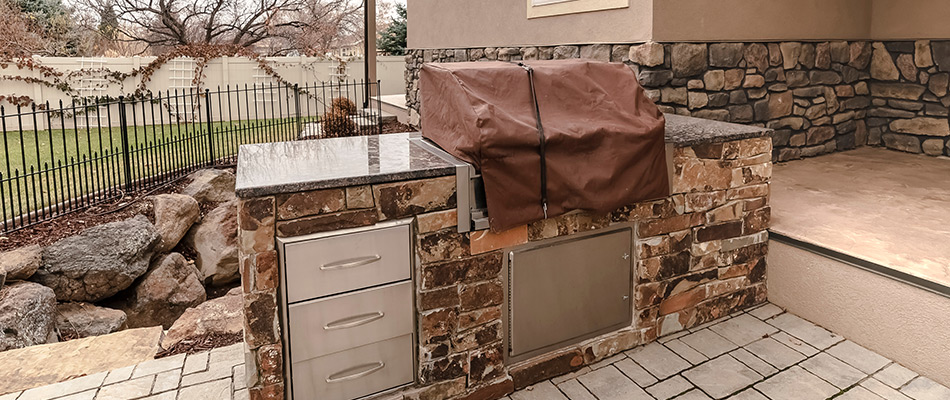 Investing in custom hardscapes is a great way to enhance the curb appeal of your property as well as add to the enjoyment you get from your outdoor area. What's more, hardscapes not only look great, they will also increase your property's value, so you can count on getting a great return on your investment when you have one or more installed on your property.
If you're looking to enjoy the cooler weather comfortably, you should invest in one of our fire pits or fireplaces. Want a great place to gather and cook at? Then our outdoor kitchens are the perfect choice. Want to escape the sun? Then invest in a pergola or pavilion. Our other hardscape options include patios, retaining walls, seating walls, walkways, driveways, and outdoor steps.
---
Our landscaping services include annual flower installations, leaf removal, outdoor lighting, and much more!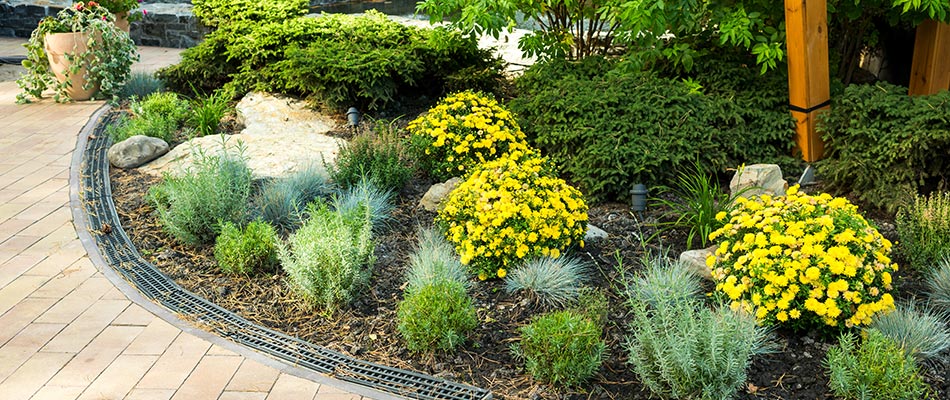 Your landscape is the first thing that people will notice about your property, so you'll want it to look great. That's where we come in. We offer a variety of landscaping installations and services that will transform your property into a beautiful place that you'll be proud of. With our plantings and bed renovations service, we can redesign your landscape beds and fill them with annual flowers, rock and mulch, and other plantings of your choice. We also offer outdoor lighting, so you can showcase your landscaping even after the sun has set. Want to make sure you'll like your landscaping before we even start? Then take advantage of our landscape design service. We utilize 2D and 3D design software, so you can see what the results of your project will look like before we get started on the installation.
If your property is having a problem with water pooling up, you'll want to take advantage of our grading and drainage service. This service will redirect water off of your property to prevent flooding. If you own a large plot of land that needs to be cleared or you have trees and other debris that you want to be removed, our land clearing and bush hogging services might be right for you. Have a property filled with leaves? Then sign up for our leaf removal service and we will clear the leaves from your property and haul them away.
If you need to replace your existing lawn with lush, green grass, it's time to sign up for our sod installation service. We can roll pre-grown grass onto your lawn that will give you a beautiful new lawn almost instantly.
---
We Also Offer Commercial Snow Removal
Because the Godfrey, IL area experiences so much snow in the winter, business owners will want to make sure that they sign up for our commercial snow removal service. When the snow reaches 2 inches, we will come out to your business to clear the parking lot, walkways, and steps of your property, so you, your employees, and your customers can have safe access to and from your business.
Our commercial snow removal service also includes deicing. This will help to eliminate the buildup of slippery ice on your property.
---
Give us a call to sign up for our landscaping and hardscaping services today.
If you're ready to take advantage of any of the landscaping services we offer, give us a call today at (618) 374-0010. We are proud to offer our services to commercial, residential, and HOA properties in Godfrey, IL. We look forward to working with you to help you accomplish all of your landscaping and hardscaping goals.