Our experts provide hardscape installation and landscaping services to properties in Brighton, IL.
We install hardscapes, renovate landscape beds, clear your land of clutter, and more.
Located in Macoupin County, Brighton, IL is a small village home to about 2,000 residents. If you're looking for a way to enjoy the outdoors in Brighton, you can take a drive over to Riverview Park. This park is located along the bank of the Mississippi River and provides breathtaking views. If you're looking for an indoor activity, you can visit the Curiosity Museum, which features a variety of interesting artifacts.
At Creekside Landscapes, we offer a variety of services that are designed to improve the properties in Brighton. Our services include hardscape installations, landscaping services, and cleanup services. All of these services are available to residential, commercial, and HOA properties in Brighton, IL and throughout the surrounding communities.
---
Revamp your outdoor living space by adding excellent hardscapes.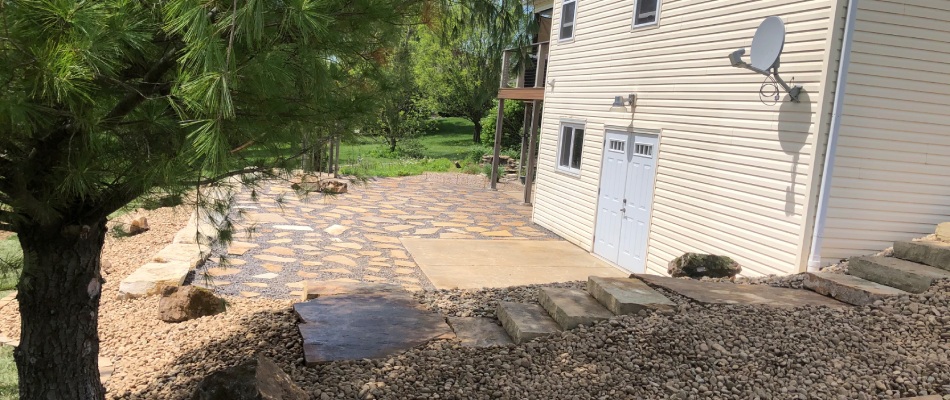 Upgrading your property can come in different ways, and adding excellent hardscapes is one of the best ways to do it. When you're thinking about revamping your outdoor living space, you can start by installing a patio, pergola, or pavilion. These hardscapes can turn a dull yard into a backyard oasis.
Another great addition to your outdoor entertainment area is an outdoor kitchen, as it provides an excellent focal point and the opportunity to show off your cooking skills to all your friends in Brighton! Once you're done making a tasty meal, enjoy it with your loved ones around a fire pit or a fireplace that we can install for you.
If your property sits on a sloped area or is not correctly graded, you could face problems like erosion and standing water. We can help you solve those issues by constructing functional and decorative retaining and seating walls. Our company also installs walkways, driveways, and steps using materials that can complement the look and feel of your property.
---
Increase your curb appeal with our landscaping services.
We are also your local experts for all of your landscaping needs. Our team offers plantings and bed renovations to refresh the appearance of your landscape and increase your curb appeal. Annual flowers also do an excellent job at sprucing up your landscape. Make your ornamental plants stand out even at night by installing outdoor lighting.
Our mulch or rock installation service will safeguard your plants and provide a fantastic finishing look for your landscape beds. Leaf removal is another task that will preserve the health of your lawn and ornamental plants. If you're looking to start a new lawn from scratch, you can take advantage of our sod installation service to get a new lawn almost instantly.
---
Our other services include bush hogging, land clearing, and snow removal.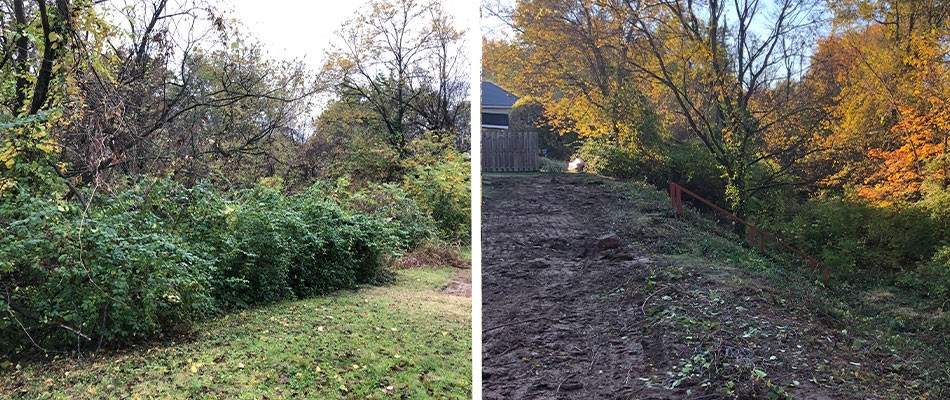 Our team offers land clearing which involves removing trees and debris off your property and bringing it to another site for proper disposal. You can also take advantage of our bush hogging services which will clear your property of overgrown grass and brush. We also offer commercial snow removal which involves clearing your parking lots, walkways, and entryways of snow so that your business can continue to operate like normal during the winter season.
---
Call our pros today to schedule our hardscape installations, landscaping services, or any of our other services.
At Creekside Landscapes, we strive to transform the properties of our clients with our hardscape installations, landscaping services, and our cleanup services. We offer our services to property owners in Brighton, IL and throughout the surrounding areas. Give us a call today at (618) 374-0010 to schedule any of our services.