Level off your property in Edwardsville, Maryville, and other nearby areas by installing a custom retaining or seating wall.
Retaining and seating walls are decorative and functional hardscapes that improve your outdoor space.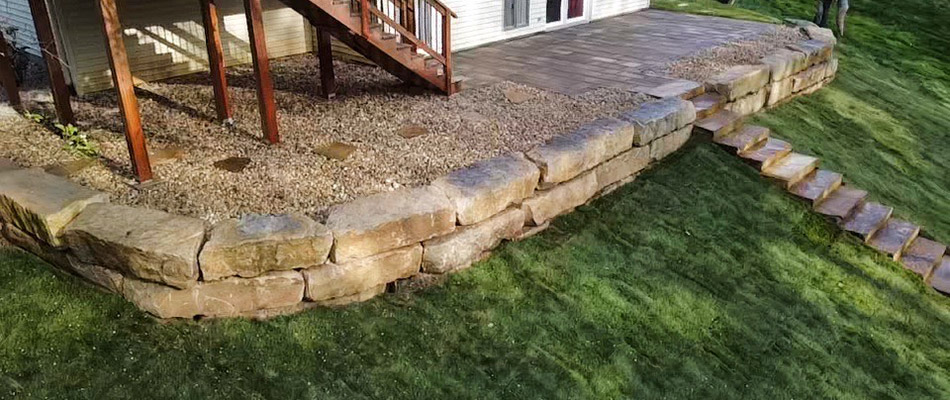 Our retaining and seating wall installation services provide you with custom hardscapes that protect your property while adding aesthetic appeal. Many home and business properties built on hills and slopes can benefit from a retaining wall to reduce soil erosion. If you'd like to extend your outdoor entertainment area, seating walls add tons of additional patio seating space.
---
Retaining walls control soil erosion and help with drainage issues.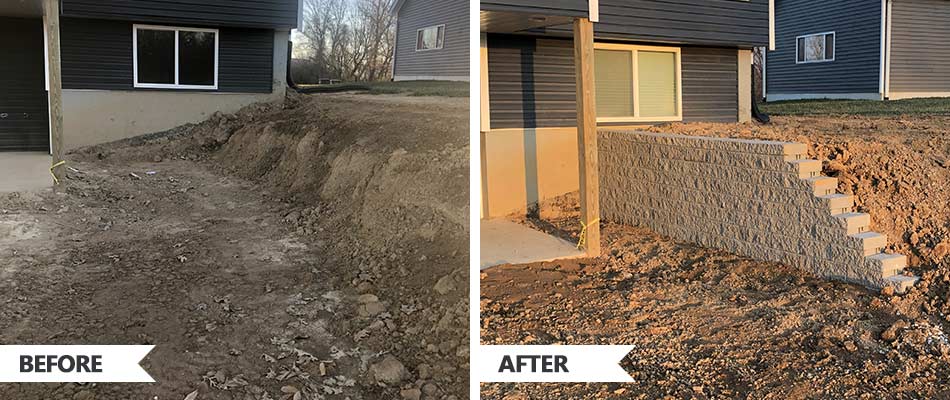 Retaining walls provide more usable space to your property, but its main purpose is to control soil erosion. It helps support properties built on a slope by preventing damp or loosened soil near your foundation from sliding or eroding away. Retaining walls also function as a method of flood prevention and are useful for redirecting water away from your property.
Though most retaining walls usually aren't constructed to heights greater than 6ft, we can install custom retaining walls at any height, providing increased protection for your property and its foundation from damage caused by soil erosion. We work with an expert structural engineering specialist for retaining walls constructed higher than 4 feet in Edwardsville, IL to meet local city requirements.
Not sure what height your retaining wall needs to be? Give us a call at (618) 374-0010 to talk to the retaining wall experts at Creekside Landscapes.
Decorative retaining wall installs create raised landscape beds for annual flowers and ornamental softscapes!
Seating walls double in value by adding extra seating space to your outdoor entertainment area.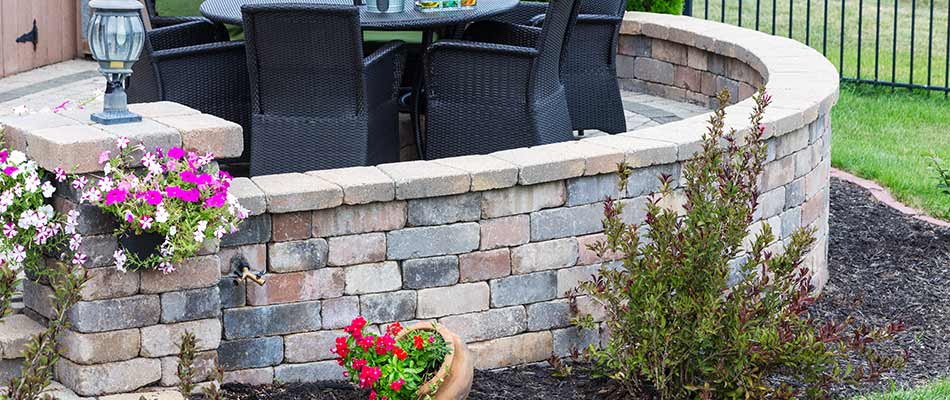 Seating walls are often designed using the same materials as retaining walls, but they differ in functionality. We install seating walls around fire pits or patios to add extra seating space to your outdoor entertainment area. Seating walls are built sturdy with high-quality, easy to clean materials so your new seating area will last you years with minimal maintenance!
---
Our building materials create stately and stylish retaining and seating walls.
We can construct retaining and seating walls using the same building materials so both hardscapes easily blend with your existing landscape. Our builders use Versa-Lok wall blocks along with roman stone and ledge stone to design stately and stylish custom retaining and seating walls.
---
Our team designs and installs custom seating and retaining walls to balance out your landscape.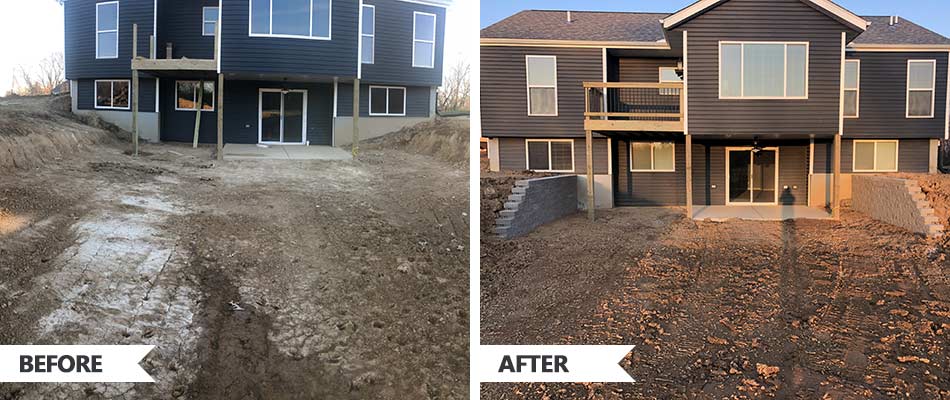 Retaining and seating walls mix decor with functionality to provide you with hardscapes that balance out your landscape. If you need help limiting soil erosion or are looking for more outdoor patio seating, call us at (618) 374-0010. Our team at Creekside Landscapes services homes and businesses in Edwardsville, Glen Carbon, Bethalto, and nearby areas in Illinois!