Outdoor fireplace and fire pit installations for homes and businesses in Edwardsville, Glen Carbon, Bethalto, and surrounding areas.
Fire pits and fireplaces serve as an inviting focal point for outdoor living spaces!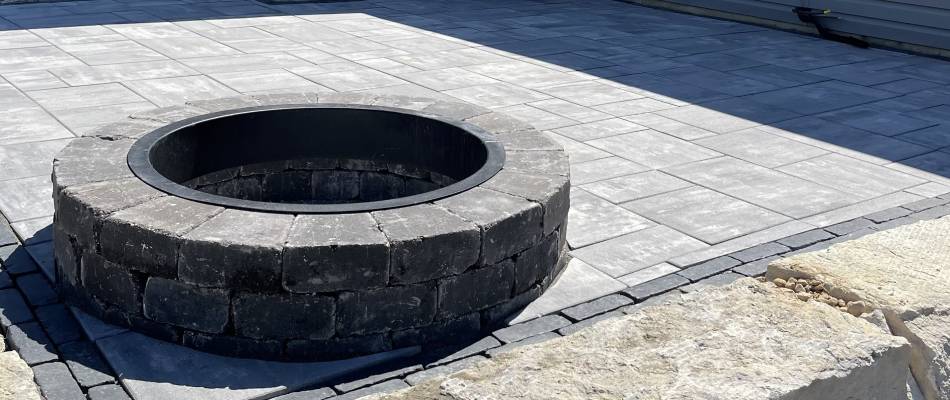 Fire pits and fireplaces offer a cozy escape into the great outdoors. During the freezing Illinois winters, nothing beats gathering around a roaring fire while taking in the crisp night air and gazing at the stars shining overhead.
Outdoor fireplaces and fire pits provide extra entertainment space for any backyard or patio area. Our team at Creekside Landscapes can construct and install these warm and elegant fire features for residential and commercial properties located in Edwardsville, Glen Carbon, Bethalto, and nearby cities.
---
Choosing Between an Outdoor Fire Pit or Fireplace
Both an outdoor fireplace and fire pit can offer a variety of benefits for home and business owners. The next part comes down to deciding which fire feature best suits your needs and property area.
Fire pits are an inexpensive way to add ambiance and warmth to an outdoor living space. It makes the perfect area for a quick barbeque or hosting an intimate gathering with friends and family. Fire pits are like having a mini campfire right in your backyard, and many first-time homebuyers see this hardscape addition as a big bonus when searching for houses on the market!
Outdoor fireplaces make for an impressive piece of landscape architecture. For property owners with a large backyard space, fireplaces are great for building near an outdoor kitchen, pool, or outdoor dining area! It can also stand alone or connect to patio walls for added privacy.
---
Benefits of Adding a Fire Feature to Your Landscape Design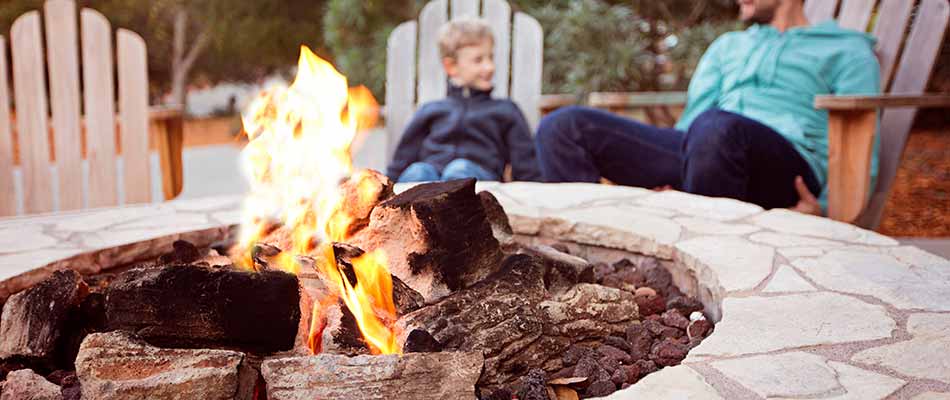 Outdoor fire features are a popular hardscape item that many homes and businesses like to add to their landscape design. Regardless of your personal tastes, fireplace and fire pit installs can benefit any small or large outdoor area.
High percentage on ROI- An article by CBS News lists fireplaces and fire pits as 2 of 10 outdoor features that are great for boosting the value of a home property. Another report from the National Association of Realtors estimates that homeowners could see nearly 67% percent ROI by adding a fire feature to their landscape.
Limitless design and style ideas- Functionality is only part of what makes fire pits and fireplaces such a beneficial hardscape element for landscapes. In terms of aesthetic appeal, the design and style options are virtually limitless. Fire features are stunning focal points for backyard and patio areas. These structures can be designed to look grand and elegant, or more natural and traditional so it blends well with its surroundings.
Smoke repels mosquitos and other flying insects- Trying to enjoy a night outdoors is hard with a bunch of mosquitos and bugs flying around your face, especially in the summer months. Luckily, the smoke from wood-burning fireplaces and fire pits act as a natural insect repellent!
---
Versatile Design and Style Options for Outdoor Fireplaces and Fire Pits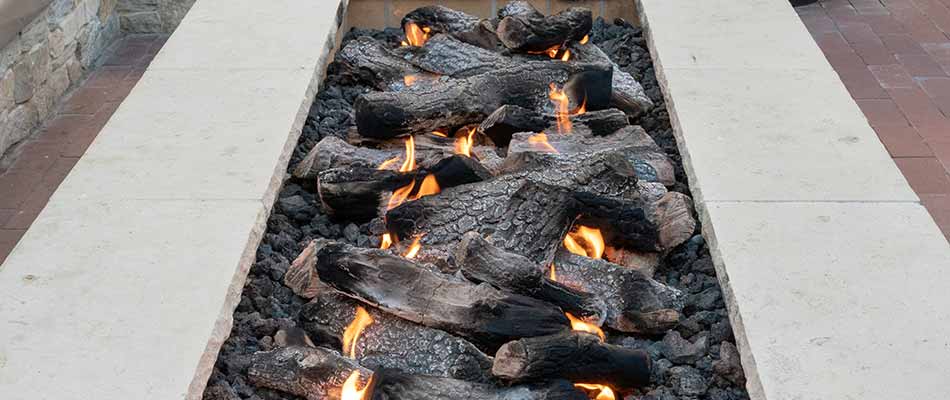 At Creekside Landscapes, we can install either a gas or wood-burning fire pit or fireplace in your backyard or patio area. Choose from a number of kit designs in different shapes and sizes so you end up with a fire feature that matches your personal style preference!
We use the most durable and high-quality building materials to ensure these hardscapes last you years to come! Our crew can construct an outdoor fireplace or fire pit made of brick, stone, boulder, and more!
---
Outdoor fire pits and fireplaces provide charm and warmth to landscapes throughout southwest Illinois!
Don't be left out in the cold when you can have a beautiful outdoor fireplace or firepit installed to keep you warm! These fire features provide you with a luxurious and functional piece of architecture that never goes unnoticed. Our services are available for residential and commercial properties throughout Edwardsville, Glen Carbon, Bethalto, and other local areas in southwest Illinois, such as Maryville, Collinsville, or Godfrey. Call us today at (618) 374-0010 to speak with one of our installers!