Get Cozy this Fall - Fire Pits vs Outdoor Fireplaces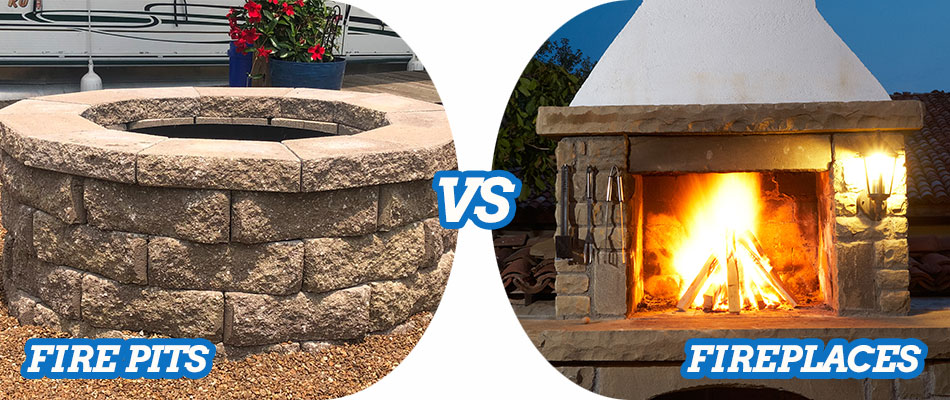 Fall in Illinois gives you a great reason to stay outdoors at night and enjoy gazing at the stars. And believe us when we say adding a fire pit or fireplace to your outdoor living space can make the time you spend outdoors way better. These fire features create warmth that is best enjoyed with your loved ones, and they also increase the value of your property. What's not to love about that?
However, choosing between a fire pit or a fireplace can be tricky because they are equally great features. We have laid down the advantages and disadvantages of both so you can decide what to add to your property.
---
Fire pits are an economical option ideal for smaller backyards.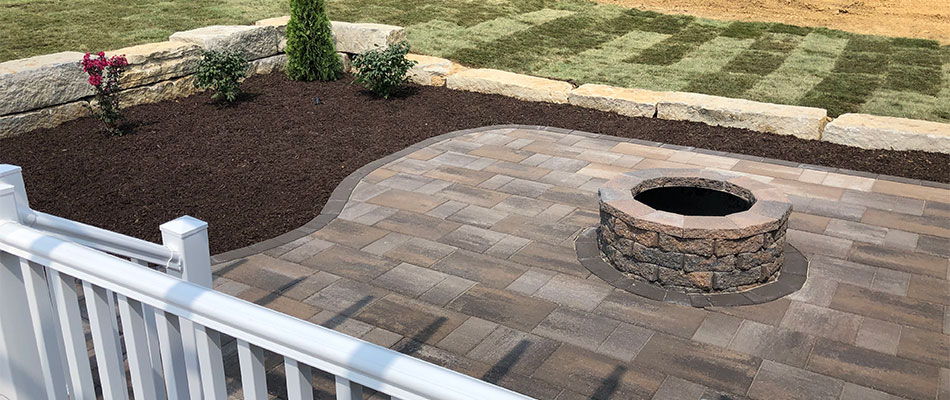 There's nothing better than spending a starry night outside with family and friends while making smores and warming up near a cozy fire pit. Fire pits are circular features built low to the ground, offering a greater seating capacity and allowing more people to enjoy the heat. These features make fire pits a great focal point even in small backyards! Plus, they improve the ambiance of your home at an economical cost. While they may be small, fire pits can still stand out effortlessly on your property since they are made from stunning materials like bricks and paver stones.
Should you decide to add a fire pit, you have to determine whether to use gas or wood. Check out their differences below:
Gas fire pit - Gas fire pits are more convenient because all you need to do is push a button to get the fire going. However, they can be more expensive upfront.
Wood-burning fire pit - If you love the smell and sound of burning wood, this one's for you. It comes at a more affordable price, but some people don't like having smoke blown in their face.
---
Outdoor fireplaces are best for larger properties and offer increased privacy.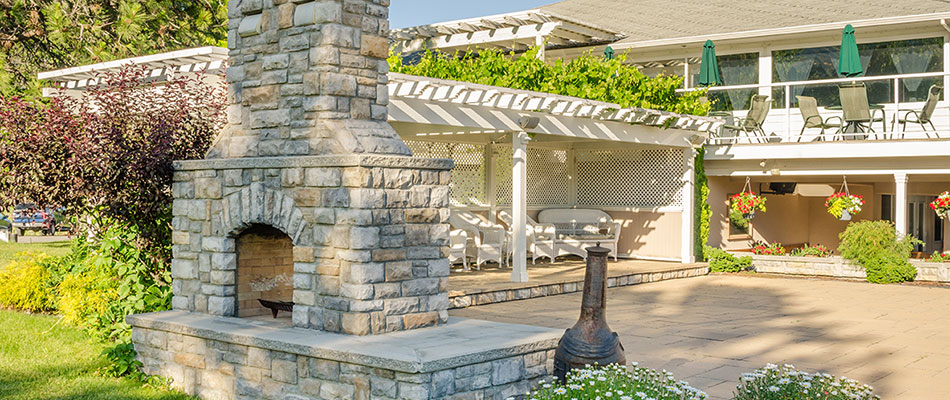 Unlike firepits that work for small properties, outdoor fireplaces are great additions to larger backyards. This is because an outdoor fireplace needs a lot of space. However, these fire features are fully customizable, so the overall structure can be as extensive as you want it to be. It's a worthy addition to your outdoor space because it offers increased privacy and creates a more intimate ambiance for your close-knit group.
The fact that outdoor fireplaces provide an elegant statement piece means you might have to pay a more significant amount upfront. But an impressive outdoor fireplace increases your property's value, which is good if you want to sell your house in the future. You'll also love how fireplaces emit smoke that goes up and not towards your face.
Outdoor fireplaces can be built near seating walls to provide your guests with a more comfortable seating area.
---
Choosing Between Fire Pits & Outdoor Fireplaces
This is going to be a tough decision for you. Both fire features are great options, so whether you choose a fire pit or an outdoor fireplace, you will still make the right choice. In the end, your personal preference should be the basis of your decision. Let's recap the crucial points so you can make your selection:
A fire pit is an inexpensive way to gather your loved ones to enjoy the chilly weather and marvel at the stars. They are built in-ground or above ground, and allow many people to enjoy the heat simultaneously.
An outdoor fireplace is great for large properties. This fire feature may be costly, but it provides a more intimate atmosphere for gatherings.
---
Whether you want a fire pit or an outdoor fireplace, our team can build it for you!
Fire pits and outdoor fireplaces provide great spots to enjoy a cozy night with your family, and deciding between them can be challenging. You can rest easy knowing that we make stunning fire features for our clients no matter what you choose. We install fire pits and outdoor fireplaces at properties in Edwardsville, Glen Carbon, Bethalto, and surrounding Illinois communities. Call us today at (618) 374-0010 to schedule a consultation with one of our experts. We can't wait to build the fire feature of your dreams!
---
Comments (0)
Name *

Email (not shown) *

Thanks for your comment!
Thanks for your feedback! Your comments have been successfully submitted! Please note, all comments require admin approval prior to display.
Error submitting comment!
There is a problem with your comment, please see below and try again.