Get Creative! Spice up Your Outdoor Kitchen with These Features
With an outdoor kitchen, you practically get limitless possibilities to the features you can add. Outdoor kitchens extend your home, allowing you to create hearty meals for your family in the fresh air. While preparing your dishes, you can make your loved ones more comfortable by adding seating walls and a fireplace near your kitchen. If you are looking for another cooking amenity, then you can install a wood-burning pizza oven. Meanwhile, adding outdoor lights or an extensive food prep station makes cooking a breeze. Learn more about these features and how they can spice up your outdoor kitchen!
---
1. Seating Walls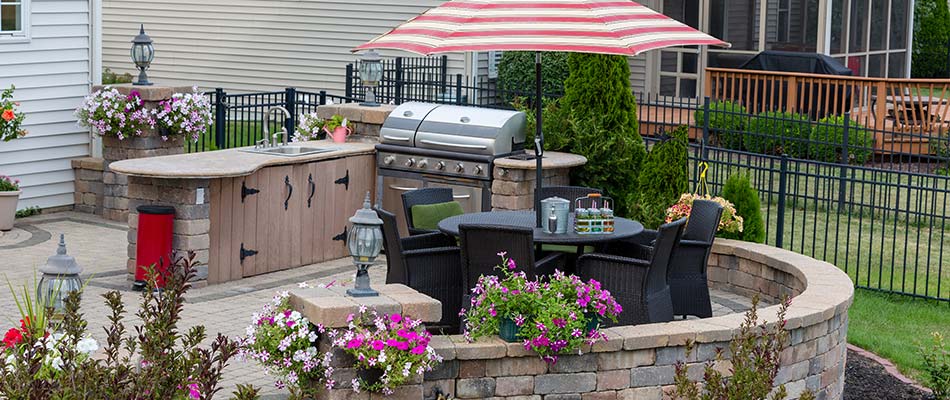 Your outdoor kitchen is already a functional feature in your outdoor living space. Because it will naturally draw people's attention, you can make it more comfortable by providing seating walls. Seating walls are short walls designed to provide extra seating space, which is useful since your outdoor kitchen is expected to be a bustling and productive area in your outdoor living area. The great thing about them is that you do not have to find extra space to store chairs on your property since these are already built into your kitchen!
Seating walls have no problem combining style and function since there are great material options for this feature. Whether you want the seating walls right beside your kitchen or a few steps away, they will provide your guests with good access to it.
---
2. Outdoor Lighting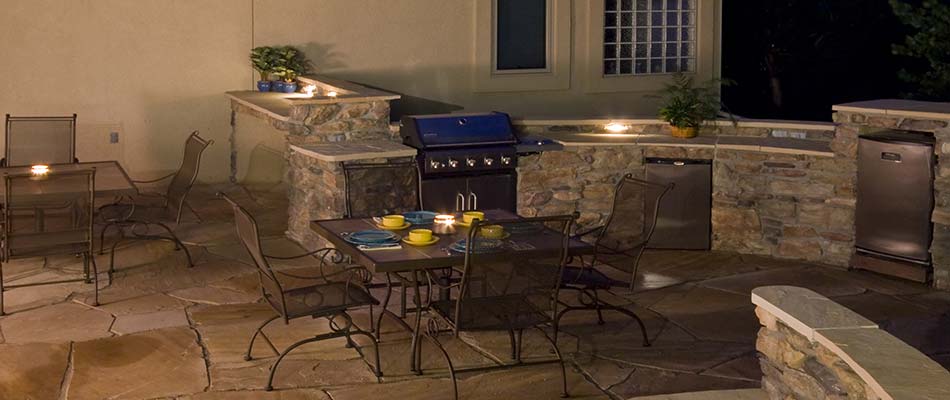 Installing outdoor lights around your outdoor kitchen will transform it into an outdoor oasis that serves the best home-cooked meals at night. For the cook's convenience, you should adequately illuminate the area where meals will be prepared. This way, hazards in the kitchen like sharp objects and hot surfaces can easily be avoided. We recommend using lights that can withstand humid and damp conditions as well. Because the kitchen is outdoors, your lights can still be exposed to weather elements that may damage it.
LED lights are the best lighting option since they provide brighter lights at a cheaper cost. Plus, they can be dimmed depending on the kind of mood you want!
---
3. Wood-Burning Pizza Oven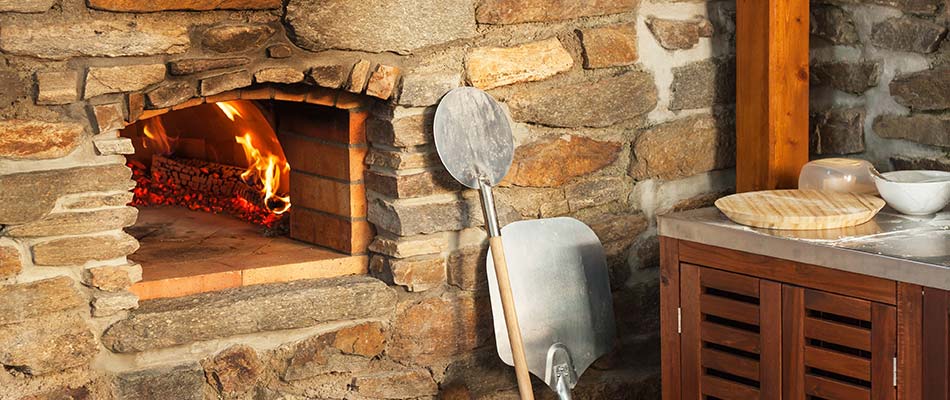 With an outdoor kitchen, anything can happen! From Taco Tuesdays to Italian nights involving pizza and pasta, you can make your kitchen flexible by installing a wood-burning pizza oven. Who doesn't love a good old homemade pizza? Whether you are celebrating a birthday or you're having your friends over for a movie night, a wood-burning oven will allow you to create your own pizza! Here are some more reasons why a wood-fired oven is an excellent addition to your outdoor kitchen:
Energy saving
Versatile
Enhances flavor
Cooks pizza quickly
---
4. Food Preparation Station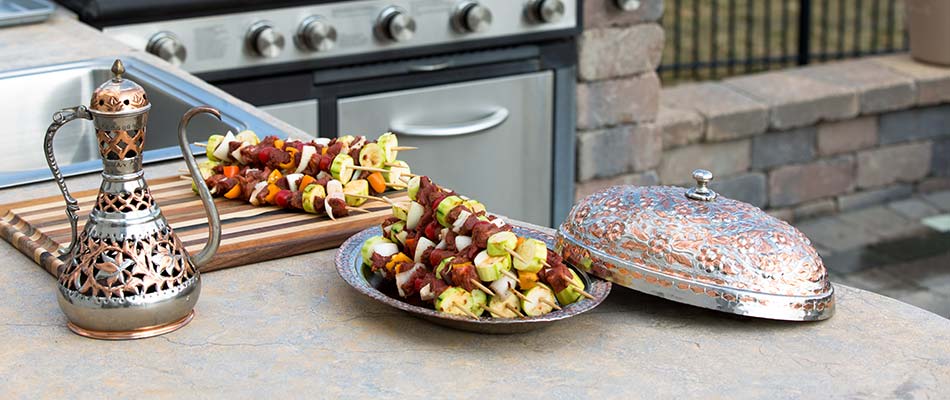 It's no secret how preparing food can be exhausting, especially when the things you need are inaccessible to you. When you have an outdoor kitchen, make extra space for a food preparation station. While the outside setting and unrestricted space provided by your outdoor kitchen allow you to move freely, a food prep station is going to be a real game-changer. With a wide enough area to put together your signature dish, you can conveniently reach your cooking utensils, pots, and pans.
---
5. Outdoor Fireplace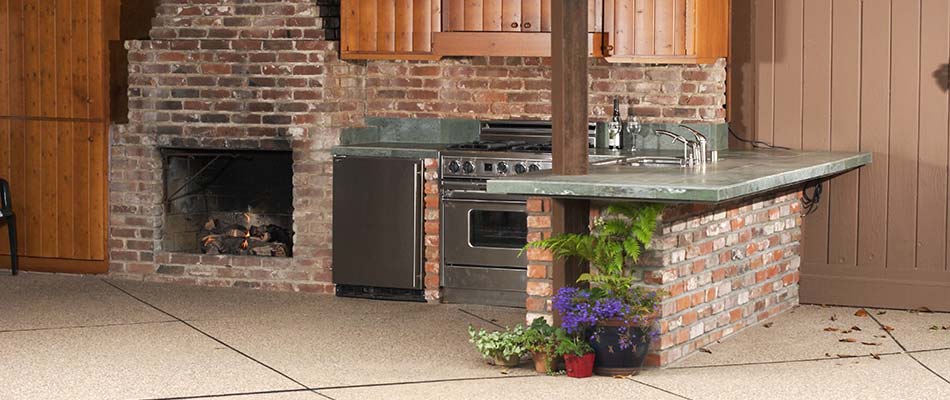 Food is best experienced with loved ones, and an outdoor fireplace provides an ideal area to savor home-cooked meals This fire feature can stand alone since it is a grand statement piece that creates a focal point on your property. An outdoor fireplace provides increased privacy for your events, perfect for whether you want to keep your party lively or intimate. And because you can easily add comfortable seating areas around an outdoor fireplace, it's the best place to share laughter and spark conversations with your loved ones.
Additionally, the crackling sounds of burning wood can entertain your guests while you pour your heart out into preparing the meal. It will be hard to beat the concoction of aromas from your dish and the signature scent of charred wood.
---
Call our experts today for all of your hardscaping needs!
Whether you already have an outdoor kitchen or you're planning to install one, you can spice it up with all of these excellent additions. Our team at Creekside Landscapes offers hardscaping services to properties in Edwardsville, Glen Carbon, Bethalto, IL and surrounding communities. When you hire our highly skilled crew, you can expect nothing less than a job well done on your outdoor living space. Call (618) 374-0010 today to schedule a consultation with our landscaping experts to get your outdoor kitchen project going!
---
Comments (0)
Name *

Email (not shown) *

Thanks for your comment!
Thanks for your feedback! Your comments have been successfully submitted! Please note, all comments require admin approval prior to display.
Error submitting comment!
There is a problem with your comment, please see below and try again.