Here's Why You Should Choose a Kit vs Custom Designing Your Outdoor Kitchen
Outdoor kitchens are a favorite addition of property owners in Illinois to up their hosting game, but with so many options, how do you know what to choose? While you can get into the nitty-gritty and custom design your kitchen, the best overall option is to select a pre-designed outdoor kitchen kit. With there being less back-and-forth involved in the design and installation of an outdoor kitchen kit, you'll save money as they cost less than their custom counterparts. However, you'll still be able to get creative and add your personal touch to it where necessary – just using the kit as the base of the design. As the icing on the cake, you'll be able to enjoy your new outdoor kitchen faster since installation moves more quickly with a kit than a custom design!
---
Outdoor kitchen kits will cost less than a completely custom kitchen.
It's no secret that when customizing your outdoor kitchen, costs can add up quickly. Starting out with a kit will help keep your costs at a more controlled level, where the decisions you make are intentional rather than being the result of having a myriad of options that all sound great. With a more limited selection since you're choosing from kits, this can help you narrow down what features you really want and what you'll actually get use out of – reducing the cost and making the money you do spend more effective in the long run. And since you're using the standard kit as your base, those materials will involve less time and labor in design and installation, making them cost less than their custom counterparts.
---
Even with a pre-designed kit, you still have room to be creative and make it your own.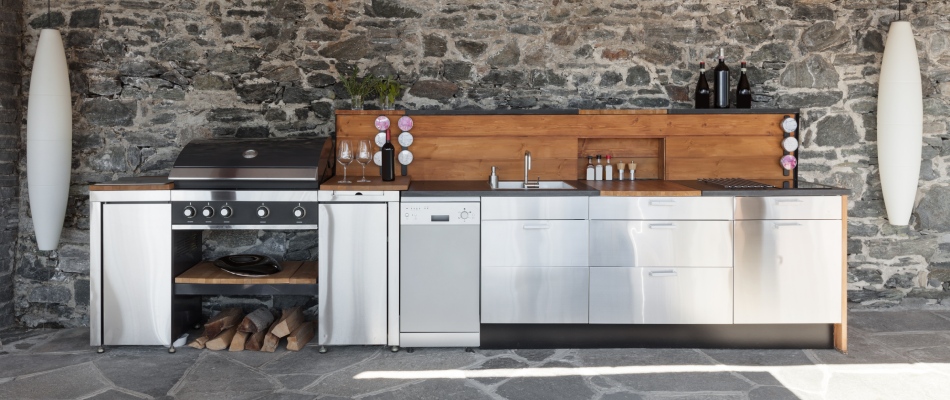 Using an outdoor kitchen kit doesn't mean you have to give up on creativity. While you'll be selecting from pre-designed kits, you can still make some adjustments and additions if needed to get it just right. You'll get the benefits of using the kit as a base while still being able to make it perfect for your space – making outdoor kitchen kits the best of both worlds!
Kits can include amazing features like pizza ovens, grills, coolers, refrigerators, and much more!
---
Kits have a quicker installation process than an entirely custom outdoor kitchen.
With much of your new outdoor kitchen being pre-designed, you'll be able to actually start enjoying your kitchen earlier. Since the design and installation steps are largely done in advance, the time saved in each step results in a quicker overall installation process. If you're installing an outdoor kitchen on a deadline, kits are the way to go as they'll help you avoid any complicated snags that come from entirely custom designs!
---
We can help design the outdoor kitchen of your dreams. Call us today for a quote!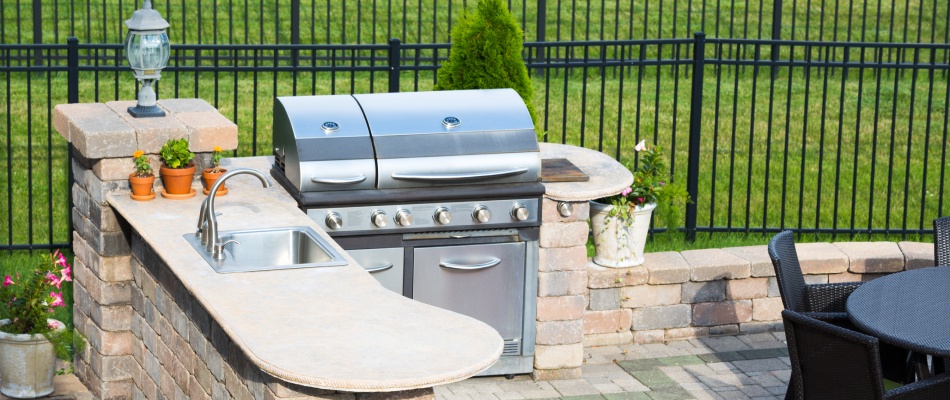 At Creekside Landscapes, we believe in striking that perfect balance between efficiency and excellence. We've done all the homework so you don't have to, making sure that the options we offer are the best in the business. Our team is dedicated and diligent, seeing to it that every detail is accounted for and no stone is left unturned. With our outdoor kitchen kits, you don't have to sacrifice quality to get a kitchen that fulfills your vision without breaking the bank with customization. We'll be with you every step of the way, helping you choose and design the kitchen that works best for your budget, landscape, and your dreams! Our installation services are available to commercial, residential, and HOA property owners in Edwardsville, IL and nearby cities like Glen Carbon and Bethalto. Get in touch with our office today by calling (618) 374-0010 to get your quote!
---
Comments (0)
Name *

Email (not shown) *

Thanks for your comment!
Thanks for your feedback! Your comments have been successfully submitted! Please note, all comments require admin approval prior to display.
Error submitting comment!
There is a problem with your comment, please see below and try again.