Is Your Lawn Mowing Company Following These Techniques? They Should Be!
While mowing may not seem like a detailed science, there are surefire techniques that your lawn mowing company should be following to get the best results without causing stress to your lawn. They should be alternating their mowing pattern each time they mow to avoid creating ruts, causing soil compaction, and more. Adhering to the one-third rule is equally important – they should not chop off more than the top one-third of your grass blades at any given time. It's imperative that they also consider your lawn's grass type when setting the mowing height, as different grass types have varying needs. For our area in Illinois, the most common lawn grass types are tall fescue, Kentucky bluegrass, and zoysia – make sure yours is being properly cared for!
---
Your lawn mowing company should alternate their mowing pattern each time they mow.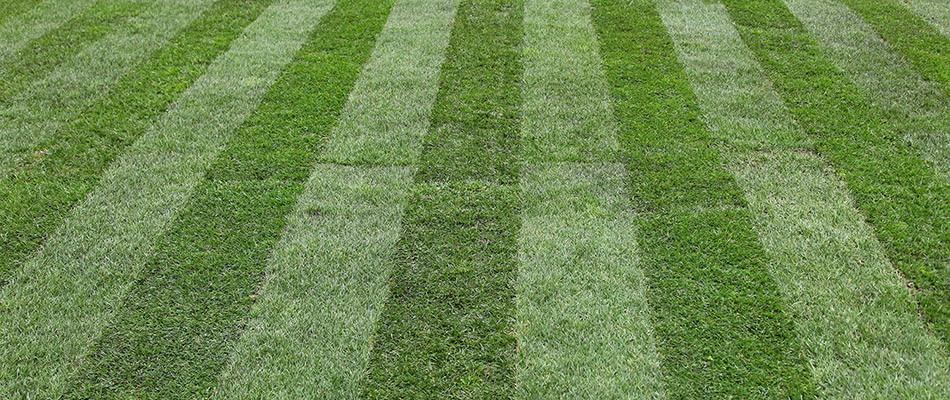 Your lawn mowing company should be switching up the mowing pattern they use each time they mow your lawn. This is important for a few reasons, one being that repeatedly mowing the same pattern can create ruts in your soil over time. It can also cause soil compaction, which can stifle the growth of your grass. If those reasons weren't enough, the same way that after a while your hair will naturally fall into its typical part, your grass will learn to lean in the direction it's being mowed if there is no variety. Alternating mowing patterns will encourage your grass to grow upright which results in the best aesthetic appearance!
---
Every mow done by your lawn mowing company should follow the one-third rule.
When your grass is being mowed, one of the most critical guidelines that you should ensure your lawn mowing company is following is the one-third rule. This rule stipulates that at no point – no matter how overgrown – your grass should never be cut more than one-third of its total height. Cutting more than that off of the grass blade can cause stress and result in a lawn that is recoiling from excess damage, leaving it vulnerable to other health threats like diseases, pests, and more. When your grass is cut to the one-third rule, it will not be stressed and can instead focus on healthy growth and root development.
---
Different grass types have varying mow height requirements, which your lawn mowing company should consider.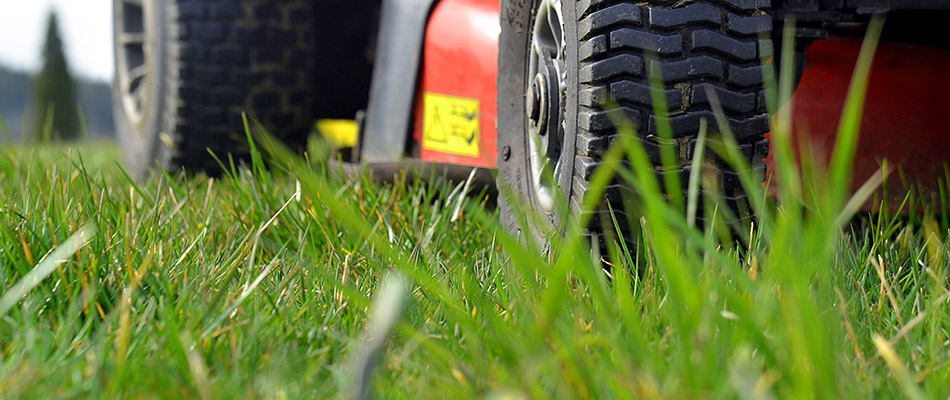 Although you may think all grass is the same, there are many varieties that have differing requirements. Your lawn mowing company should be considering this when they are setting their mow height. Some grass types flourish at a shorter height, while others need to be cut longer to avoid stress. Common grasses in our area and their preferred heights are:
Tall fescue: Mow tall fescue at a height of around 3-4 inches.
Kentucky Bluegrass: Mow Kentucky bluegrass at a height of around 2.5-3.5 inches.
Zoysia: Mow zoysia at a height of around 1.5-2.5 inches.
In the Edwardsville, IL area, your lawn should be mowed from March until November to encompass its growing season.
---
Hire someone you can trust. Call our team today to enroll in our lawn mowing program!
For a lawn mowing company you can trust, hire our team at Creekside Landscapes. We are dedicated to adhering to every need that your lawn has, ensuring that we are always mowing at the appropriate height for your grass type and the current season. We follow the foundational techniques of mowing, including the one-third rule and alternating mowing patterns, and on top of that, we'll also string-trim, edge, and blow so your property is left in nothing but pristine condition when we're through. Our services are available to commercial, residential, and HOA property owners in Edwardsville, IL and surrounding cities like Glen Carbon and Bethalto. Get in touch with our office today by calling (618) 374-0010 to enroll in our lawn mowing program!
---
Comments (0)
Name *

Email (not shown) *

Thanks for your comment!
Thanks for your feedback! Your comments have been successfully submitted! Please note, all comments require admin approval prior to display.
Error submitting comment!
There is a problem with your comment, please see below and try again.