Landscape Bed Makeover Project in Maryville, IL
During this project in Maryville, IL, we revamped landscape beds that were full of old plants and weeds. Our clients loved the look of their original landscape beds, so we intended to keep them exactly as they were, but refresh them with new materials, including edging, mulch, plants, and boulders.
After the landscape beds were completely refreshed, we added new landscape lighting features. We used path lights and accent lights to illuminate the landscape beds and the front walkway at night.
---
First, we laid down the stones for the raised planter bed and the edging.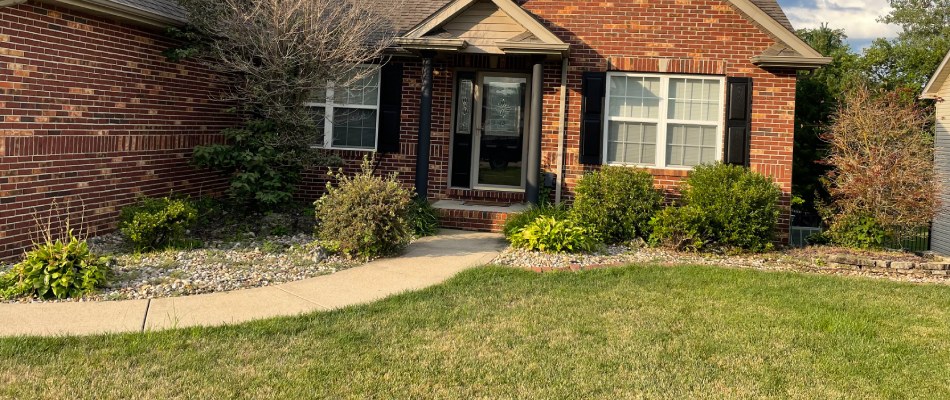 Our client's favorite feature of their original landscape bed design was their raised planter bed. They wanted to keep this feature but upgrade it, as the original stone border was wearing down and weeds were starting to take over. So, the first step in our installation process was to map out where this raised planter bed would go. We stacked stones to create the border of the raised planter bed. Then, we took the rest of the stones for this project and edged out the rest of the landscape bed.
After the edging and the border of the raised planter bed were installed, we could move on to the fun part - plants!
---
It was time to fill the landscape beds with plants, mulch, and boulders!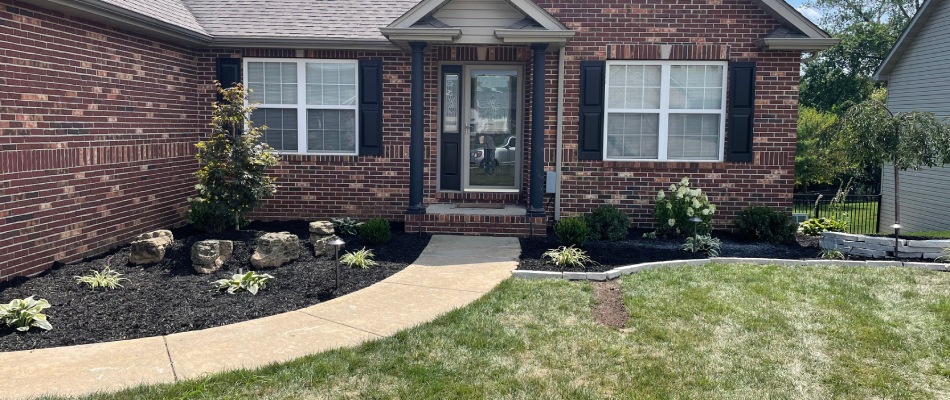 Our client's original landscape was full of larger plants like big bushes and trees. As these plants grew, they covered up the front of the home and took away from its beauty. For the new landscape, we decided that it would be best to stick to mostly smaller vegetation. We planted many low, grassy plants and some small, flowering bushes. We added two skinny trees - one in front of the window for a little bit of privacy and one in the raised planter bed, off to the side and away from the house.
The installation process didn't stop there, though. While the right landscape bed had the eye-catching design of the raised planter bed, the left landscape bed was pretty bare. So, we decided to add an incredibly low-maintenance feature - boulders! These rocks rounded one of the trees for a little bit of extra flare in the design.
Last, but certainly not least, we added the mulch. Our client chose black mulch to contrast against the green plants.
Adding mulch helped protect our client's new plants by regulating the soil temperature and retaining soil moisture.
---
Landscape lighting was this project's finishing touch.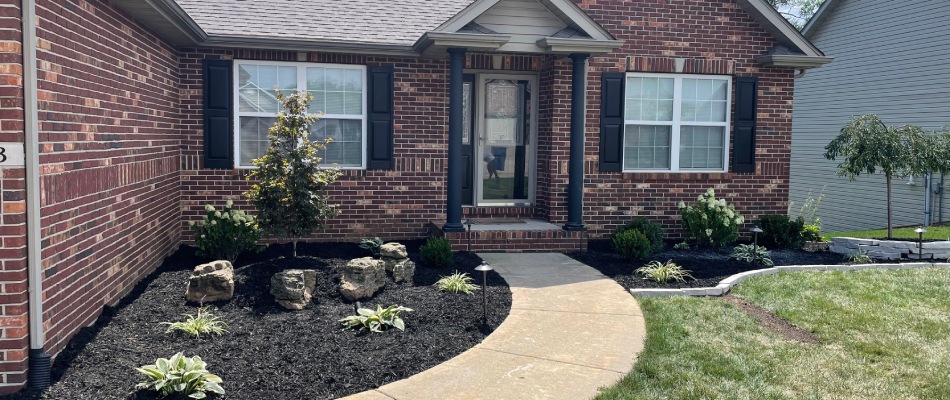 While the landscape bed installation process was finished, there was still more to the project. The last step in our visit to this client's home was landscape lighting. We installed the following:
Path lights: These lights helped light up the walkway up to the front step as well as the rest of the landscape beds and beautiful plants.
Accent spotlight: To accent the tree in the raised planter bed, we placed a light right below it. Now, when the sun goes down, that tree will be beautifully illuminated from the ground up.
---
Photo Gallery of Project Case Study
---
Call us for your landscape bed and outdoor lighting installation needs!
Refreshed landscape beds are one of the easiest ways to improve your curb appeal. We transformed these overgrown, weed-filled landscape beds into new, fresh, and groomed landscape beds. Let us do yours next!
We offer plant and boulder installation, mulch and rock ground cover installation, a full landscape design service, outdoor lighting installation, and much more. We can handle all of your landscape design and installation needs. Our team proudly serves the Edwardsville, IL area, including Glen Carbon, Bethalto, and Maryville. Give us a call today at (618) 374-0010 to schedule a consultation for your next landscaping project!
---
Comments (0)
Name *

Email (not shown) *

Thanks for your comment!
Thanks for your feedback! Your comments have been successfully submitted! Please note, all comments require admin approval prior to display.
Error submitting comment!
There is a problem with your comment, please see below and try again.