Landscape Bed Renovation & Sod Installation in Edwardsville, IL
A client in Edwardsville, IL recently hired us to renovate an existing landscape bed and install new sod in their front yard. We were excited to tackle the project and are eager to share the final results. To bring the yard to life, we fortified the landscape bed by installing new plants, mulch and rock ground coverings, natural stone edging, and landscape lighting.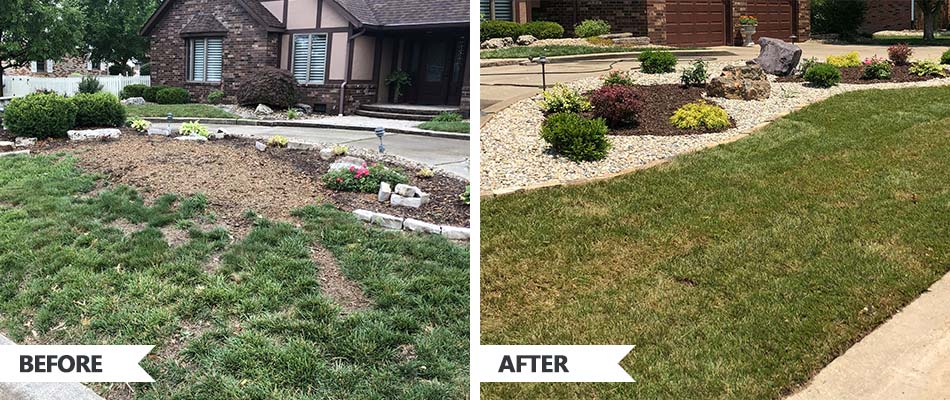 We also installed new fescue sod to give our client a layer of fresh, healthy grass. Our aim was to create a clean, balanced, and symmetrical front yard that looks good year-round and vastly enhances the curb appeal of our client's property. Keep reading to learn more about this transformational project.
---
Strategic Placement of Low-Maintenance Plants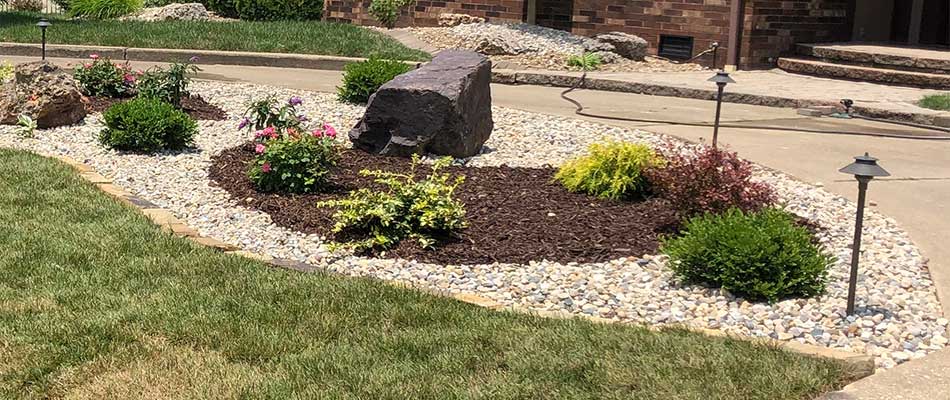 We started this project by removing the existing landscaping and carving out the new landscape bed. Then, we worked over the soil and prepared it for planting. We installed a colorful blend of low-maintenance plants that will flourish throughout the year in Edwardsville, IL. They are placed strategically in the bed to achieve balance and symmetry. Plants we installed include:
Euonymus Moonshadow: An evergreen plant with green and yellow leaves.
Boxwood: An evergreen shrub with small green leaves.
Knock Out Rose: A durable, disease-resistant rose with pink flowers.
Cypress Lemon Thread: A needled evergreen with yellow foliage.
Barberry: An evergreen shrub with dark purple leaves.
At Creekside Landscapes we believe in buying local and purchase the plants we use in our landscape projects from nearby nurseries.
---
We installed river rocks, mulch, and boulders in the landscape bed.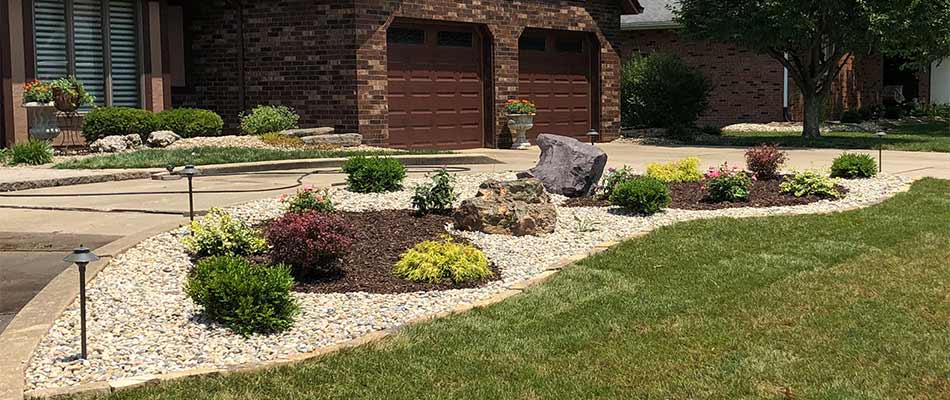 Once we installed the new plants, we covered the landscape bed with river rocks and mulch. Both of these ground coverings protect your soil and benefit your plants' health by regulating soil temperature, combatting weed growth, and controlling erosion.
We installed small, neutral-colored river rocks throughout the bed and created 2 semi-circular islands of dyed brown mulch within the sea of rocks. The mulch islands are on the left and right sides of the landscape bed, enhancing balance and symmetry. We also placed a purple trap boulder next to each island to further fortify the bed's renewed appearance.
---
Natural Stone Edging & Landscape Lighting
We installed Black Hills natural stone edging that winds across the front of the landscape bed and creates a clear border between the bed and lawn. The edging will prevent river rocks from spilling into the grass and combat soil erosion. Plus, the stone's neutral color complements the lightly toned river rocks. We also installed 4 landscape lights around the back perimeter of the landscape bed next to the driveway. The lights are spaced evenly apart and will illuminate the surrounding area at night.
---
We completed the project by installing fescue sod.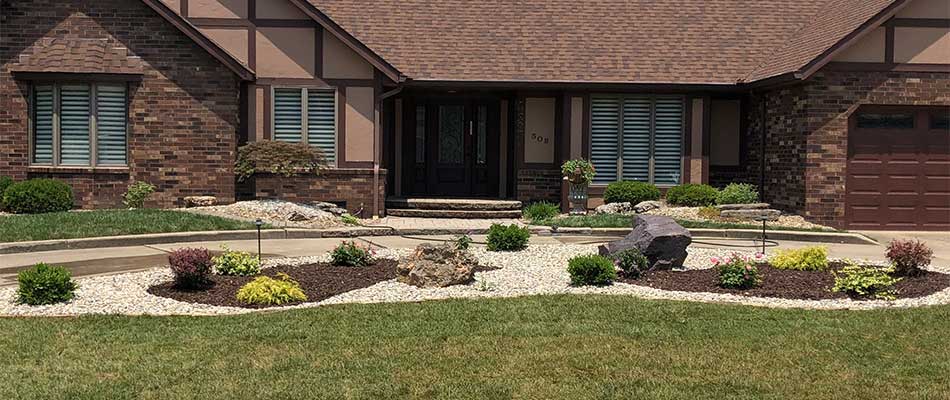 We completed this project by installing new fescue sod that is thick and healthy. Before we installed the new sod, we removed the old grass and power raked the soil to prepare it for the fresh layer of fescue. Fescue is a cool-season grass that thrives in Edwardsville and other areas in Illinois. Since sod comes pre-grown and is already green, we were able to give our client an instantly beautiful lawn that complements their rejuvenated landscape bed.
---
Do you want to renovate a landscape bed or install new sod? Call us today.
If you want to renovate a landscape bed, install new sod, or perform another landscaping project to upgrade your property, contact our team today. At Creekside Landscapes, we provide professional landscaping and hardscaping services to clients in Edwardsville, Glen Carbon, Bethalto, IL, and nearby areas. Our team specializes in transforming ordinary landscapes into extraordinary outdoor vistas that beautify your property and boost your home value. Discover what your property could become. Call us today at (618) 374-0010 to schedule a consultation with one of our landscape experts. We can't wait to hear from you!
---
Comments (0)
Name *

Email (not shown) *

Thanks for your comment!
Thanks for your feedback! Your comments have been successfully submitted! Please note, all comments require admin approval prior to display.
Error submitting comment!
There is a problem with your comment, please see below and try again.