Prepare Your Grass for Success - Schedule These Fall Lawn Services Now
The fall season is a great time to give your lawn some extra TLC: lawns in Illinois have cool-season grass, which thrives during the cooler months. Scheduling aeration, overseeding, and leaf removal in the fall will prepare your lawn for success. Aeration gives your lawn better access to essential nutrients by pulling cores of soil from your lawn to loosen compacted soil, and fall is the best time to schedule this service as your grass will be strong enough to recover from this invasive process. Overseeding yields the best results when it's scheduled directly after aeration and will make your lawn thick and strong. Leaf removal is an important fall service because leaf piles can be detrimental to your grass and attract unwanted pests.
---
Aeration will make it easier for nutrients to reach the roots of your grass.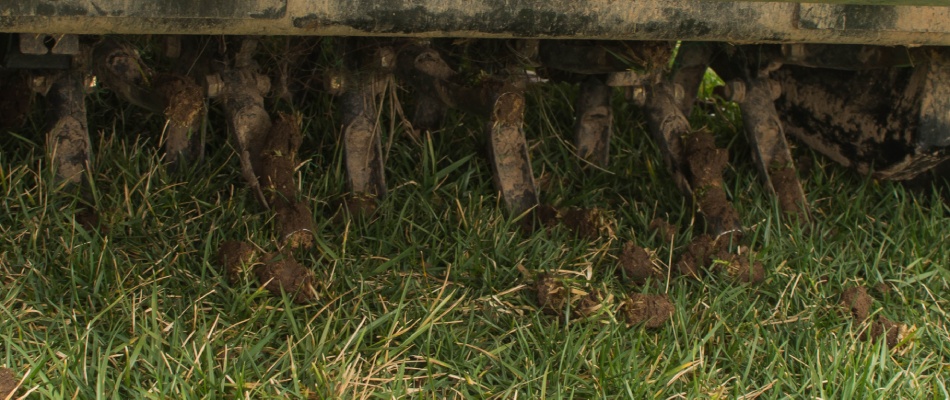 One service you should schedule during the fall is aeration. Core aeration is the process of using a machine to pull "cores" from your soil to make it easier for nutrients and other resources to reach the roots of your grass. The aeration process can be quite invasive, so you'll want to schedule this service in the fall when your grass will be strong to endure the process and recover from it. It will also help your lawn prepare for winter dormancy by giving it better access to the nutrients it needs to store for the winter.
---
Fill in bare or patchy areas of your lawn with new grass by scheduling an overseeding service.
Overseeding is another great fall service to schedule because it will fill in any bare or patchy areas of your lawn with new grass and will increase the overall density of your turf. You can get the best results from overseeding if you do it directly after aeration. That's because the seeds can fall into the holes created from the aeration process to give them direct contact with the soil, encouraging faster growth and root establishment.
Cool-season grasses benefit from overseeding in the fall because the cooler temperatures encourage quicker germination.
---
Schedule leaf removal in the fall to prevent leaf piles from causing problems for your lawn.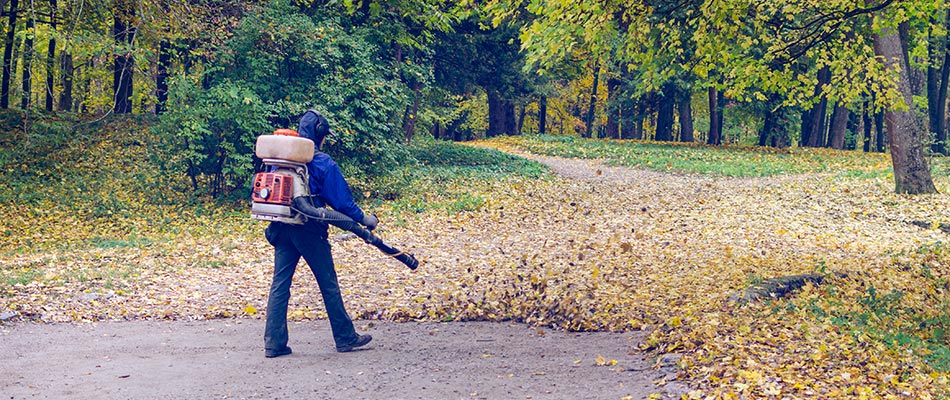 Leaves falling from trees and onto your lawn are a staple of the fall season. Leaf piles are fun for children - they offer a colorful cushion to jump into. However, they can cause several problems for your lawn if they are not removed, including the fact that they can create the perfect environment for lawn diseases and insects and other animals may try to make their homes in them. Scheduling a leaf removal service in the fall is extremely beneficial for the health and appearance of your lawn. Not only that, but you won't have to do it yourself. Professionals will gather and remove the leaves from your property - that way you have a leaf-free lawn before the winter season.
---
Give us a call to schedule our aeration, overseeding, and leaf removal services this fall!
The quality of your lawn is important to us, which is why we want to help service your lawn this fall. We offer aeration, overseeding, and leaf removal services, all of which are extremely beneficial during the fall for cool-season grasses. These services can be scheduled separately, but we also offer a full-service lawn care program you can sign up for that includes aeration, overseeding, leaf removal, mowing, and plant trimming and pruning.
We provide our lawn care services to residential, commercial, and HOA properties in and around Edwardsville, IL, including Glen Carbon and Bethalto. Give us a call at (618) 374-0010 to schedule your fall lawn services and prepare your grass for success!
---
Comments (0)
Name *

Email (not shown) *

Thanks for your comment!
Thanks for your feedback! Your comments have been successfully submitted! Please note, all comments require admin approval prior to display.
Error submitting comment!
There is a problem with your comment, please see below and try again.