Retaining Wall, Patio & Cobblestone Walkway Project in Glen Carbon, IL
We recently had some clients in Glen Carbon, IL come to us with a plan to renovate the outdoor area of their home. After we discussed their preferences and drew up a plan of attack, we got to work on bringing their ideas to life.
Our first step was to install a natural stone retaining wall to remove the gradual slope that they had in their yard to create a flat space for the patio. Next, we put down a chip rock patio, giving our clients a space where they could sit down and relax by the water. Finally, we built a walkway, complete with steps, leading down to the patio.
---
We Installed a Natural Stone Retaining Wall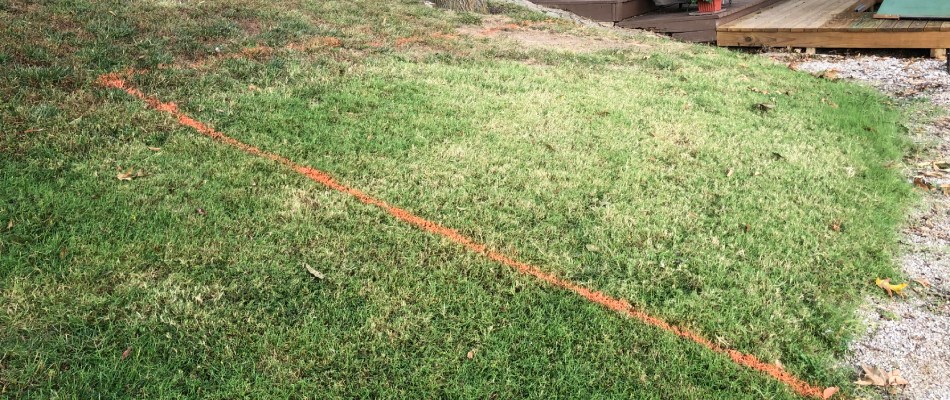 The first step of this project was to install a retaining wall to create a flat space on their property where their patio would go. After going over some material options, our clients decided that they wanted to use natural stone as the material for their retaining wall.
We used orange paint to mark where the retaining wall would be placed, reaching from near the water to the walkway. We then got started excavating and flattening the grassy slope so that it would make for a more suitable seating area for the homeowners and their guests.
Once the area was dug out and flattened, we started laying down the individual stones that would make up the retaining wall. It consisted of three layers of stones stacked one on top of the other. Once we were finished, our clients had a gorgeous retaining wall that gave them the space they needed for their patio.
Retaining walls, as the name suggests, are typically used to retain soil when there is a height difference between two outdoor areas.
---
We Laid Down a Chip Rock Patio
Once the soil around the area where the patio was planned to be laid down was secured by the retaining wall, we got to work putting down the chip rock patio. The patio was positioned near the water, adjacent to the docks and deck. The reason that they decided to go with a chip rock patio instead of a typical hard-surface patio was the fact that chip rock patios provide better drainage, which was important to them.
---
We Added a Walkway & Steps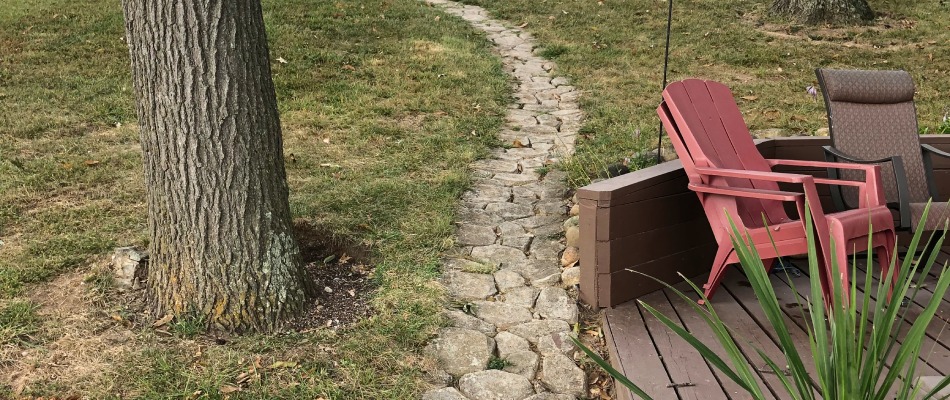 With the patio and the retaining wall set up, our clients just needed a way to get to them. We started off by replacing the walkway that already led from their home to the water. Once we removed the existing walkway, we followed the same basic path with the new one, though there were a few changes.
The walkway we installed was a Belgard Belgian cobblestone walkway, and it was a bit wider than the previous one, making it a lot more comfortable to walk on. The cobblestones on the new walkway were also a lot more even, making the walk from the house to the water a whole lot easier.
Once the walkway was laid down, we also installed some Black Hills Rustic Steps leading past the retaining wall to the chip rock patio. This was the perfect final touch to their project and provided them with a safe way to get to the patio from their walkway.
---
Project Photo Gallery
---
Give us a call if you're looking to have a landscape project completed on your property!
Like what you see? If you're ready to have to improve the functionality and beauty of your property by having a walkway, steps, patio, retaining wall, or some other type of landscape project installed on your property, give us a call today at (618) 374-0010. We are proud to offer our services to residential, commercial, and HOA properties in Glen Carbon, IL, and throughout the surrounding areas.
---
Comments (0)
Name *

Email (not shown) *

Thanks for your comment!
Thanks for your feedback! Your comments have been successfully submitted! Please note, all comments require admin approval prior to display.
Error submitting comment!
There is a problem with your comment, please see below and try again.