Paver patio installations for homes and businesses in Edwardsville, Glen Carbon, and surrounding areas.
Custom-designed patios create a space where you can enjoy the outdoors and entertain your guests for any occasion!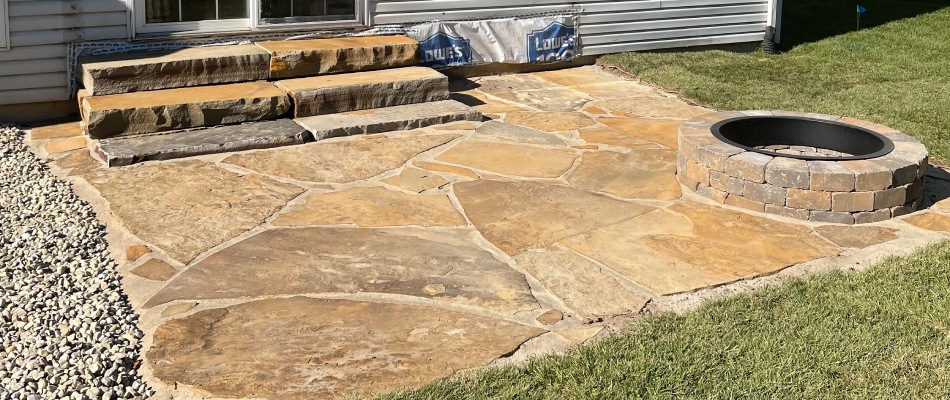 Patios are the focal point of most backyard landscapes and add plenty of usable space for any outdoor living area. We install custom-designed patios throughout the year, so you can start enjoying your new space right away. Our patios are constructed using high-quality concrete pavers, flagstone, and a variety of other materials that will complement any exterior property.
Homes and businesses in Edwardsville, Glen Carbon, and surrounding areas of southern Illinois who desire more entertainment space can benefit from a custom patio installed by our team at Creekside Landscapes.
---
Patios provide a long-lasting outdoor entertainment space that adds curb appeal to every landscape.
One of the most popular home improvement projects is installing an outdoor patio. It's no surprise because custom paver patios offer a number of benefits:
You create a long-lasting outdoor entertainment space- Outdoor barbeques and holiday events get a lot easier and more fun when there's extra space in the backyard. Patios are constructed with top quality materials that will last for years with minimal maintenance.
They increase the desirability of a home- Besides being a great outdoor seating area, patios add a ton of resale value to a home. The National Association for Realtors estimates homeowners can see at least a 69% ROI if they install a new patio before putting their home on the market.
Patios are a highly customizable outdoor feature- Outdoor patios have practically limitless design styles and can be constructed using pavers and flagstone in multiple colors and shapes.
---
Our high-quality pavers and flagstone provide your property with a beautiful and durable outdoor hardscape.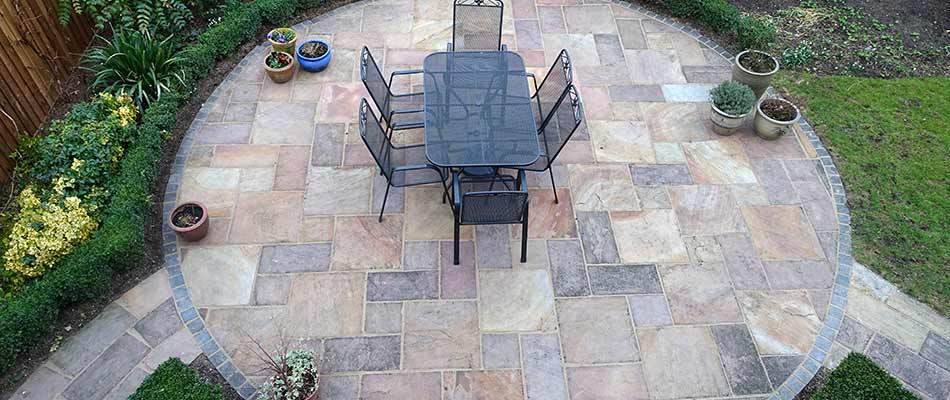 Patios are one of the most durable and long-lasting hardscapes. Aside from the creative possibilities, they are also weather resistant and require little maintenance.
We install outdoor patios using high-quality concrete pavers. Concrete pavers offer endless design options and are available in various sizes, shapes, and colors. These are also inexpensive and easy to replace and reinstall when needed.
Another building material we like to use is flagstone. Just like concrete pavers, flagstone options are limitless. One of our most popular flagstone choices is sandstone. Sandstone is a type of flagstone that provides a natural-looking and elegant patio area and comes in mostly earthy brown shades, grays, pinks, and reds.
---
An in-depth explanation of our patio installation process.
It's important to us that our clients are fully informed on what our installation process involves from beginning to end. Quality customer service is one of our top priorities as a professional lawn and landscape company.
We start by digging out the area marked off for the patio install. To allow for a good base, the ground must be dug 6 to 8 inches deep with the sides being a minimum of 6 inches deep.
After the dirt and gravel have been removed, we put down a soil separator so the base rock layer underneath the patio doesn't settle into the dirt. Then we add 6 inches of clean base rock and an inch of 3/8" chip rock. Chip rock is a much better substitute for lime and sand because those materials tend to settle easier and get washed away.
Once the base rock and chip rock is laid out, it's time to install the pavers! After creating your custom design, we compact every 2 inches of the base with polymeric sand to ensure the sand is dispersed evenly between the cracks. Polymeric sand, when combined with other additives, binds together once these elements are exposed to water. Sweeping this sand into the gaps helps lock the pavers in place and fully seals the patio.
---
Our team installs gorgeous custom patios for properties in southern Illinois.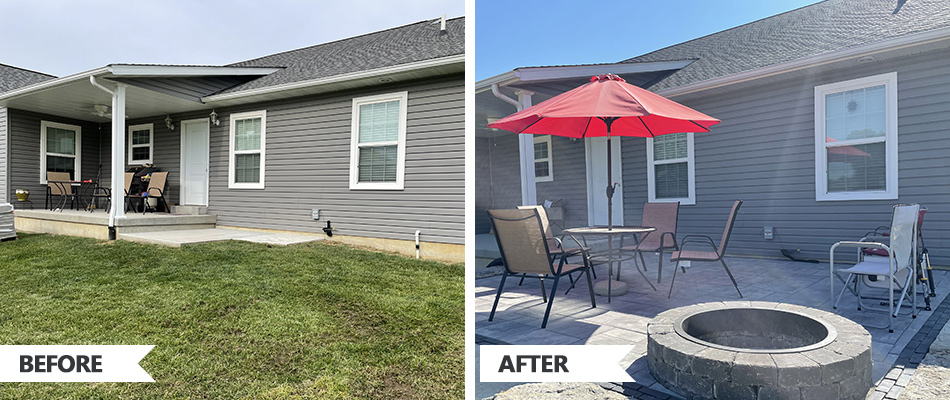 We can design and install custom patios that are bound to exceed your expectations! Creekside Landscapes services home and businesses throughout southern Illinois, including in Edwardsville, Bethalto, Maryville, and nearby cities. Get in touch with a team member by calling (618) 374-0010 to schedule a consultation!