4 Paver Patterns to Consider When Designing Your New Patio
Patios can make for the perfect addition to your outdoor living space as they will provide you with a place to relax outside while enjoying the beautiful Illinois weather. If you're looking to design a new patio for your property, you'll want it to look great so that it stands out and increases the aesthetics of your outdoor area. Pavers are the perfect material to use when building a patio because they are durable and can be installed in a variety of patterns. Some popular paver patterns for you to consider using for your new patio include basketweave, herringbone, running bond, and stack bond. Continue reading to learn more about these popular paver patterns.
---
1. Basketweave
Basketweave is a classic pattern that is commonly used for patios. This pattern involves alternating columns of vertical and horizontal pavers to mimic the look of a woven basket. However, while this pattern can be used in the basic way just described, there are a ton of variations to this pattern that can be used to create a unique-looking patio. For instance, you can turn the pavers at a 45-degree angle, or you can even use a singular vertical paver while still using two horizontal pavers. Regardless of what variation of this pattern you use, you can be sure you'll end up with a gorgeous patio!
---
2. Herringbone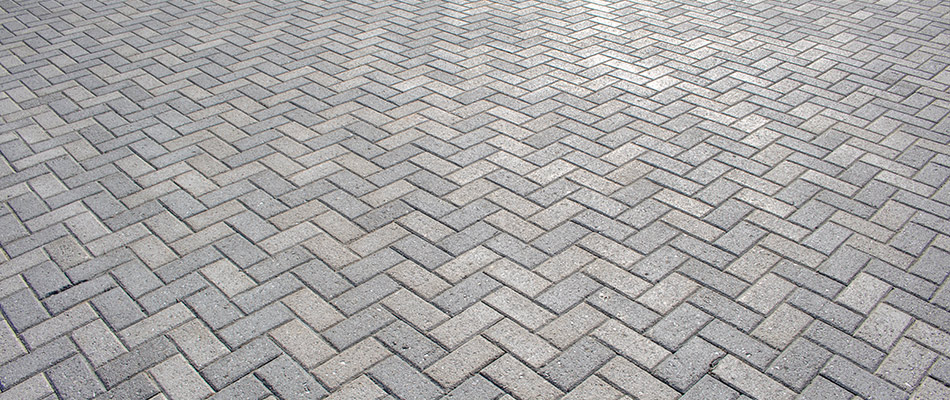 Herringbone is a pattern that has been used for hundreds of years, dating all the way back to the Roman Empire, yet it is still popular to this day. This pattern got its name because the end result will look like the bone structure of a herring fish. This pattern is created by placing pavers either diagonally at a 45-degree angle or at a 90-degree angle and alternating between horizontal and vertical pavers to create an "L" shape. If done correctly, a herringbone pattern will have a zigzag look and it can be used to create a patio that will stand out!
Use the same pattern you used for your patio when installing a walkway or driveway to create a cohesive look throughout your property.
---
3. Running Bond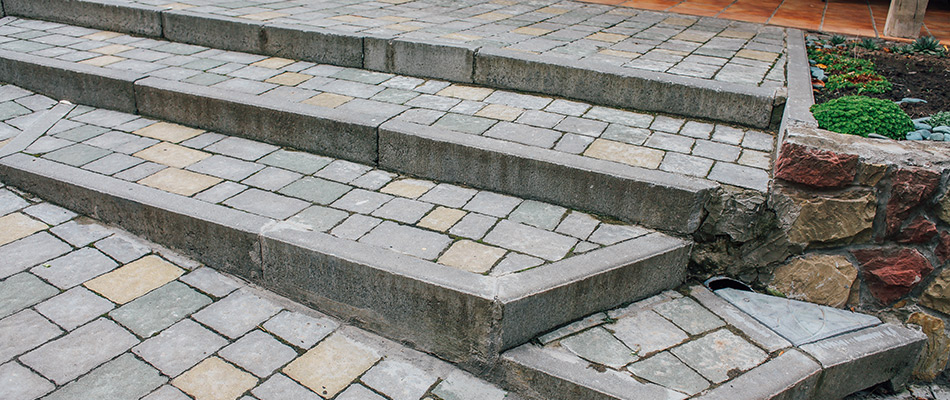 Running bond is another popular paver pattern that is often used when constructing patios. This pattern is popular because it combines simplicity with elegance. To create this pattern, pavers are placed in a straight line, with every row staggered by half its length to create a symmetrical pattern. Oftentimes, every other row will line up, making it a simple pattern that provides a clean and classic look. To make this type of pattern stand out even more, you can use different colored pavers throughout the design.
---
4. Stack Bond
A stack bond pattern is very similar to a running bond pattern, except with stack bond the pavers won't be staggered by half its length. Instead, the pavers will be lined up evenly to create a uniform and symmetrical design. The simplicity of this design is attractive to many property owners who want something simple, yet attractive.
---
Ready to add a patio to your property? Give us a call today to schedule our patio installation service!
If you're looking to take your outdoor living space to the next level with a new patio, we are the team to call. At Creekside Landscapes, we can install a patio on your property using durable and beautiful pavers, and we can use whatever pattern you want to make your patio stand out! We offer our patio installation service to commercial, residential, and HOA property owners in Edwardsville, Glen Carbon, Bethalto, IL, and throughout the surrounding areas. Give us a call today at (618) 374-0010 to schedule our patio installation service!
---
Comments (0)
Name *

Email (not shown) *

Thanks for your comment!
Thanks for your feedback! Your comments have been successfully submitted! Please note, all comments require admin approval prior to display.
Error submitting comment!
There is a problem with your comment, please see below and try again.