Bethalto Front Yard Makeover with Natural Stone Retaining Wall
Our clients in Bethalto reached out to us for help with their front yard makeover. They have a great front yard, however, at the time, it was in need of a little TLC. The landscape beds had become misshapen, weeds were starting to grow, and the retaining wall was in need of a refresh. Of course, our team was up to the task!
After meeting with our clients and getting a better feel of the project and their goals, our crew was able to put together a design for them. Because our clients wanted to keep natural colors throughout their front yard, we used natural stone for the new retaining wall, sandstone boulder walls for the berms, river rock for the ground cover of the landscape beds, and Black Hills rustic natural stone for the edging. Lastly, to add some greenery and a little bit of color, we planted a dwarf Japanese maple, holly bushes, Alberta spruces, hydrangeas, and birds nest spruces. The result of this front yard makeover was a completely refreshed property full of lively plants and tidied landscape beds.
---
Our team installed a new retaining wall using natural stone boulders.
On the right side of our client's front yard, they had a slope. To mitigate erosion and level out their yard, they installed a retaining wall. However, over the years, it began to wear down and they were looking to remove it and start over. Our first step was to remove all of the old stone to start with a clean slate. Then, we stacked natural stone boulders to create a wall. This wall was designed to be shorter than the old one to keep it more subtle. Stacking large boulders on top of each other allowed us to safely secure the soil from eroding and flatten out the land on top.
---
We refreshed the landscape beds with new plants, river rocks, and natural stone edging.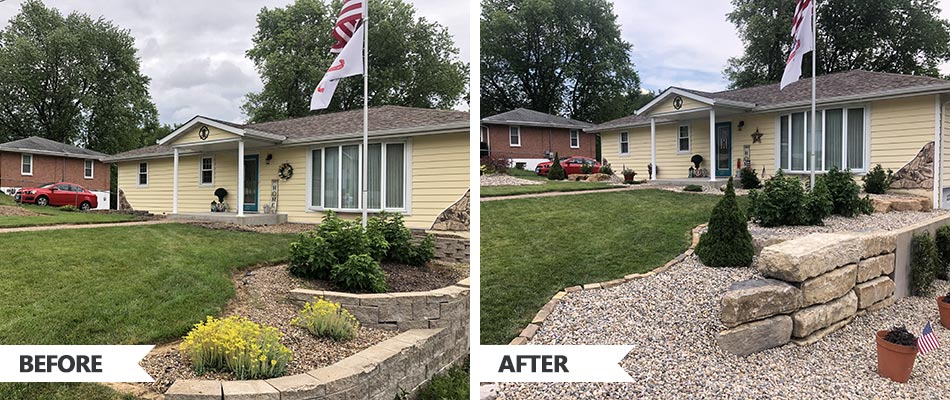 Next, we focused on refreshing the landscape beds. They had become misshapen over the years and needed edging to give them a clear distinction from the rest of the yard. Additionally, we added an "island" landscape bed in the middle of the lawn that now serves as a great focal point for the property.
Before we could add the ground covering or edge the beds, we had to install the plants. The positioning of these plants was designed using basic design principles like focal points, proportion, and balance. Here are the plants that we used in this project:
1 dwarf Japanese maple
4 holly bushes
2 Alberta spruces
2 hydrangeas
2 birds nest spruces
After the plants were installed, we could then add a layer of protection with the ground cover. To keep everything uniform throughout the landscape, we used river rock for every bed. Our clients loved the idea of using rocks for the ground covering because they do not decompose like mulch does, meaning they can hold off longer before being refreshed again. As for the edging, we stayed with the natural theme and added Black Hills rustic natural stones around each of the landscape beds.
To create a few berms within the landscape beds, we made mini walls using sandstone boulders.
---
Project Photo Gallery
---
Ready for your front yard makeover? Call our team today!
At Creekside Landscapes, we love giving the landscapes around the Bethalto area a new lease on life. Whether it is a front yard refresh project like this one or a total landscape redesign, we want to help! We can install new hardscapes like the retaining wall you see here and others such as fire pits, patios, and outdoor kitchens. We not only serve the properties in Bethalto, but we also offer our services to surrounding areas in Illinois like Edwardsville and Glen Carbon. Call our team today at (618) 374-0010 to get started!
---
Comments (0)
Name *

Email (not shown) *

Thanks for your comment!
Thanks for your feedback! Your comments have been successfully submitted! Please note, all comments require admin approval prior to display.
Error submitting comment!
There is a problem with your comment, please see below and try again.