Concrete Paver Patio & Sod Installation in Maryville, IL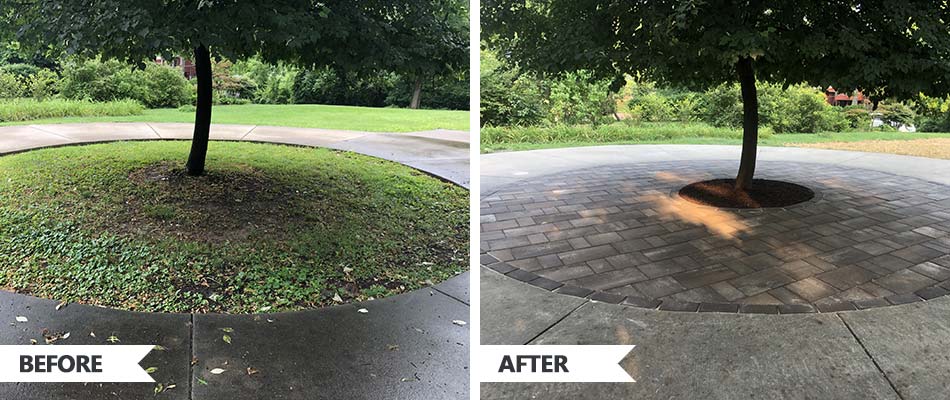 Our clients in Maryville, Illinois needed a refreshed landscape, one that would remove all patchy grass and lawn weeds and replace them with a custom paver patio and thick, lush sod. To give our clients the landscape they wanted, we had to start from scratch by removing the weak, patchy grass so that we could begin with a clean slate of soil.
Our design team helped our clients pick the perfect materials for their new patio. Concrete pavers gave them the look and design they wanted as well as durability that they can count on for years to come. After the patio installation, we then focused on filling the front yard with rolls of premium fescue sod. When this project was complete, our clients were then left with a transformed front yard and a beautiful patio with a tree in the middle for the perfect focal point!
---
The Design Process & Preparations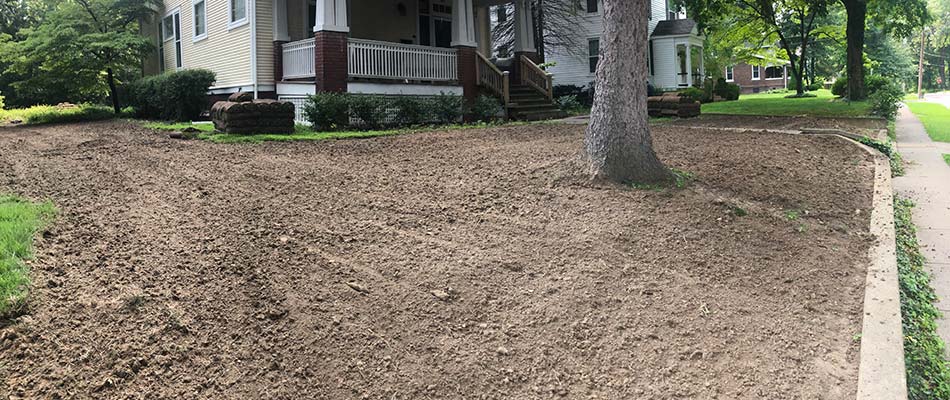 The largest part of our design process included the decision of what materials to use for the new patio. Our clients wanted to keep the look natural and simple, so we suggested concrete pavers. A concrete paver patio is durable, low-maintenance, and long-lasting as well as natural-looking! Our clients loved this idea and, together, we settled on the colors "bristol beige" for the pavers and "mocha" for the border. After the design process was completed, our installation crew could get to work.
Our preparation process for this project was fairly simple. Because we were adding sod and a new patio, we had to start with a blank slate of soil for proper installation. The old, patchy grass was removed from the area where the patio was being placed as well as the entire front yard. That was it! The property was now ready to begin the patio and sod installation.
---
Custom Patio Installation With Bristol Beige Pavers & a Mocha Border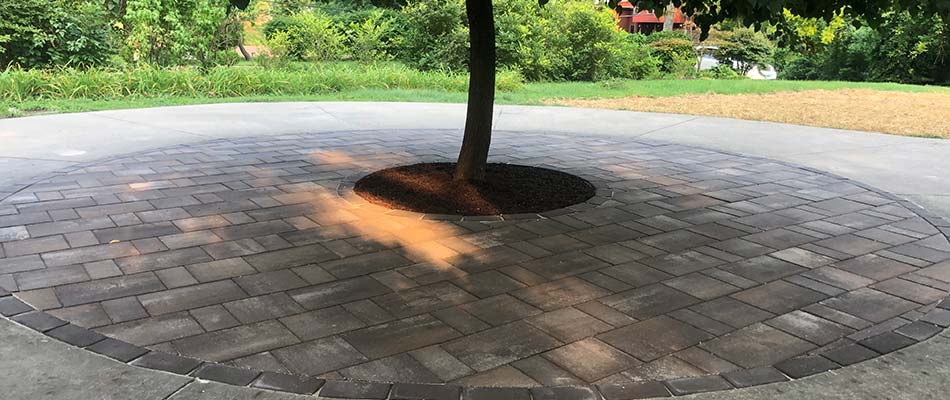 This custom patio is different than many patios we have installed throughout the years. Usually, a patio is installed as the focal point of a landscape. In our clients' case, however, they were lucky enough to already have a stunning tree as their focal point, and they just needed to complement it with a beautiful new patio!
Our installation team created a circular patio around the tree with bristol beige concrete pavers. Then, we used mocha-colored pavers to make a border around the outside as well as on the inside where the patio comes close to the tree. Lastly, to fill in the gap between the mocha pavers and the tree trunk, we laid down dark brown mulch.
The fresh layer of mulch will protect the soil from extreme temperature changes, weed growth, water evaporation, and more.
---
We added sod to give our clients an "instant" green lawn.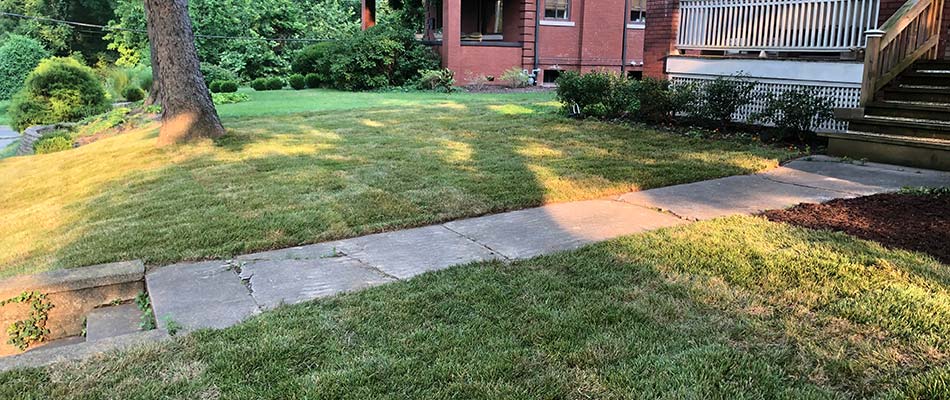 Because the lawn consisted of weak, patchy grass that was beyond the point of return without years of hard work, it was an easy decision to refresh the yard with sod. Sod is pregrown grass, which means our clients were able to enjoy a lush, green lawn directly after installation. This is why sod is often referred to as an "instant" lawn!
However, the look of a lush, green lawn does not mean that our clients were able to enjoy their lawn like normal right away. After installation, we instructed our clients how to water it correctly each day to encourage it to grow deep, strong, healthy roots.
---
Looking for a new patio or sod installation? Call us today!
At Creekside Landscapes, we are passionate about giving our clients the landscape they have always dreamed of. We understand how frustrating and overwhelming it can be to have a landscape full of outdated hardscapes and weak, patchy grass. Let us help you transform your property with a new patio, sod installation, and more!
We offer our services to the Edwardsville, Illinois community, as well as nearby areas like Glen Carbon and Bethalto. To get started with your landscape project, give us a call today at (618) 374-0010. We can't wait to work with you!
---
Comments (0)
Name *

Email (not shown) *

Thanks for your comment!
Thanks for your feedback! Your comments have been successfully submitted! Please note, all comments require admin approval prior to display.
Error submitting comment!
There is a problem with your comment, please see below and try again.