Create the Outdoor Living Space of Your Dreams
If you want to create a comfortable outdoor living space, you're in luck as there are various features you can install to achieve the outdoor space of your dreams. A beautiful patio is an excellent way to start, but you can add to that by installing an outdoor kitchen for fun cookouts with your family. Fire features like fireplaces or fire pits are great for creating a warm and comfortable environment. Stellar outdoor living spaces have features that are not only stunning but also functional, like retaining walls that aid in soil erosion or seating walls that provide extra seating areas. Adding plants to your outdoor living space can add beauty and color to your property.
Continue reading to learn more about the different things you can add to your outdoor living space in Illinois to make it a more enjoyable place to spend time in.
---
Begin Your Outdoor Living Space With the Perfect Patio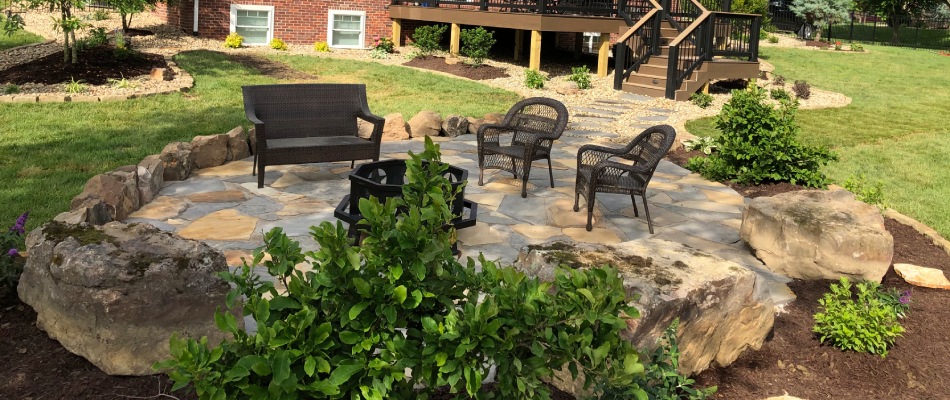 To start your dream outdoor living space, begin with a patio as it will serve as the foundation of your outdoor space. Concrete pavers and flagstone are common materials for patios. These materials are very durable and are virtually maintenance-free. What's more, these materials are customizable, so you can create a design that you'll absolutely love.
---
Extend the Heart of Your Home With an Outdoor Kitchen
Your kitchen is the heart of your home, and who's to say you can't add one to your outdoor living space? Outdoor kitchens will allow you to make hearty meals while enjoying the outdoors. Outdoor kitchens can be equipped with a number of features, including:
Coolers
Refrigerators
Pizza ovens
Grills
And much more!
The important thing about building an outdoor kitchen is to use a versatile material like stone veneer, which is a fire-resistant material that mimics the appearance and texture of natural stone.
---
Create a warm and cozy environment with either a fire pit or fireplace.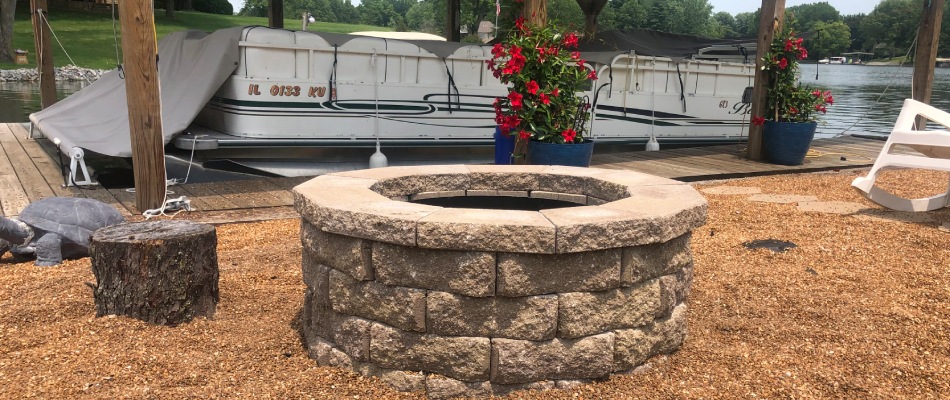 One of the best ways to spend a cool fall night is to gather around a warm fire with family or friends. Adding one of these fire features to your property provides the perfect area for gatherings. You can choose between building a fireplace for an elegant vertical element or a fire pit where you can gather around for a more interactive time. Both fireplaces and fire pits are usually available in either gas or wood-burning options, so you can choose whatever option works best for your specific needs.
Wood-burning fire features create smoke which acts as a natural mosquito repellent!
---
Seating & Retaining Walls Provide Beauty & Functionality
When creating your dream outdoor space, adding features like seating and retaining walls that provide beauty while remaining functional is vital. Properties with erosion issues benefit the most from retaining walls as they stabilize and hold the soil in place, and they can also add usable space to your property if your property is built on a slope. If you regularly have a lot of people over, you may require additional seating. That's where seating walls come into play. Besides being a stylish addition to your property, they also provide extra seating space, so your guests will have a designated place to sit.
---
Create a Landscape Bed With Your Favorite Plants for a Splash of Color
Incorporate a landscape bed into your outdoor space to make it more vibrant and full of life. Your outdoor space is a great area to house your favorite plants so you can enjoy looking at them while you're enjoying your outdoor area. We recommend planting perennials that offer blooms at different seasons for year-round colors.
---
Enhance your property by improving your outdoor living space! Call us today for a consultation.
Whether you own a home or business, your property will surely benefit from having an improved outdoor living space featuring patios, outdoor kitchens, fire features, retaining and seating walls, and landscape beds. At Creekside Landscapes, we are dedicated to going the extra mile on every landscaping project we undertake! We offer our services to property owners in Edwardsville, Glen Carbon, Bethalto, and surrounding areas in Illinois. Give us a call today at (618) 374-0010 for a consultation.
---
Comments (0)
Name *

Email (not shown) *

Thanks for your comment!
Thanks for your feedback! Your comments have been successfully submitted! Please note, all comments require admin approval prior to display.
Error submitting comment!
There is a problem with your comment, please see below and try again.