Custom Retaining Wall & Patio Installation Project in Maryville, IL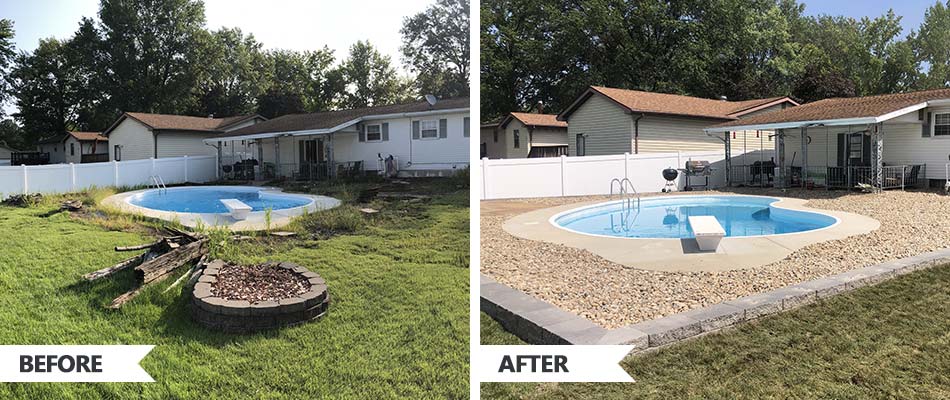 Our clients in Maryville, Illinois needed a backyard upgrade. They have a beautiful pool, yet, it was surrounded by patchy grass, overgrown weeds, and an uneven lawn. Our team was ready to take on the challenge and give our clients the backyard and personal oasis they've always wanted. The hardscapes we designed and installed for this project include a Versa-Lok retaining wall and a flagstone patio. Then, we used river rocks to fill in the rest of the landscape. Continue reading to learn more about our process for this project.
---
We fixed the uneven ground with a Versa-Lok retaining wall.
The first thing that we had to focus on was the fact that our client's backyard was uneven. Although not entirely noticeable at first glance, some spots on the lawn were higher than others. This made it difficult to create any sturdy hardscapes. Because of this, we had to fix the uneven ground before we could do anything further with this project. After collaborating with our clients, we landed on the choice of designing and installing a custom retaining wall.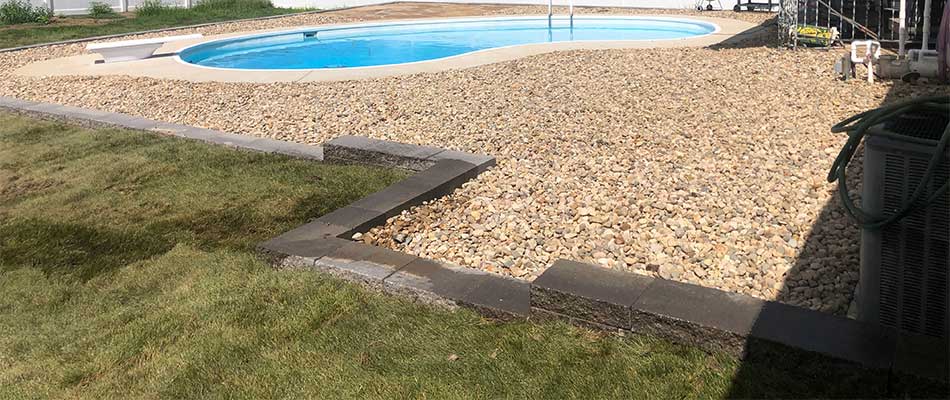 Retaining walls are great for both function and design. We used the Versa-Lok brand, which gave us endless possibilities when deciding on the color, texture, and size of the blocks used. Our clients chose light grey blocks that have smooth tops and textured edges. The great part about using Versa-Lok concrete blocks is that they are designed to give off the look of a natural stone retaining wall without the price tag attached.
We kept this retaining wall very short and only used as many stones as we needed to fix the uneven ground. After the retaining wall was installed, our crew was able to move on to the rest of the project.
Retaining walls are a great option for an uneven property, as they will level out your yard and can be built to match your style.
---
Our crew designed and installed a flagstone patio.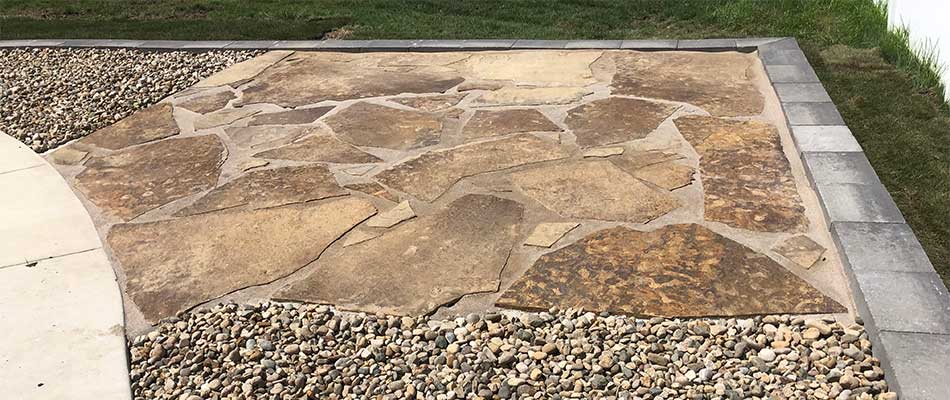 The next part of the project was to design the patio. Our clients decided that they wanted a small space to put some chairs or perhaps their grill right beside the pool. We installed this patio in the far right corner and designed it out of Black Hills rustic flagstone. Our clients love the look of their new patio because it breaks up the design of the rest of the landscape while staying neutral with beautiful browns and tans. With this patio in place, our clients now have extra space that guests can stand on while hanging by the pool!
---
Lastly, we installed river rock throughout the landscape.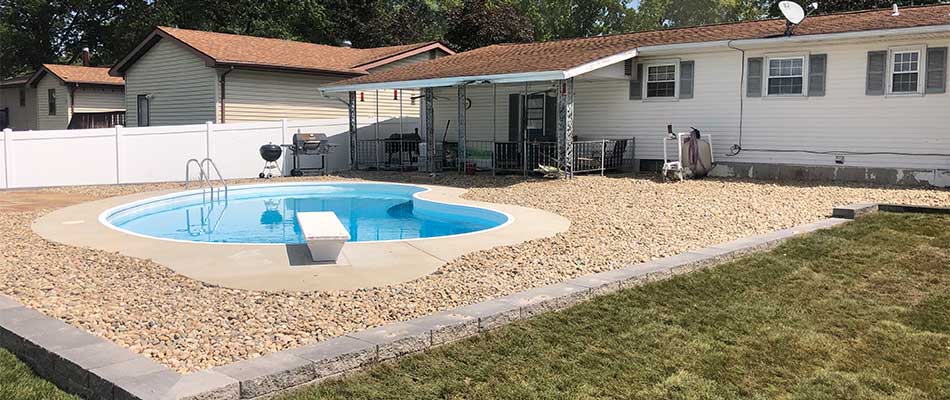 Before the project, our clients had patchy grass and overgrown weeds surrounding their beautiful pool. They decided that they wanted to say goodbye to the upkeep of grass and install something that required less maintenance. Our designers suggested river rocks. River rocks are a perfect choice because once they have been installed, they don't need any upkeep at all until it is time to replace them down the road due to normal wear. These rocks match the rest of the landscape with their white, brown, and tan colors but they also offer some pops of contrasting colors with darker greys and browns.
---
We offer custom landscape design and installation. Call us today to schedule a consultation!
Our team has a passion for transforming landscapes in Edwardsville, Glen Carbon, Bethalto and surrounding areas in Illinois. We are lucky enough to guide our clients through the process of turning their landscape into one that they are proud to show off. Our experts can design and install many custom hardscapes including retaining walls, patios, outdoor kitchens, fire pits, and more. If your property is located nearby, give us a call today at (618) 374-0010 to schedule your consultation.
---
Comments (0)
Name *

Email (not shown) *

Thanks for your comment!
Thanks for your feedback! Your comments have been successfully submitted! Please note, all comments require admin approval prior to display.
Error submitting comment!
There is a problem with your comment, please see below and try again.