Landscape Bed Renovation Project in Glen Carbon
Our clients in Glen Carbon, Illinois called us about their front yard transformation and we were thrilled to help. At the time, they had a lot of overgrown vegetation on their front lawn that had become an eyesore to them and their neighbors. For this project, our team renovated two landscape beds on our clients' front lawn and transformed them using materials like river rock, dark brown mulch, natural stone edging, and various plants. It was so great to see the transformation come together for our clients; continue reading about our project process and get inspired for your own landscape redesign!
---
Designing & Prepping the Landscape Bed Renovation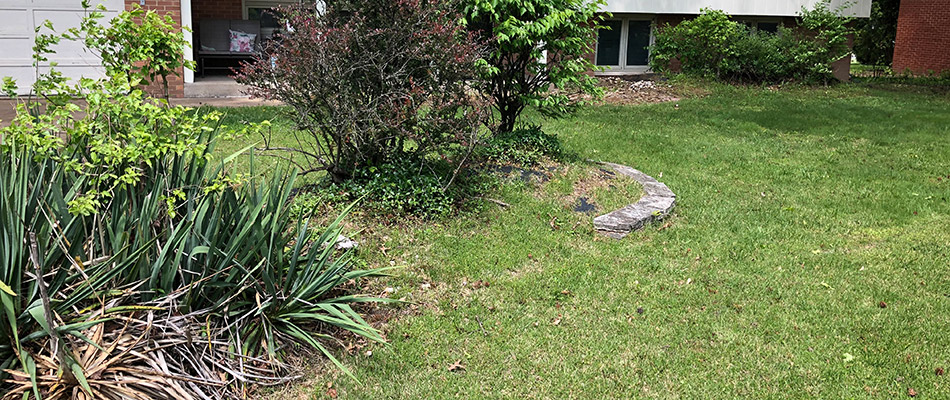 After chatting with our clients during the consultation, we had a better idea of their vision for their front yard. They had two landscape beds, one right up against their home and one freeform landscape bed in the middle of their lawn. Their main goal was to keep these same landscape beds, but update them with new plants, ground coverings, and edging. Once we collaborated all together, our team then generated a design rendering to show our clients exactly what the finished product would look like. After they approved, our installation crew could get to work!
The first step of the installation was the prepping stage. Our team removed all of the existing vegetation and stones so that we could start with a blank slate. This included removing small trees, shrubs, rocks, stones, and debris. The shrubs near the home were so overgrown that they were blocking their lower-level windows! After we finished prepping, we could finally begin the actual installation of their new landscape beds.
---
The plants we installed included boxwood shrubs, variegated liriope grasses, and a Japanese maple tree.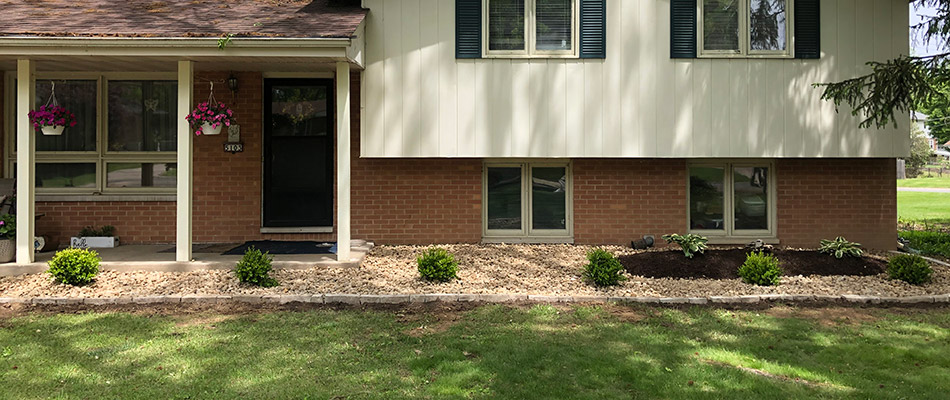 When picking the new plants to add to our clients' landscape, we helped them choose options that are low maintenance. We also strategically chose certain, smaller plants to add in front of their windows to ensure that they won't have the same issue as they did before with their full-grown plants blocking their view.
For the landscape bed that is close to their home, we added evenly distributed boxwood shrubs. We kept this landscape bed simple and aesthetically pleasing. For the other bed in the middle of their lawn, we got a little bit more creative. We added more boxwood shrubs to this area and accompanied them with variegated liriope grasses and a Japanese maple tree. This small tree now serves as a beautiful, maroon focal point on their front lawn.
---
We used both river rocks and mulch for the ground coverings.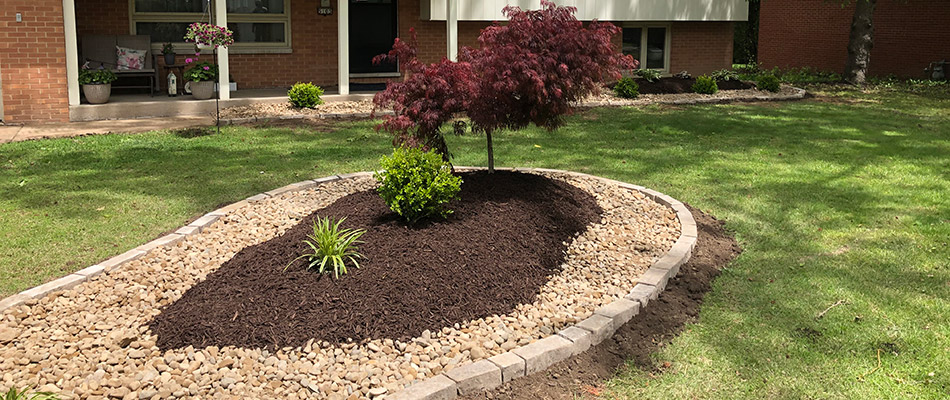 To protect these new plants, we needed to add a ground covering. Our clients wanted to get creative here and add both rocks and mulch. We primarily filled their new landscape beds with tan and brown river rocks. To add an eye-popping contrast, we laid dark brown mulch as an "island" in the middle of the river rock. Both the river rocks and mulch serve as great protection for their new plants, including soil temperature control and weed prevention.
---
To wrap up this landscape renovation project, we edged with natural stone material.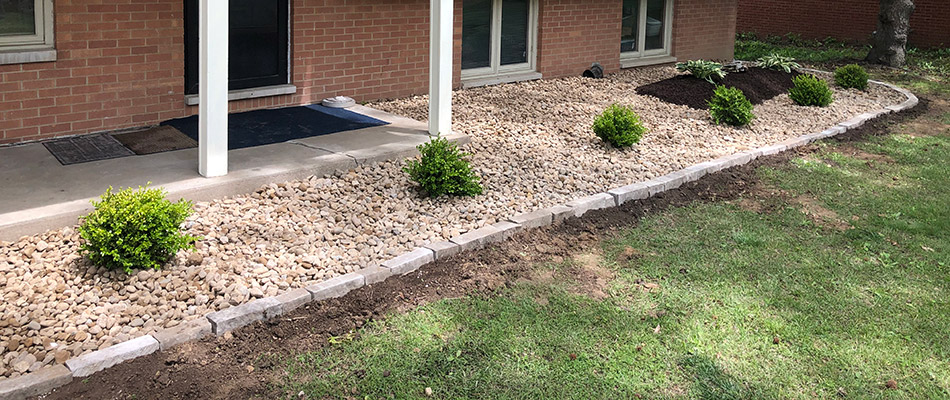 These landscape beds were not complete without some sort of edging! After precisely placing the landscape beds, the last thing our clients would want is the river rocks to get strewn around, thus messing up their professionally installed beds. Edging prevents this from happening and gives the landscape beds a defined, clean look. Adding a natural stone barrier around each bed was our last step to tie up the project with a nice bow!
---
Like what you see? Let us help you redesign your landscape.
At Creekside Landscapes, we have been designing and installing new landscapes in the Glen Carbon area for years. We can do everything from softscapes like the landscape beds above, or even hardscapes like fire pits and patios. If your home or business is located in the Glen Carbon area, including Edwardsville and Bethalto, IL, give us a call at (618) 374-0010 today!
---
Comments (0)
Name *

Email (not shown) *

Thanks for your comment!
Thanks for your feedback! Your comments have been successfully submitted! Please note, all comments require admin approval prior to display.
Error submitting comment!
There is a problem with your comment, please see below and try again.