Pair Your Patio With These 3 Outstanding Features!
Patios instantly enhance your property by adding a designated area in your outdoor space to socialize with friends and family. There are many additions to patios that help improve your dream outdoor living space. Fire pits provide a warm and cozy area to socialize during cool evenings in Illinois. Seating walls create a unique and decorative space to seat lots of guests. An outdoor kitchen provides a place to prepare food while spending time with your guests on your patio. Adding these features to your patio helps you get the most use out of your outdoor living space.
---
1. Fire Pit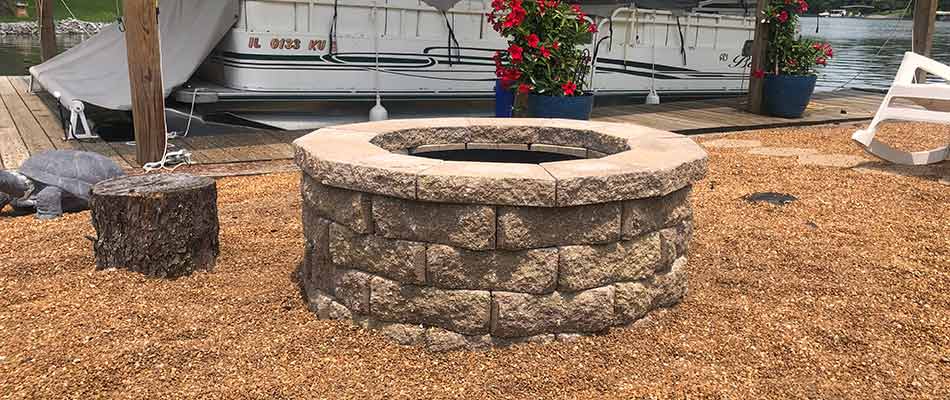 Fire pits instantly upgrade the functional and aesthetic value of your patio. They are beautiful features that draw people outdoors and are a great way to spend time outside. Fire pits can enhance social events on your patio, from quiet evenings with family to large backyard gatherings.
In Illinois, where the weather is cool the majority of the year, especially at night, a fire pit is a useful investment for your outdoor space. Family and friends can gather around it for warmth and take turns telling stories while roasting marshmallows on the fire. During the warm months when you may not be using your fire pit as often, they will still enhance the aesthetics of your property.
---
2. Seating Wall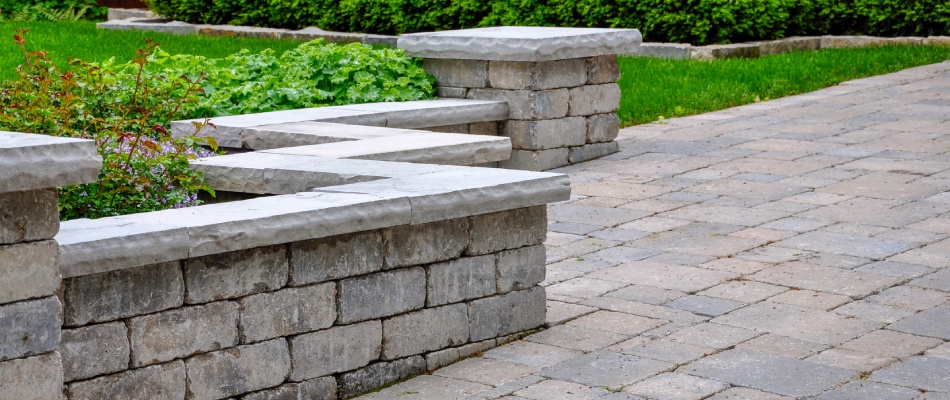 A Seating wall is a unique feature that provides permanent seating for guests while instantly upgrading the aesthetic of your patio. This permanent seating option ensures that guests have a place to sit without having to pull furniture out of storage. Also, seating walls can withstand storms and other weather conditions better than regular patio furniture, so you won't have to worry about preparing it for any weather events.
Not only are seating walls a long-lasting investment, but they can be made to fit in perfectly with your existing space. By building your seating wall with the same or similar materials as your patio or any of your other hardscaping features, you can create a cohesive look that will allow your seating wall to blend in perfectly with the rest of your outdoor living space.
You can invest in a 2D or 3D design rendering to visualize how additions to your patio will look before any construction ever gets started.
---
3. Outdoor Kitchen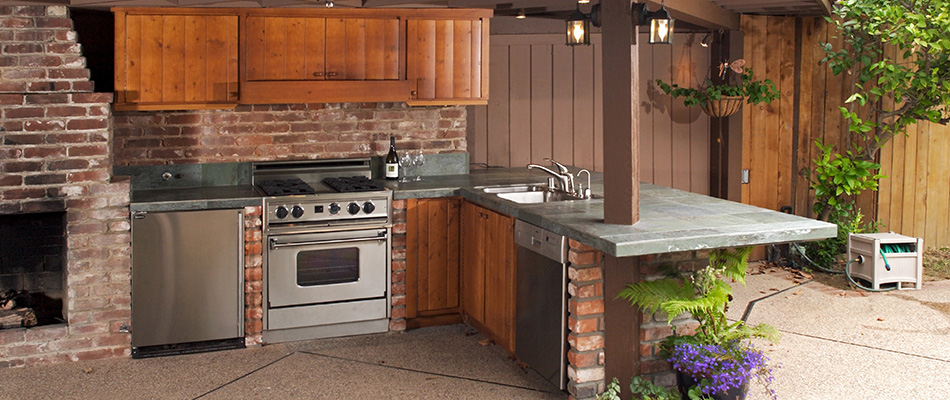 Outdoor kitchens and patios pair well together like indoor kitchens and dining rooms. Patios provide the seating space to enjoy your meal, and a kitchen provides the area to store and prepare it. Having your preparation and serving area in the same spot makes your patio a more comfortable place to host dinner parties throughout the year.
Outdoor kitchens can be equipped with amenities that make hosting events on your patio easier and a more enjoyable experience, including:
Pizza ovens - This amenity will allow you to cook delicious pizza in your outdoor kitchen!
Grills - This feature will make your patio a great location for summertime barbecues.
Outdoor refrigerators - By adding an outdoor refrigerator to your outdoor kitchen, you'll have a convenient place to store food and beverages.
---
Give us a call today to add a fire pit, seating wall, and outdoor kitchen to your patio.
At Creekside Landscapes, we can help you transform the look and functionality of your outdoor living space. We offer a patio installation service and we can also install a variety of other features to take your patio area to the next level, including a fire pit, seating wall, and outdoor kitchen. We offer our services to commercial, residential, and HOA property owners in Edwardsville, Glen Carbon, Bethalto, Maryville, and surrounding cities in Illinois. Give us a call today at (618) 374-0010 to sign up for any of our services.
---
Comments (0)
Name *

Email (not shown) *

Thanks for your comment!
Thanks for your feedback! Your comments have been successfully submitted! Please note, all comments require admin approval prior to display.
Error submitting comment!
There is a problem with your comment, please see below and try again.