Patio Renovation & Stone Step Installation in Glen Carbon
Our crew at Creekside Landscapes worked on a backyard makeover in Glen Carbon, Illinois. Our clients came to us frustrated about their run-down backyard and they were ready for a change. We were excited to help them with this transformation and to bring their dream backyard to life!
The main features that our clients wanted were an expanded patio and stone steps to allow friends and family to safely walk down their side hill into their backyard. They were also interested in transforming their landscape beds and adding a fire pit to their new patio. The main goal throughout the project was to keep everything as low-maintenance as possible to ensure that they wouldn't have to spend all their free time keeping their yard in tip-top shape. With their low maintenance goal in mind, the materials that we used for this project include Black Hills Rustic Flagstone, Black Hills steps and slabs, Black Hills natural stone edging, purple trap rock, sandstone boulders, and river rock.
---
We Used Black Hills Rustic Flagstone for the Patio Installation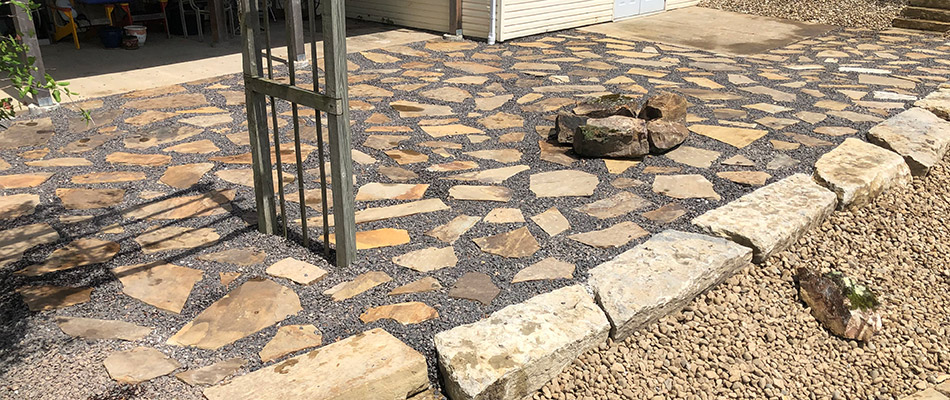 We kept in mind our clients' goal of keeping everything as low maintenance as possible when suggesting material options for every aspect of the project. For the patio extension, we decided on Black Hills Rustic Flagstone. This type of flagstone is not only durable, but it also has a lot of natural browns and beiges in it which will match the hardscapes that we would be installing later on.
After the flagstone slabs were placed, we filled in the spaces with purple trap rock. These rocks offered a great contrast to the natural browns and beiges and helped the flagstone stand out. Trap rocks are also extremely durable and will last our clients years with little to no maintenance.
---
Installing a Sandstone Boulder Fire Pit & Black Hills Steps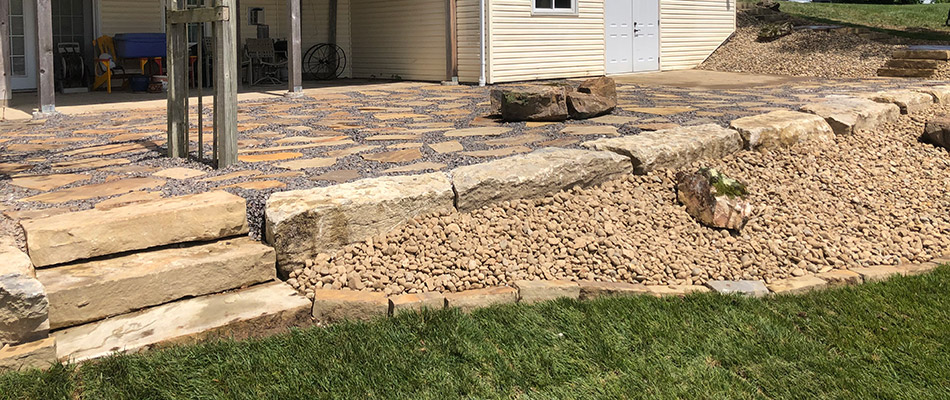 Next, we installed a fire pit on their new patio! With all of that extra space to gather friends and family, our clients wanted a great entertainment feature. We made this fire pit out of sandstone boulders. Although boulder fire pits are not very popular, they should be! Their incredible uniqueness and durability made them a great choice for our clients. This fire pit sat in the middle of their patio, leaving space for many chairs to surround it.
The next addition was the steps. The original backyard did not have any safe way to walk down the steep hill that led from the side yard to the backyard of this property. Our clients wanted to add steps to make the walk easier and safer. We chose Black Hills steps and slabs to design and install both a large set of stairs and a mini one that led from the patio to the rest of the backyard.
---
Lastly, we transformed their landscape beds and edged them with natural stone.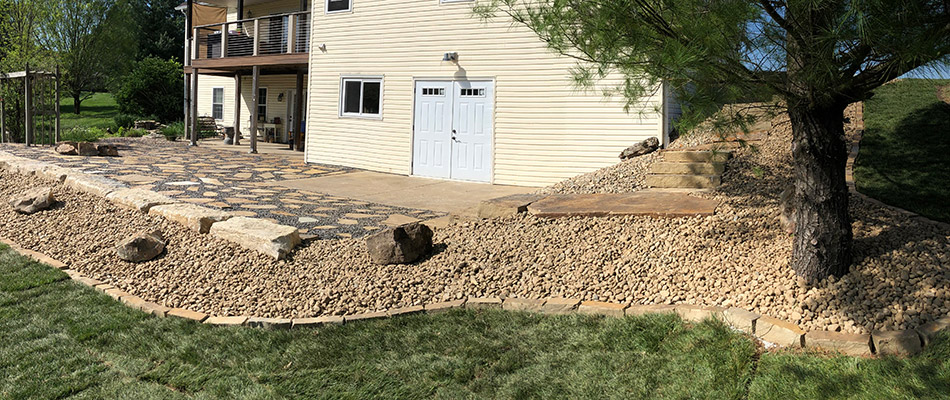 The last large part of this backyard transformation was to redo their landscape beds. Originally, they were full of dead vegetation and messy dirt. Our crew removed all of this and our clients chose to fill in these areas with river rock instead of mulch. We suggested this because, keeping in line with their low-maintenance goal, we told our clients that adding mulch will require an annual refresh. Rocks, however, will require less maintenance than that; a rock-filled landscape covering will only have to be replaced if they get too discolored from the sun.
Instead of plants that will require time, attention, and water, we wrapped up their landscape bed renovation by adding a few sandstone boulders that matched the fire pit and offered a little bit of definition to the beds. Lastly, we finished up this project by adding Black Hills natural stone edging to keep everything in its place for years to come.
---
Looking for a local Glen Carbon landscaping company?
At Creekside Landscapes, we handle all types of landscape projects including retaining walls, land clearing, grading & drainage, and much more. Along with the Glen Carbon area, we also service the Edwardsville, Bethalto, and Maryville, IL areas. If your home or business is located nearby, give our office a call at (618) 374-0010 today!
---
Comments (0)
Name *

Email (not shown) *

Thanks for your comment!
Thanks for your feedback! Your comments have been successfully submitted! Please note, all comments require admin approval prior to display.
Error submitting comment!
There is a problem with your comment, please see below and try again.