Clear your land of overgrown grass and brush with our bush-hogging services, available to properties in and around Edwardsville, IL.
We prepare your land for housing development, farmland, and other property uses by removing heavy brush, vines, saplings, and weeds.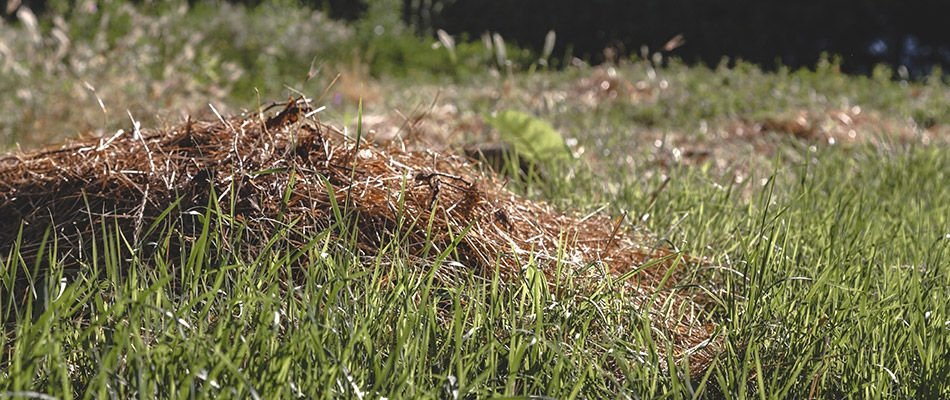 Whether you've acquired new land or just want to maintain your property's current landscape, our bush-hogging services will be of great use to you! If you own a large plot of land or a large-scale building, traditional lawn-mowing just won't cut it. You need more extensive landscape services and heavy-duty equipment. Brush-hogging is a more eco-friendly solution for clearing land because our equipment doesn't tear root systems from the ground which causes environmental disruption. Instead, we simply clear the landscape of brush by gently cutting back overgrown grass and vegetation.
We service municipal, residential, and commercial properties that need to be cleared of overgrown pastures, small saplings, and other heavy brush. Contact our team to service your home or property in Edwardsville, Glen Carbon, Bethalto, or Maryville, IL!
---
What exactly is a bush-hogger?
Bush-hogger and brush-hogger are often used interchangeably among landscapers and land clearers, both are correct in terms of usage. But for clarity purposes, "Bush Hog" is actually a brand name for a mower that's specifically used to perform "brush-hogging".
Even so, the equipment that we use to brush-hog is comprised of a bladed mower that's attached to the back of a high-powered farm tractor. The mowing blades are very sharp and designed to "bounce back" and not become stuck or damaged when coming in contact with thick vegetation and small saplings.
For landowners with larger properties that need more extensive field mowing, our land clearing services may be a better option for you, as that service tackles heavy-duty land maintenance!
---
Our Bush-Hogging Process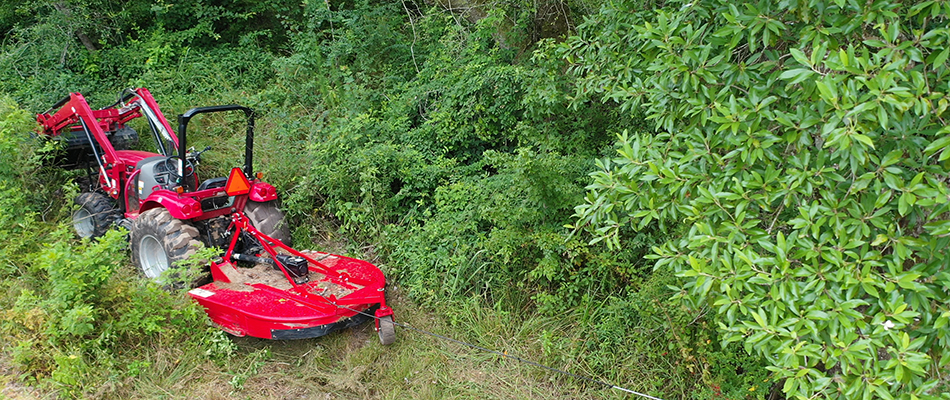 The brush-hogging process is typically the same for all landscapes and properties. In order to see the best results, each step must be followed thoroughly and in chronological order. Here are the steps of bush-hogging:
Step 1 - We Define the Mowing Perimeter
But we don't just start mowing anywhere on the landscape, we first set up a rectangular perimeter of the field or pasture that needs to be mowed. This way, no area of the landscape is missed nor do we take on the risk of accidentally mowing outside of the agreed-upon land area.
Step 2 - The Field-Mowing Begins
Now we're ready to go! Depending on the desired aesthetic appearance of the client, we'll bush-hog the field in a circular or stripe mowing pattern. We mow the landscape at a slow speed so that we don't miss any areas of brush but because bush hogs are bigger than a traditional mower, we can still cut more area covered in less time. We continue to mow strips of the landscape until the entire land area is cleared.
Step 3 - We Double Back
The last step of the field-mowing process includes doubling back through the field with our mower to make sure we've removed all unwanted vegetation. We do this by slightly overlapping the parallel mows to catch any small saplings, vines, weeds, and other brush we may have missed in the first go around.
If you're wondering how long the bush-hogging process takes, the best way to know is to determine how many acres of land you want to be cleared. Drivers typically cover between 1.5-3 acres of land an hour depending on the landscape's conditions.
---
Let our company professionally clear your land of heavy brush. Call us to set up a land evaluation!
We know you are eager to start developing your land! Bush-hogging is a popular service that is used by several landowners to cultivate landscapes for homes, businesses, farmlands, and other property developments. If you own land in the Edwardsville, Collinsville, or Grafton, IL area, call us at (618) 374-0010 to schedule a land evaluation today!