Edwardsville Backyard Makeover with Custom Patio, Retaining Wall, Steps & More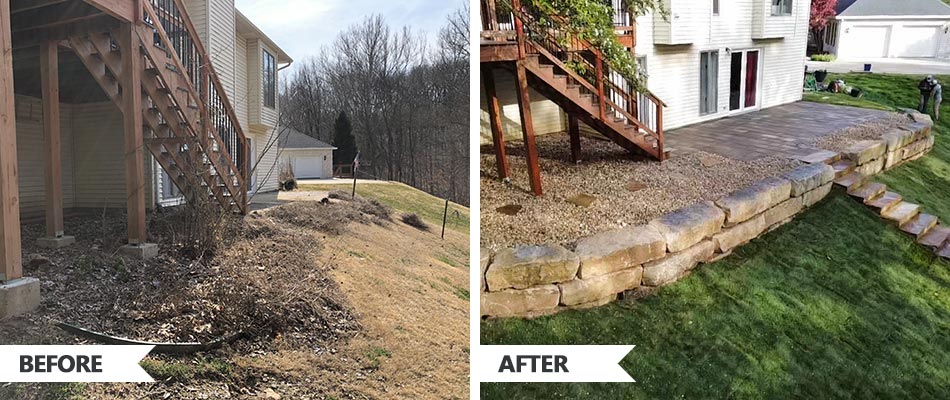 Our clients in Edwardsville, Illinois wanted to transform their backyard. At the time, they had a large hill full of dead grass and almost no usable space. They were looking to level out their hill a little bit so that they could use more of it. In addition to this, our clients also wanted to add a new patio and some steps that would lead down the hill to connect the patio with the rest of the backyard.
To create more usable space for our clients, we suggested adding a retaining wall. This wall would not only be customizable to match the style and preferences of our clients, but it would also be the perfect solution to adding more space for the patio. The materials that we used for this backyard transformation included natural limestone, pavers, sandstone steps, and river rock. Continue reading to learn more about this project and maybe even get some ideas for your own landscape makeover!
---
Our first step is always a detailed consultation with our clients.
Our design process is one of the most important parts of the project. Our designers sat down with our clients and got an idea of exactly what they wanted out of this backyard transformation - everything from colors to materials to the exact placement of each new addition. It is important that our designers get as much of an understanding as possible so that they can create an accurate design rendering, detailing what the project will look like when it is finished.
Once our clients signed off on the design rendering, our installation team could finally get to work making the backyard makeover a reality!
---
We used natural limestone and sandstone for the retaining wall and new steps.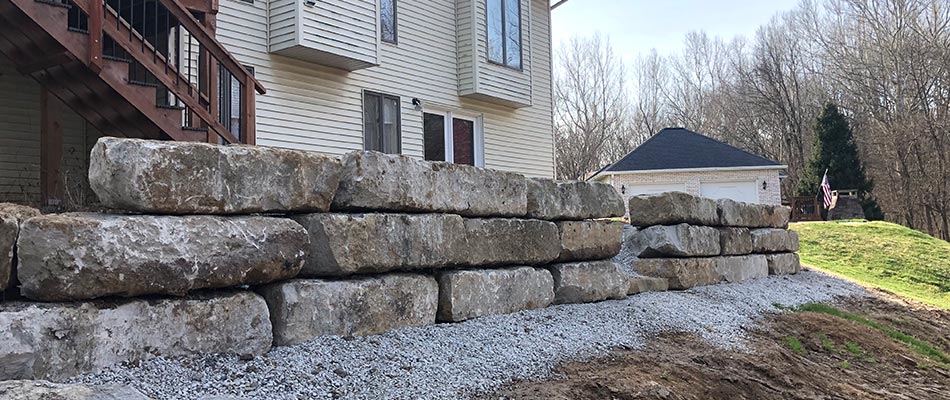 Our clients didn't have a lot of level ground to work with, yet they wanted to expand their patio so that they entertain more. They needed room for a table, chairs, and a grill without it feeling too squished. Our team suggested adding a retaining wall around the patio and our clients loved the idea. With a retaining wall, we were able to solve the problem of limited space while also preventing common issues that usually accompany hilly land such as soil erosion. Our clients chose to design the retaining wall out of limestone. This created a great natural look with a mixture of neutral colors.
Our next step was to install the new steps. Our clients wanted a safer way to travel down their sloped backyard, so we added outdoor steps into the design. These steps connected to the patio at the top of the hill and traveled down to the middle of their backyard. We used Black Hills Rustic Siloam sandstone for a durable, natural-looking material.
---
A paver patio and river rocks were installed above the retaining wall.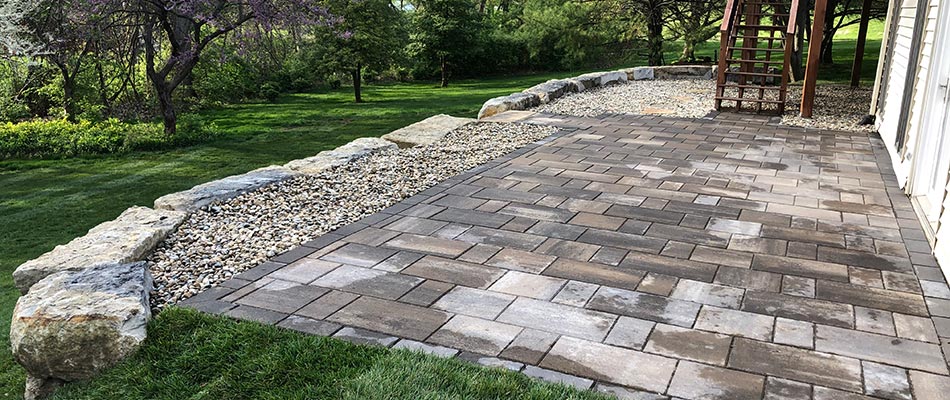 Next, we installed our clients' favorite part! We added a paver patio that sat flush with the house's sliding door for easy access. They now have a bigger patio for more outdoor parties and relaxing weeknights! To add some texture to this area above the retaining wall, our team filled in the rest of the flattened space with river rocks. We stuck to natural colors here, adding more browns and beiges to complement the rest of the hardscapes.
---
We used sod to establish their new lawn.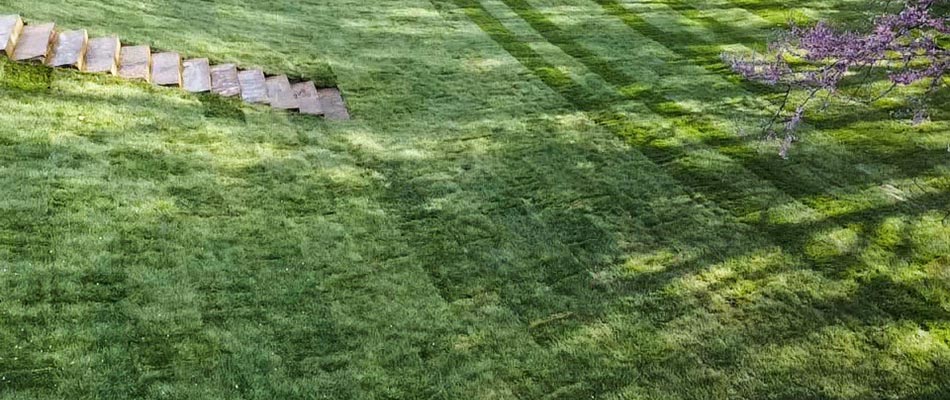 The final step to finishing up this backyard makeover was to fill the lawn with lush, green grass. To do this, our crew used rolls of sod. Sod is previously grown grass that we can roll out like a carpet onto bare soil. Next, we pressed down on the sod to help it establish itself to the soil. After that, our clients could finally look out onto their lawn and see emerald green instead of brown, dead grass!
---
Project Photo Gallery
---
Let us help you build your dream landscape!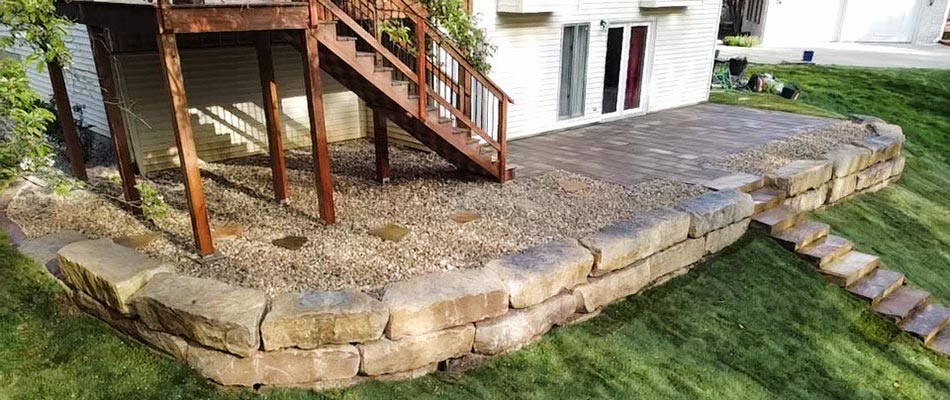 Whether you're looking to redesign your business's landscape or create the backyard you've been dreaming of for years, we're your team. We will walk you through the whole process from the initial phone call to the finishing touches. Our team proudly serves the Edwardsville, Glen Carbon, and Bethalto, IL areas. If your home or business is nearby, give our office a call today at (618) 374-0010 to schedule your consultation!
---
Comments (0)
Name *

Email (not shown) *

Thanks for your comment!
Thanks for your feedback! Your comments have been successfully submitted! Please note, all comments require admin approval prior to display.
Error submitting comment!
There is a problem with your comment, please see below and try again.