Elevate your property with custom walkways, driveways, and steps installations available for properties near Edwardsville and Glen Carbon, IL.
Decorative hardscapes like walkways, driveways, and steps scale up your current landscape design while also increasing property safety.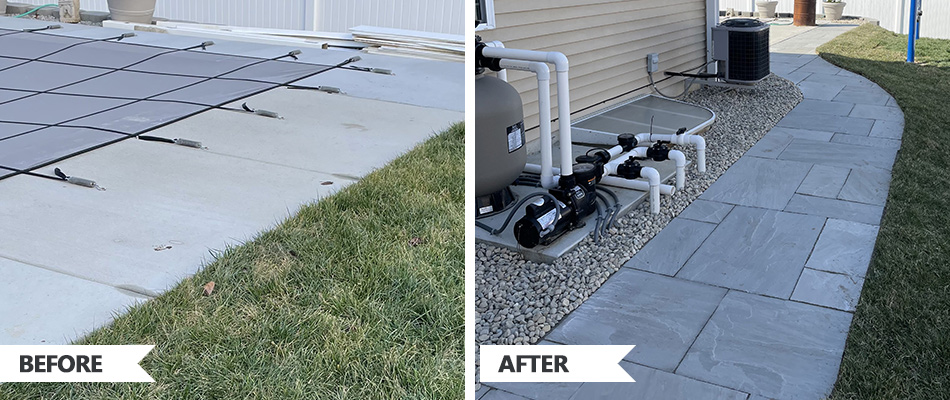 Enhancing curb appeal and improving property safety go hand in hand with custom walkway, driveway, or outdoor step installs. These decorative and functional hardscapes can easily blend in with your current landscape design or provide a unique visual contrast from the rest of your architecture using different building materials!
Our custom walkways, driveways, and steps create a stylish hardscape that serves a purpose for your home or commercial business. Creekside Landscapes' premium hardscape design and build services are available for properties throughout Edwardsville, Glen Carbon, Bethalto, and nearby areas of southwest Illinois.
---
New walkways and driveways make it easier to access areas of your property.
A freshly installed custom walkway or driveway combines aesthetics with safety. Walkways are stone paths that connect patios and backyard spaces to the front of your property. A winding walkway throughout your landscape:
Adds unique detail and charm- Walkways provide a unified look that matches your existing architecture. Your walkway can also be made of different materials to create contrast so it stands out more or better highlight certain features of your property!
Reduces foot traffic through your lawn- Constant foot traffic across your lawn increases the likelihood of compacted soil, which makes it harder for nutrients, water, and light to pass through to the lawn's root system. Grass growing in compacted soil will die quicker and require special services to break up the soil.
Increase walking safety for family and guests- Paved walkways offer a safe path for family and friends to walk through your property or from the driveway to the front door.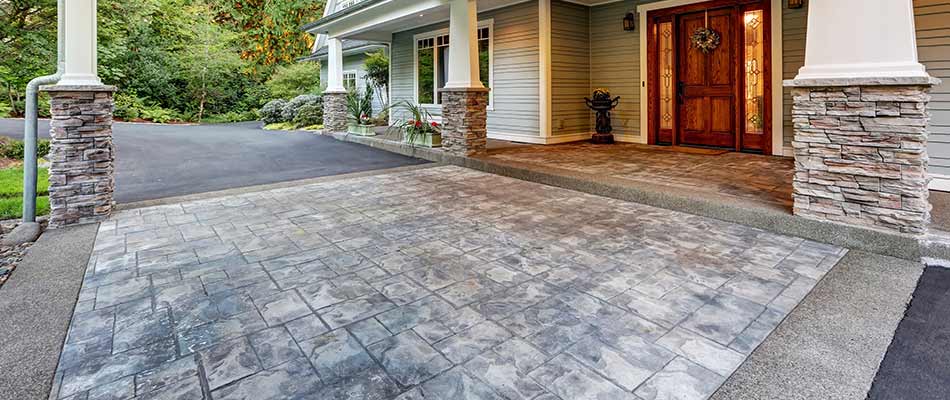 Driveways offer an accessible way onto your property and provide a durable surface to park your cars. Over the years, driveways have come a long way in terms of style and design. Now instead of a plain concrete slab, homes and businesses can install a decorative driveway that makes a huge impact on their curb appeal!
Driveway installations are outdoor renovation projects that can also yield a high ROI percentage. One study estimates that homeowners can earn a 50 to 75 percent ROI on a newly paved driveway!
---
Walkways and driveways can be constructed using the same building materials for a unified look!
Walkways and driveways are often built using the same materials to create a cohesive design throughout your landscape! We design and install beautiful custom walkways and driveways with high-quality concrete pavers or flagstone.
Concrete pavers- Paver sizes and shapes are practically limitless and come in a wide range of hues and color blends. This includes warm and cool-tones in several shades of gray and brown. Most concrete pavers are manufactured to look like naturally occurring stones, making them ideal for any hardscape project. Besides offering a variety of style options, concrete pavers are very low maintenance and weather-resistant to provide you with a walkway or driveway that will last you years!
Flagstone- No two flagstone walkways or driveways ever look the same. Whether you want a formal, clean design or prefer an informal and modern look, flagstone is an incredibly versatile material for creating a natural-looking hardscape. Its color scheme includes multiple shades of grays, reds, blues, and browns. The texture of the stone also provides a non-slip surface and is more durable than other pavers.
---
Installing outdoor steps helps with changes in elevation levels on your property.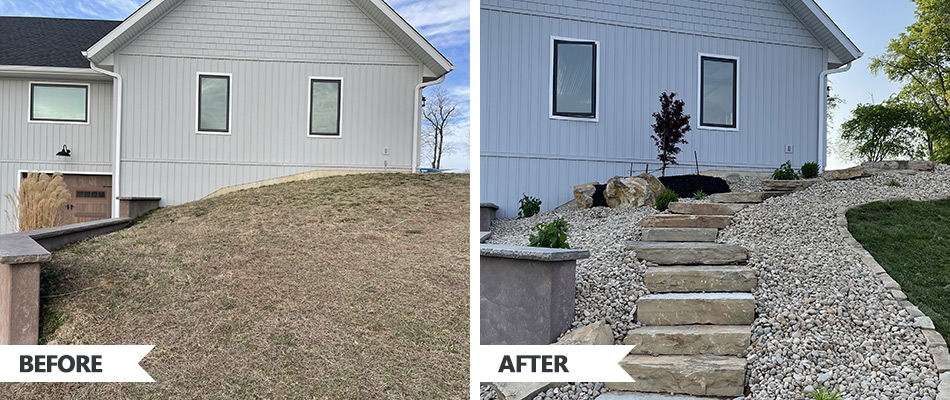 Outdoor steps create easier access to elevated areas of your property. It lessens the steepness of the walk by providing a sturdy and stable surface to climb up or down. Large stone landscape stairs are visually grand and designed to seamlessly merge with other natural landscape elements.
We construct outdoor steps using large stones like Siloam and sandstone. Our team can also install paver steps that connect to upper-level patios and decks!
---
Professional walkway, driveway, and outdoor step installations for properties in southwest Illinois.
Get custom hardscapes that are functional and ornate by installing a walkway, driveway, or set of steps onto your landscape. Call us today at (618) 374-0010 to schedule a consultation. Creekside Landscapes offers walkway, driveway, and outdoor step design and installation services for properties in Edwardsville, Maryville, Bethalto, and nearby cities.