Outdoor Step & Landscape Bed Installation Project in Greenville, IL
When our clients in Greenville, IL came to us, they were looking for a way to enhance their backyard space, which is on a steep slope. While their property is beautiful and located right on the water, it was bare, and accessing their dock was difficult due to the steep slope in their yard. After consulting with them, we decided that the best way to add beauty to their property while also making it easier to travel back and forth from their home to their dock was to add outdoor steps that were surrounded by a gorgeous landscape bed.
First, we prepped their yard by removing the existing grass and grading the area that we were going to work on. Next, we installed outdoor steps to make it easy to travel between their home and their dock. The last step of this project was to install a beautiful and unique-looking landscape bed that surrounded their new steps, and we filled the landscape bed with river rocks and plants to enhance its aesthetic appeal.
---
The preparation for this project included removing the existing grass and grading the area.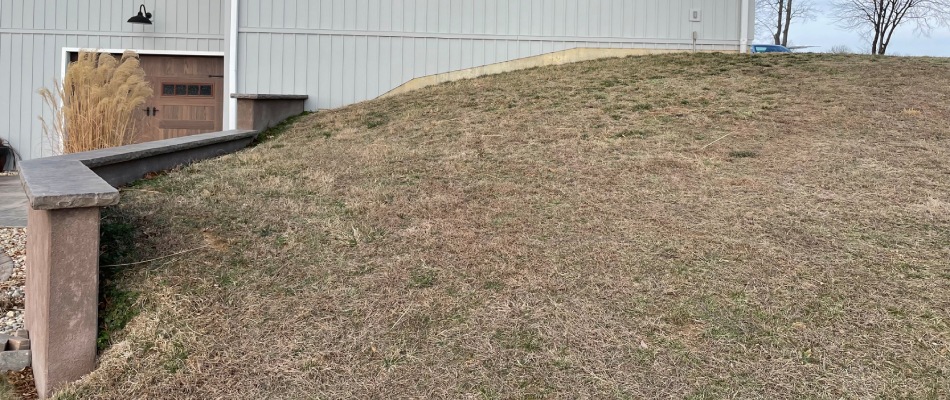 Before we could install their outdoor steps and landscape bed, we had to first prep the area. The first step was to remove the existing grass in the area so we had a smooth surface to work with when it came time to install their landscape bed. Next, because their property was on such a steep slope, we had to grade the area to create some level space so we could install their outdoor steps. Once the preparation was completed, we were able to get started on the installation of the steps.
---
We Installed Outdoor Steps Using Black Hills Rustic Slabs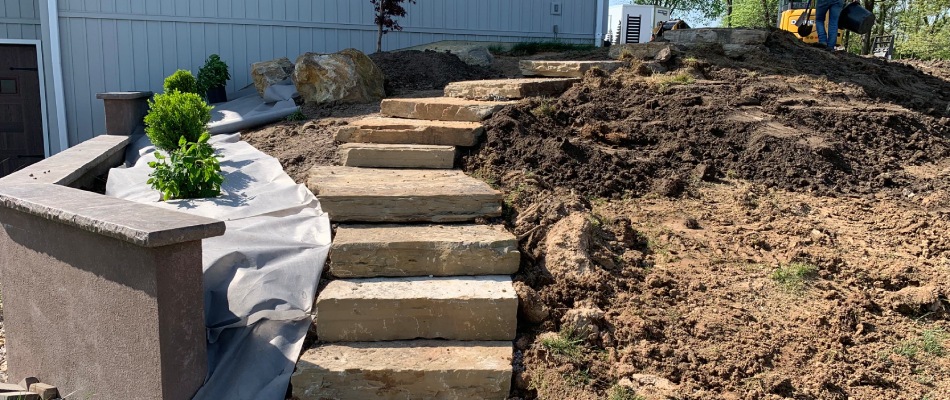 Once the preparation was complete, it was time to install their outdoor steps. Our clients decided that they wanted to use Black Hills Rustic slabs for their steps due to their natural look and breathtaking beauty. We used an excavator to place these large, heavy steps from the top of their yard all the way down the slope near their dock. We made sure that the steps were placed correctly so that they looked great and could be easily traversed. Our clients were thrilled with the way these steps turned out and love how it makes getting to and from their dock so much easier.
---
Our final step was to install a landscape bed and fill it with river rocks and plants.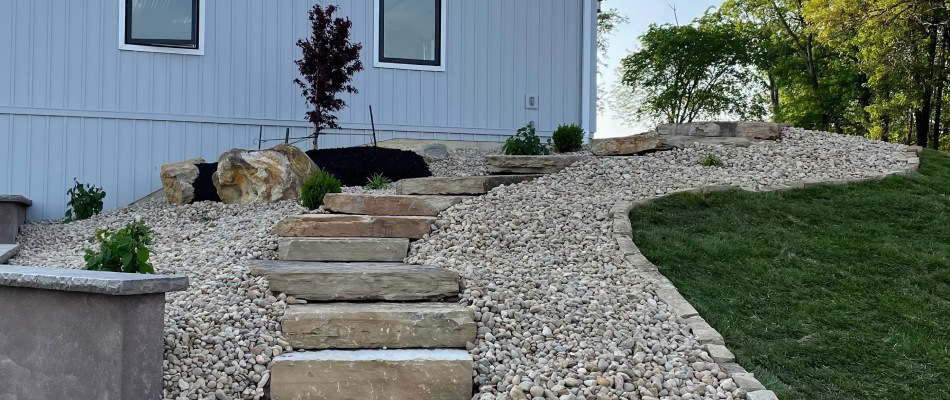 The final step of this project was to install a landscape bed on their property that completely surrounded their new outdoor steps. We created the border of their landscape bed using Black Hills Rustic natural stones. Once the border was complete, we filled the bed with plants including boxwoods, hydrangeas, Variegated Liriope grasses, and a Japanese maple tree. We surrounded the Japanese maple tree with a black mulch berm to really make it stand out. Finally, we filled in the rest of the landscape bed with white river rocks as the perfect finishing touch.
Rocks make for great ground covers because they don't decompose as quickly as mulch does!
---
Project Photo Gallery
---
Ready to take your outdoor living space to the next level? Give us a call to schedule your outdoor renovation project!
If you're looking to transform your outdoor living space, we are the company to turn to. We can install outdoor steps, landscape beds, and many other hardscape features including outdoor kitchens, patios, fire pits, and more. We offer our services to residential, commercial, and HOA property owners in Greenville, IL and throughout the surrounding areas. Give us a call today at (618) 374-0010 to schedule your next outdoor renovation project!
---
Comments (0)
Name *

Email (not shown) *

Thanks for your comment!
Thanks for your feedback! Your comments have been successfully submitted! Please note, all comments require admin approval prior to display.
Error submitting comment!
There is a problem with your comment, please see below and try again.