Shugert Landscaping Project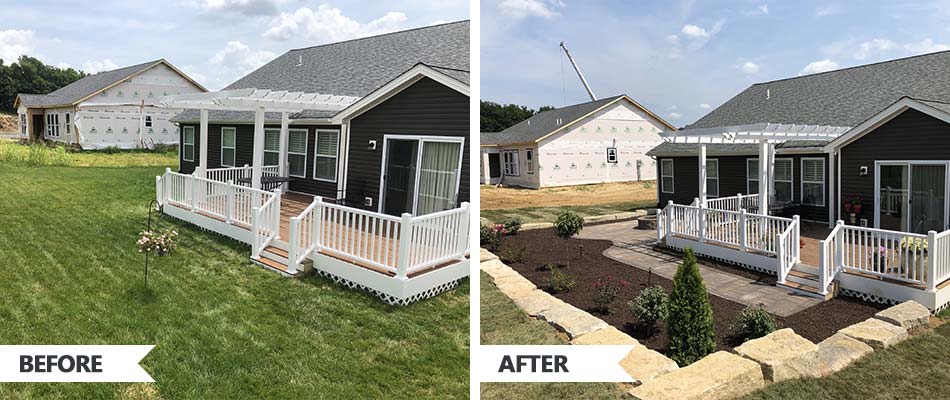 Our customer in Edwardsville, Illinois started with a large, empty landscape and many ideas about how to turn it into their dream property. With lots of space to work with, the ideas just kept coming! This project ended up being a total landscape makeover, complete with new landscape beds, a patio, a fire pit, a retaining wall, and an upgraded walkway.
Our installation team began with the hardscapes, adding a stunning bristol beige paver patio with a fire pit in the center, a black hills flagstone walkway, and a natural stone retaining wall. Then, we installed the new landscape beds, complete with eye-catching plants, dark brown mulch, and natural stone edging. Lastly, our crew finished off the landscape makeover with sod installation.
---
The new hardscapes included a patio, fire pit, walkway, and a retaining wall.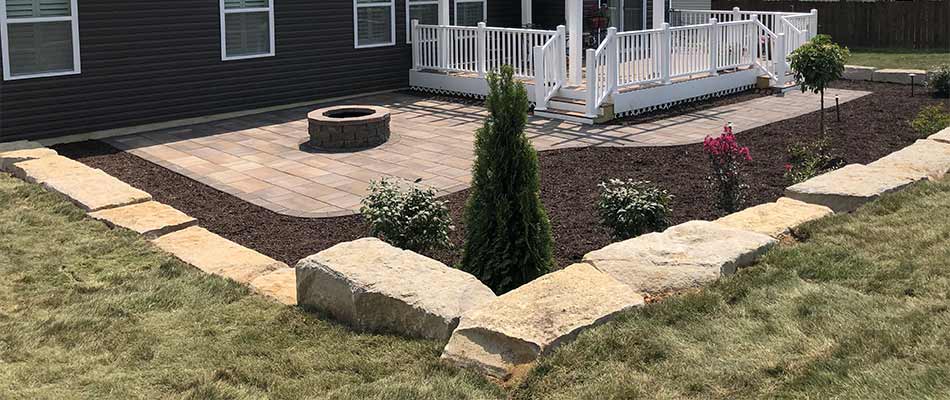 Our client's backyard had a lot of space to work with for new hardscapes. This gave us a lot of freedom during the design process! One issue that needed to be addressed right away was the uneven land. The backyard has a little bit of a slope, so we needed to add a retaining wall to level out the property. This retaining wall is made out of natural stone and its purpose is to give our client much more usable, flat land.
After the slope of the property was fixed with the retaining wall, we could then start focusing on the fun part - the new patio and fire pit! Our client wanted to keep these hardscapes looking natural by sticking to brown and grey colors. We used bristol beige pavers to create the freeform patio and installed a matching fire pit right in the middle, leaving space for chairs to fit around it.
To wrap up the hardscape installation process, our crew moved to the front yard to upgrade the walkway that stretches from the driveway to the front door. We removed the old walkway and crafted a new and improved one using Black Hills flagstone.
---
We installed landscape beds full of new plants, mulch, and natural stone edging.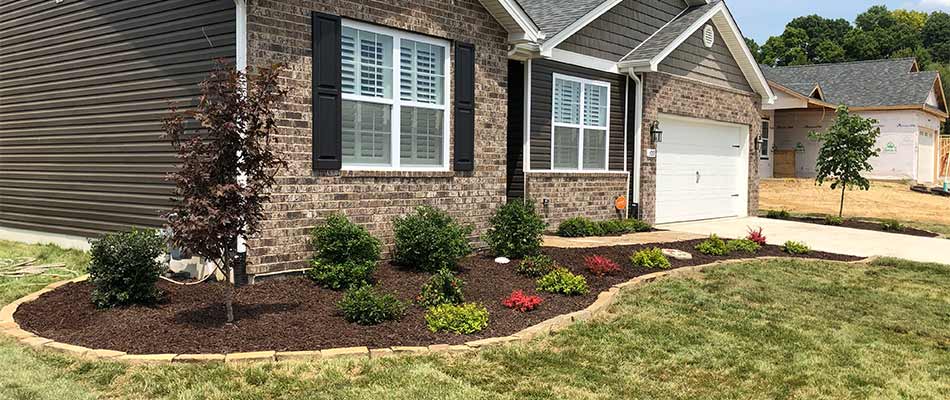 After all of the hardscapes were installed, our team then moved onto the softscapes. Both the front and the back yard of this property had space for beautiful, new landscape beds. In total, we installed three. The landscape beds were full of eye-catching plants, including:
Holly
Azalea
Crepe myrtle
Burning bush
Arborvitae
Boxwood
Hydrangea tree
Barberry
After strategically placing all of the plants, we then protected the soil and those plants with mulch. Our clients chose dark brown mulch to help the colors of the plants stand out. Lastly, we edged the new landscape beds with Black Hills natural stone edging.
Mulch offers great plant health benefits such as weed prevention, soil erosion prevention, and soil temperature control.
---
We wrapped up this landscaping project with sod installation.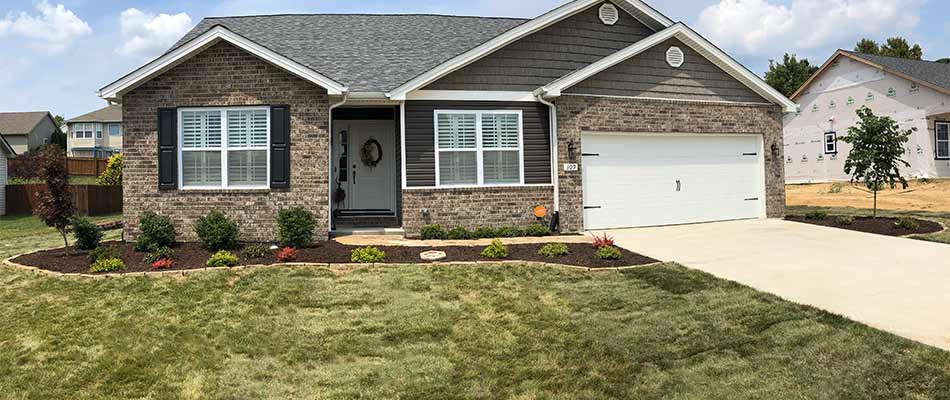 After the hardscapes and softscapes were installed, the last step of the landscaping project was to cover up the dirt and soil that had been exposed during the renovation process. Our client chose sod because it meant that they were able to immediately enjoy the look of green grass on the lawn. Our crew laid the sod and pressed it down to help it adhere to the soil and begin to grow strong roots.
---
Looking for a small upgrade or a complete landscape transformation? Call us!
You can trust our company to turn your dream landscape into a reality. Our design and installation crews have the training and experience to exceed your expectations. Whether you need some fresh annual flowers or a complete landscape transformation, we are the team for the job.
We service the Edwardsville, IL area, including Glen Carbon, Bethalto, and Maryville. Give us a call today at (618) 374-0010 to schedule a consultation!
---
Comments (0)
Name *

Email (not shown) *

Thanks for your comment!
Thanks for your feedback! Your comments have been successfully submitted! Please note, all comments require admin approval prior to display.
Error submitting comment!
There is a problem with your comment, please see below and try again.